School News
February has been a month that seems to have just flown by with huge amounts going on at Ribston!
There have been trips to the theatre, a mobile planetarium in the gym for a day, lots of sport being played, as well as visitors to the school who have promoted self worth and empowerment to our students. We are very pleased to be launching our Student Council which will be a powerful forum for student voice as well as initiating an Eco Club where students will work with designated staff to try to attain the Eco School Green Flag Award.
It feels like impending Spring is breathing new ideas and creativity into Ribston and I am very excited about what the next few terms will bring with these ideas and innovation. I hope you enjoy reading this month's newsletter.
Sarah Colombini, Headteacher
February's Ribston Roar Lion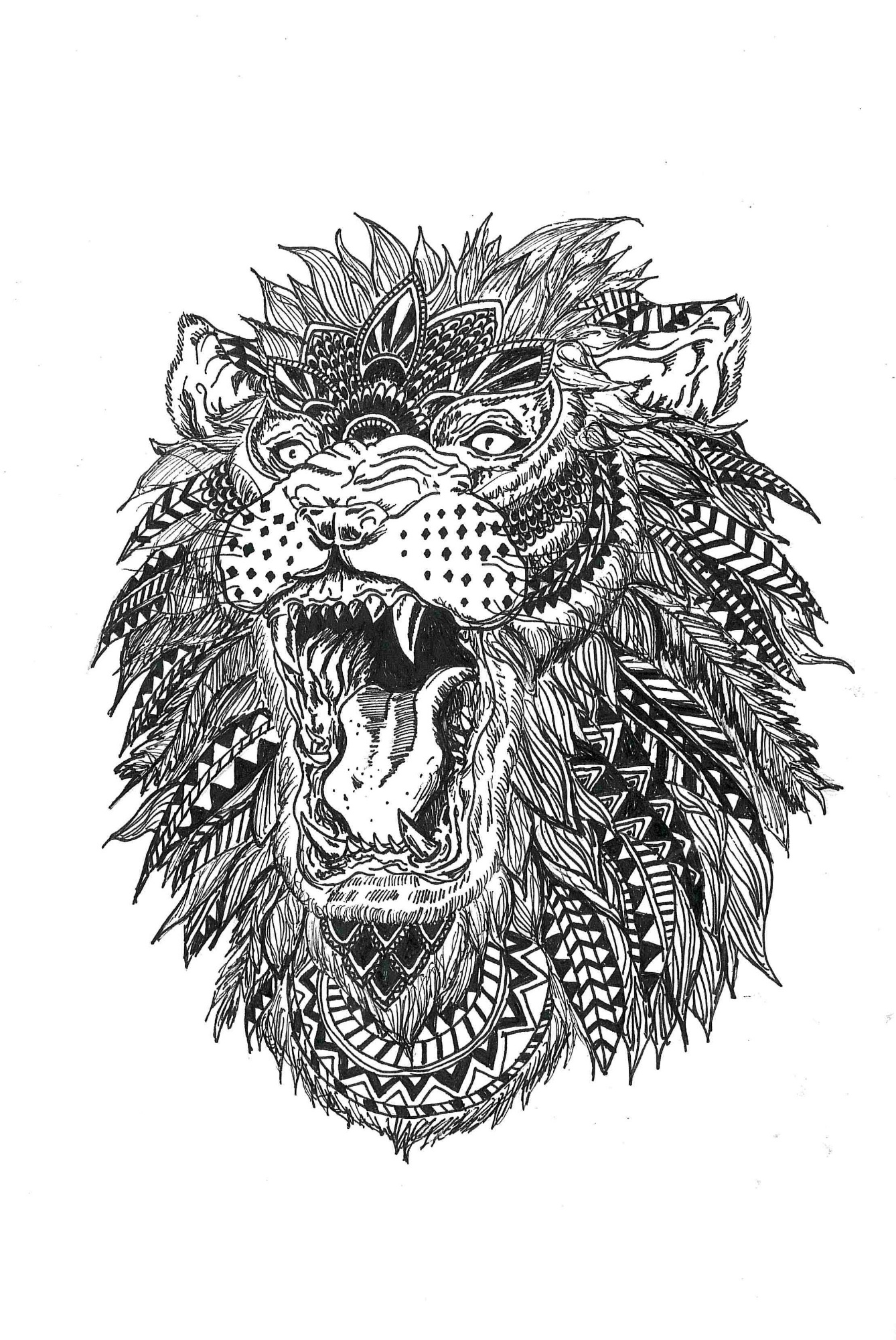 This month's ferocious looking February Lion has been expertly drawn by Lacey-Louise Bradley in Year 9. It is a very impressive beast; we particularly love the feathers in its mane and the headdress!
The launch of our Student Council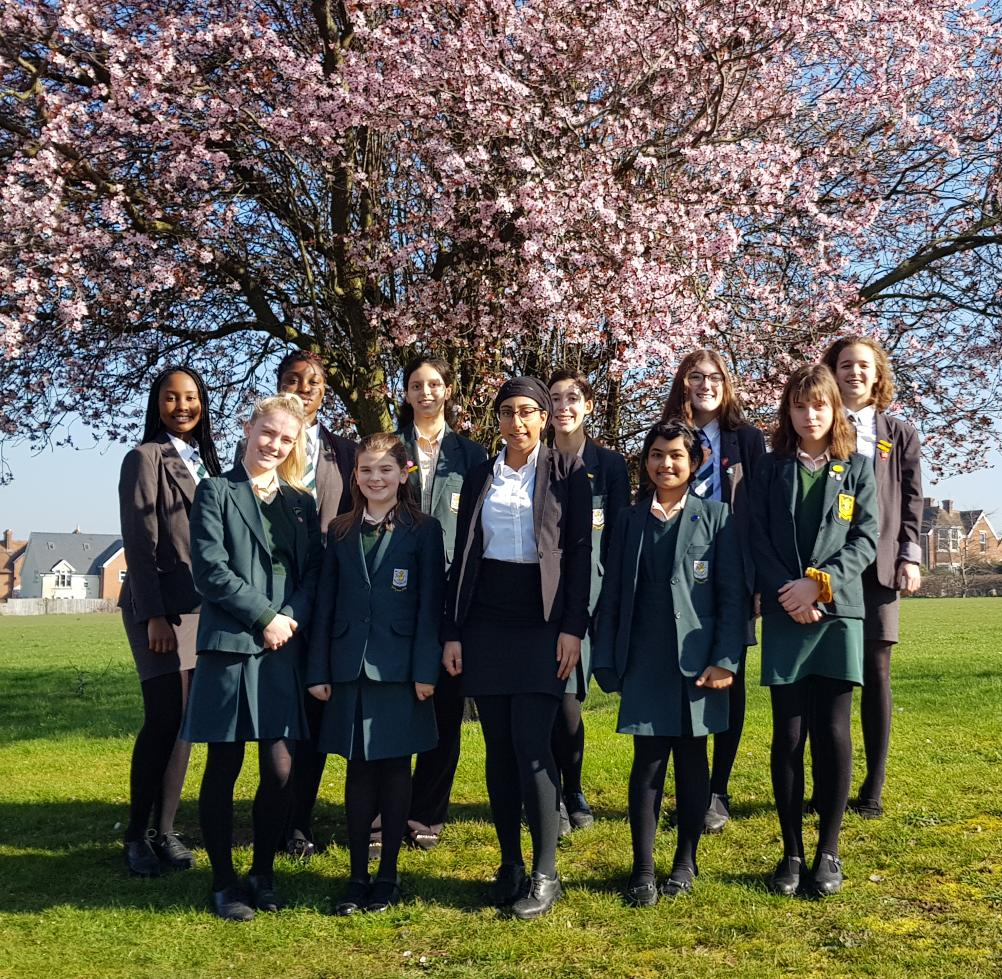 Since my time at Ribston Hall, there has never been a Student Council, which is why when I was asked to start one up I felt greatly privileged. Containing members from each year we mirror the expectation that everyone should have a say in how our school is run- the student body ensures all voices are heard.
When first starting up I was asked what I hoped the council would achieve. My first answer was generic and vague, I wanted to help improve the school. However, after pondering on it a while longer and conferring with fellow members we came up with a better, more detailed answer. We want to enhance the pupil experience at this school by ensuring everyone is content within themselves and school in general. A key agenda point of ours is continuously reminding students of our extensive well being team and peer mentor service, with whom they can talk to at any time they feel necessary. The student experience is at the heart of the Ribston experience and the student council will strive to ensure it is a positive one.
Working side by side with Mrs Colombini and the Senior Leadership Team, the council will be given an opportunity to have a say in new policies that are going to be implemented within the school as well as voice opinions about things that we feel might benefit from change. We hope that working towards developing greater communication between pupils and staff will rewarding us with a greater educational experience for all.
Written by the Student Council founder, Hannah Pandor in Year 13
Anti-Bullying Performance by Sody
On Tuesday 26th February, Year 9 welcomed singer-songwriter Sody into school, to perform some of her latest songs including the soon-to-be hit single 'Maybe It Was Me' as part of our work on anti-bullying within school.
As well as singing, Sody shared her own experiences about being bullied and how to challenge this, as well as how she progressed from dealing with depression to starting her breakout career in the music industry.
The inspiration for her songs comes mostly from her past, involving handling insecurities, isolation and most importantly severe acne, a condition that left her an 'easy-target' for school and online bullies. Her drive and personal connection to combat bullying in schools was clear during her Q&A, saying, "This is something I'm really really passionate about - it's so important to be aware of bullying." She described in heartbreaking detail how being good at sports, being friends with boys and having skin problems shaped her younger teen years. Speaking from how she took action against her own bullies, Sody offered our students, who may be struggling with the same problems as her, valuable advice, ending her performance by advising students, "Go talk to someone – friends, your head of year, anyone. There's no point bottling it up. I wanted my visit to be empowering and inspiring for you, and for you to know that it's OK to be who you are."
We will soon be re-visiting our Anti-Bullying policy in which we will include student voice to make updates and improvements to ensure we tackle bullying in the most effective way possible. Having Sody join us has been a good place to start this.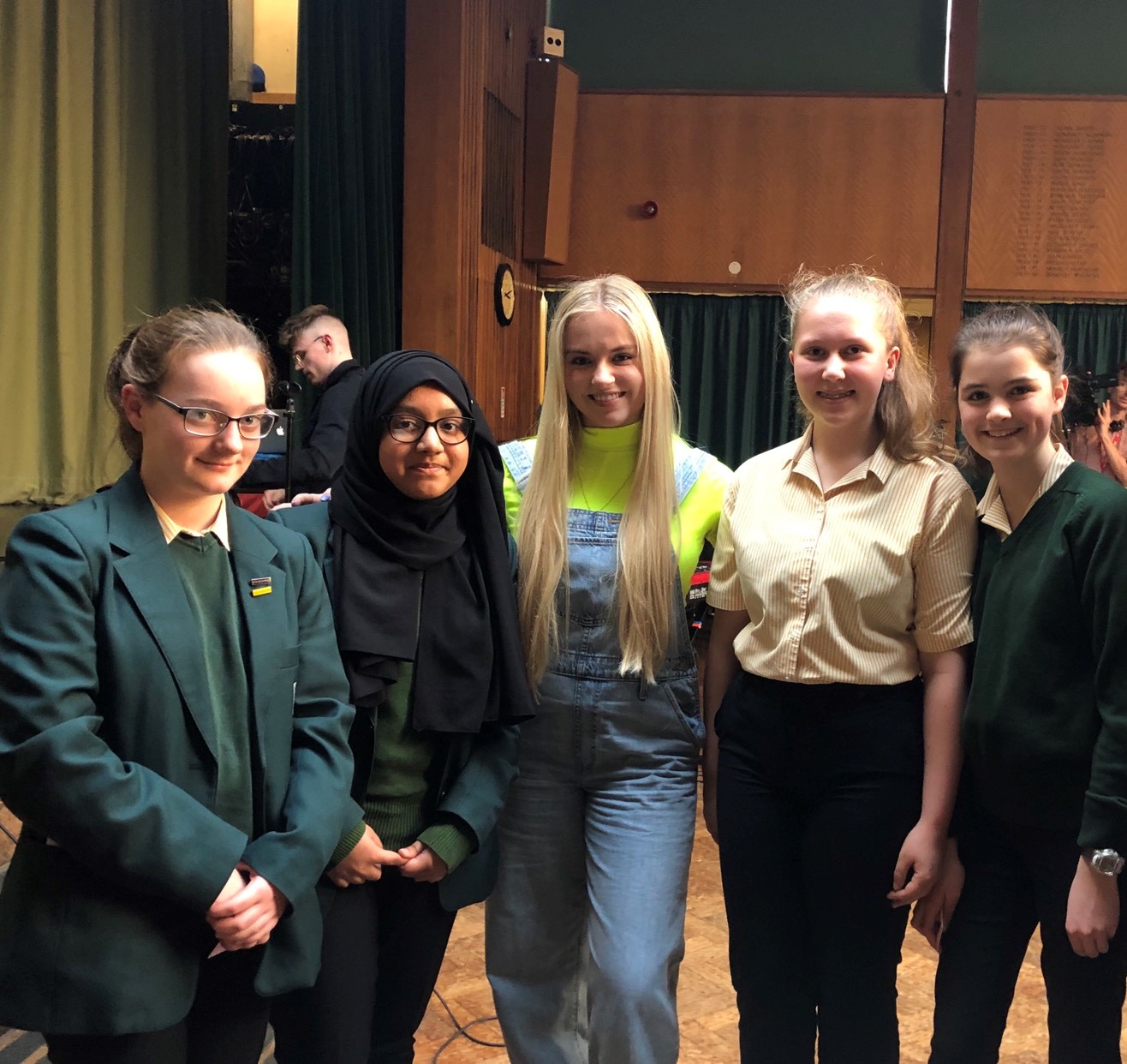 Half Term Ski Trip to Italy
Neither of us had been on the school skiing trip with the school before so both of us were extremely excited and raring to go.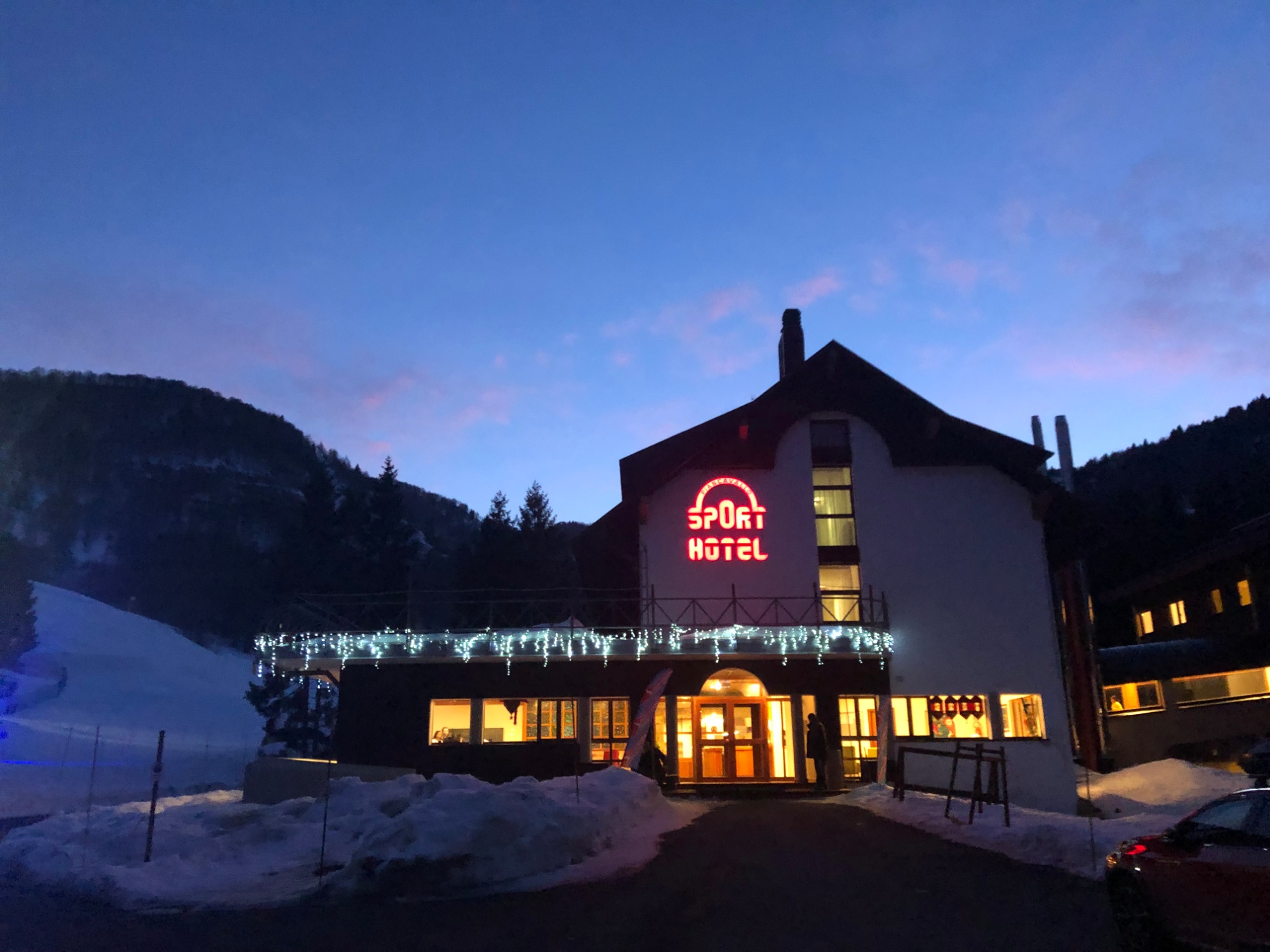 At the hotel we got our skis and boots fitted; the slopes were at our doorstep which was useful because it meant we could start skiing sooner. We skied for 3 hours in the morning and 2 hours in the afternoon with a lunch break in the middle. There were plenty of slopes which meant that it was never too busy. There were four groups ranging from beginner to advanced, which were the perfect size to learn and have fun at the same time - the instructors were also funny but also helped you improve your skiing. Our favourite parts of the slopes were the jumps and going on the black run at the very top of the mountain because they put our skills to the test. We liked how there was different types of snow on the range of runs as you could see what your skiing ability was like on other surfaces. We found it really tricky to ski on the icy snow although it was a challenge we enjoyed.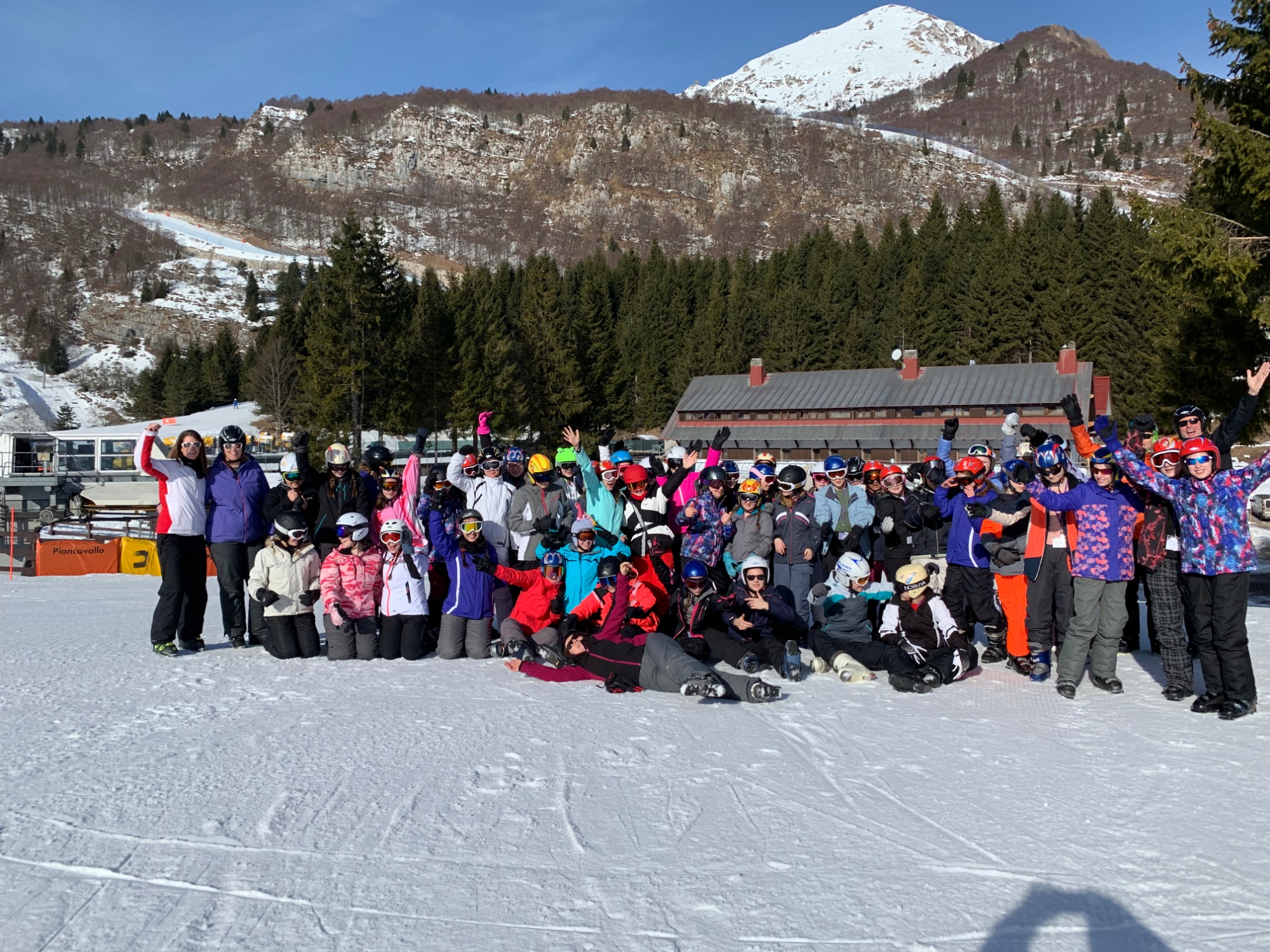 In the evenings after skiing the teachers kept us entertained with a variety of events every night. On the Tuesday night Mr Sargent held a general knowledge quiz and also had a competition of who could build the tallest tower made out of marshmallows and spaghetti; our team won! Our favourite activity was the torchlight decent because taking part in it was exciting and watching people ski down was beautiful. Afterwards we all got delicious hot chocolate and danced to the music that was playing. We made loads of new friends from across the forms and even some from other schools!
If the opportunity came up again, we would definitely want to go and would recommend it to anyone considering with all skiing abilities, even just a beginner. It's a great way to meet new people and make new friends. Thank you to the teachers for giving us the opportunity to go to Italy as it was really well organised and enjoyable!
By Eloise Bishop and Mia Fendt 9D
A New Football Kit for the Junior Team!
We would like to say a huge thank you to Shaun Chisholme, a parent of a student at Ribston Hall who has very generously bought our Junior football team a new kit. The team look really smart and I think that feeling proud of what they are wearing in matches will help them score more goals!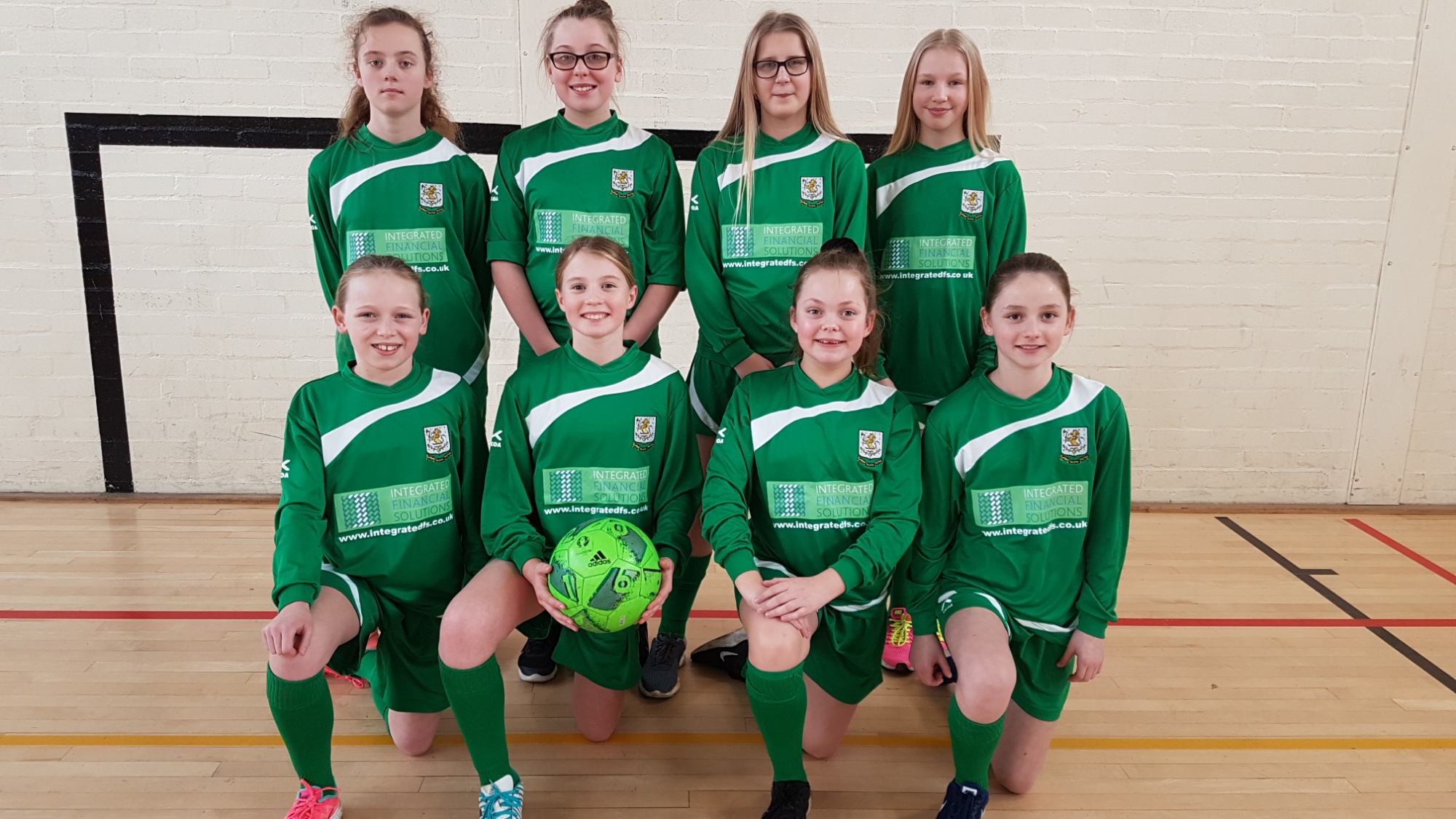 Pictured Lto R (Top row): Olimpia Chojak, Sienna Zecca, Florence Jones, Isobelle Moger. (Bottom row): Natalie Cadman, Becky Chisholme, Mathilde Hiatt, Bea Jordan.
Artists' Corner
This months' artwork is by our Year 9 students learning about Graphic Design. The artwork was undertaken in an Order and Contrast lesson. Students looked at the Unilever logo as a way of using symbols to create a shape. They then used Adobe Photoshop and its custom shapes to form the first letter of their name to produce very striking designs. Drawn by (top to bottom): Samantha Whitworth, Hannah Whiteley, Sophie Porter, Eleanor Nelmes, Jessica Palmer, Bethany Trenchard.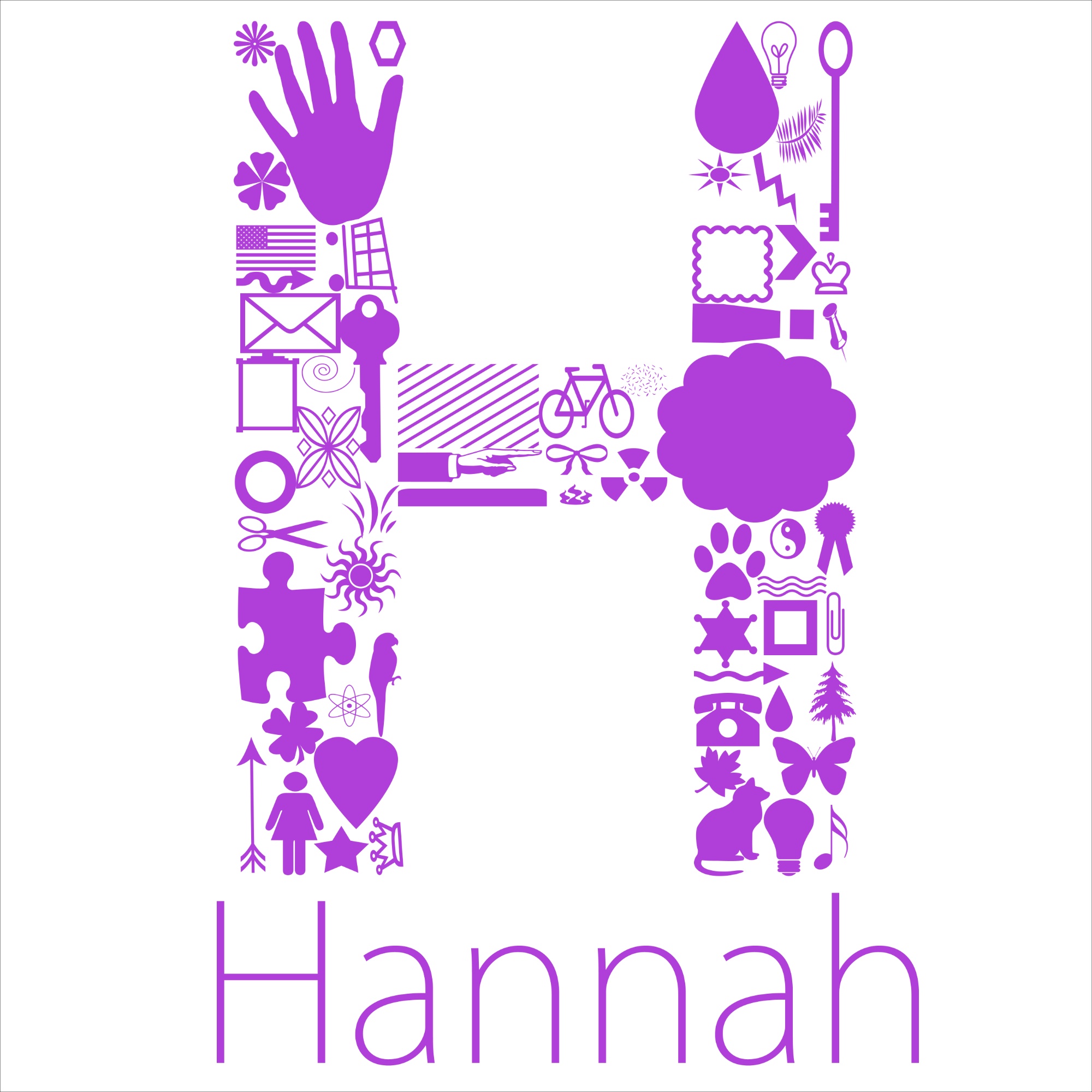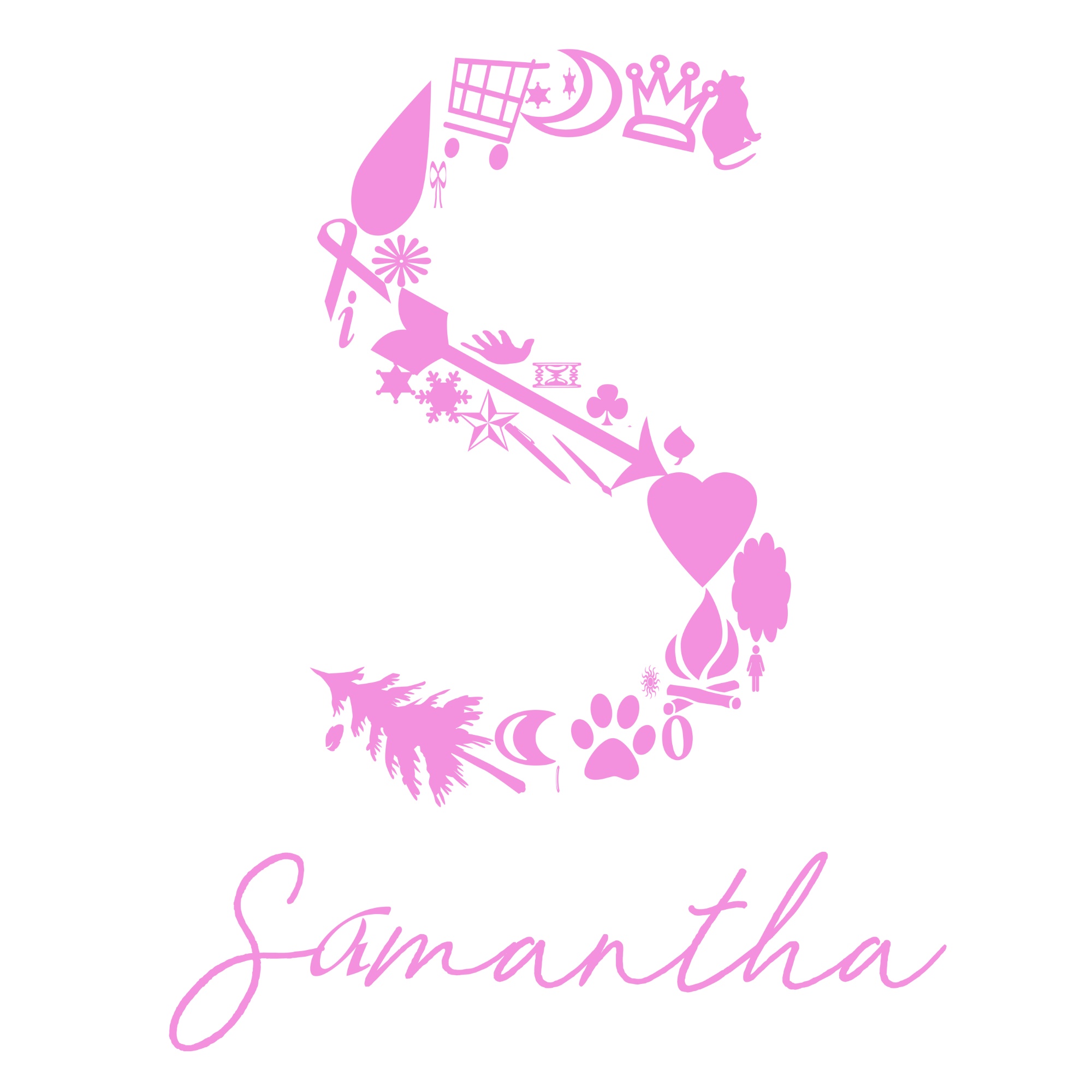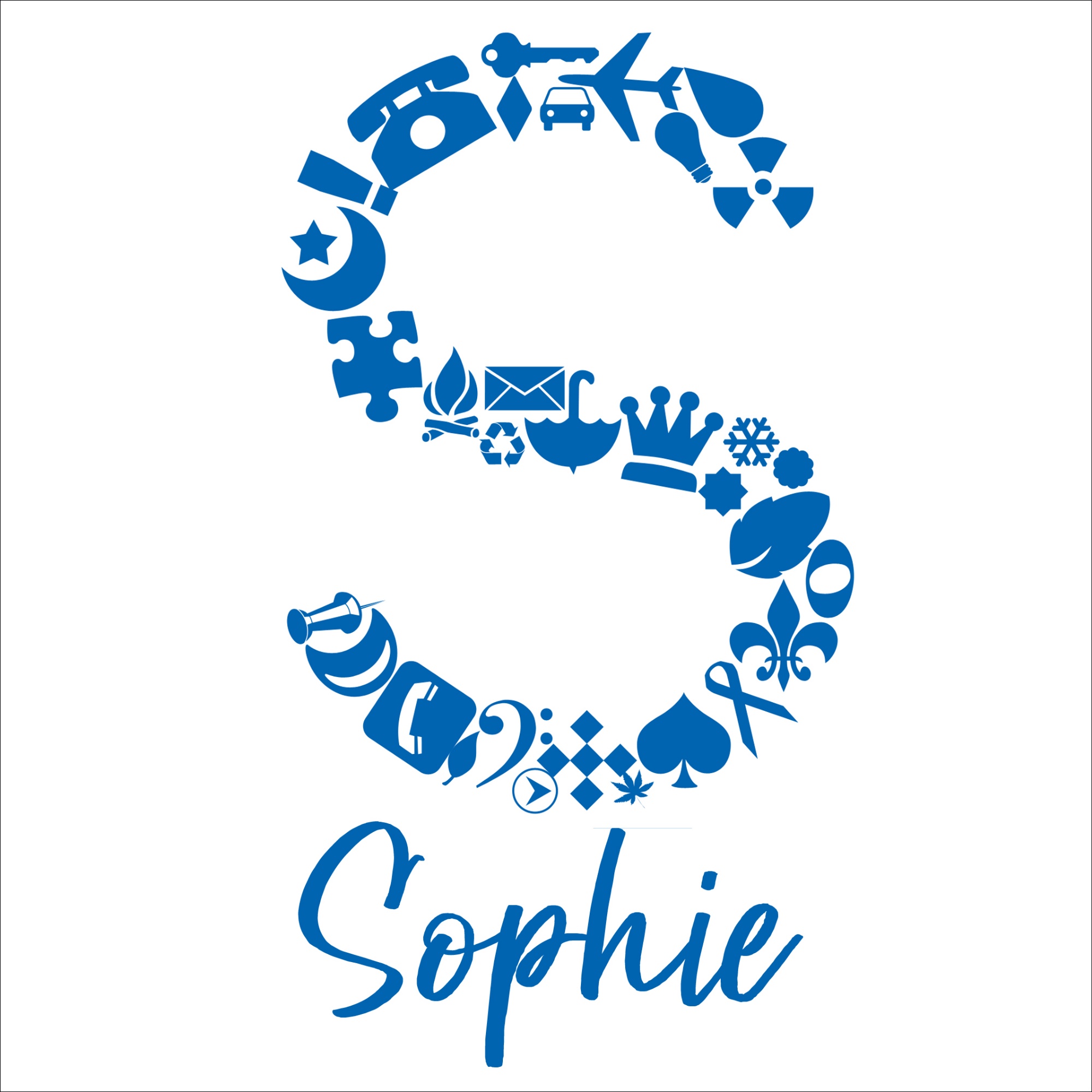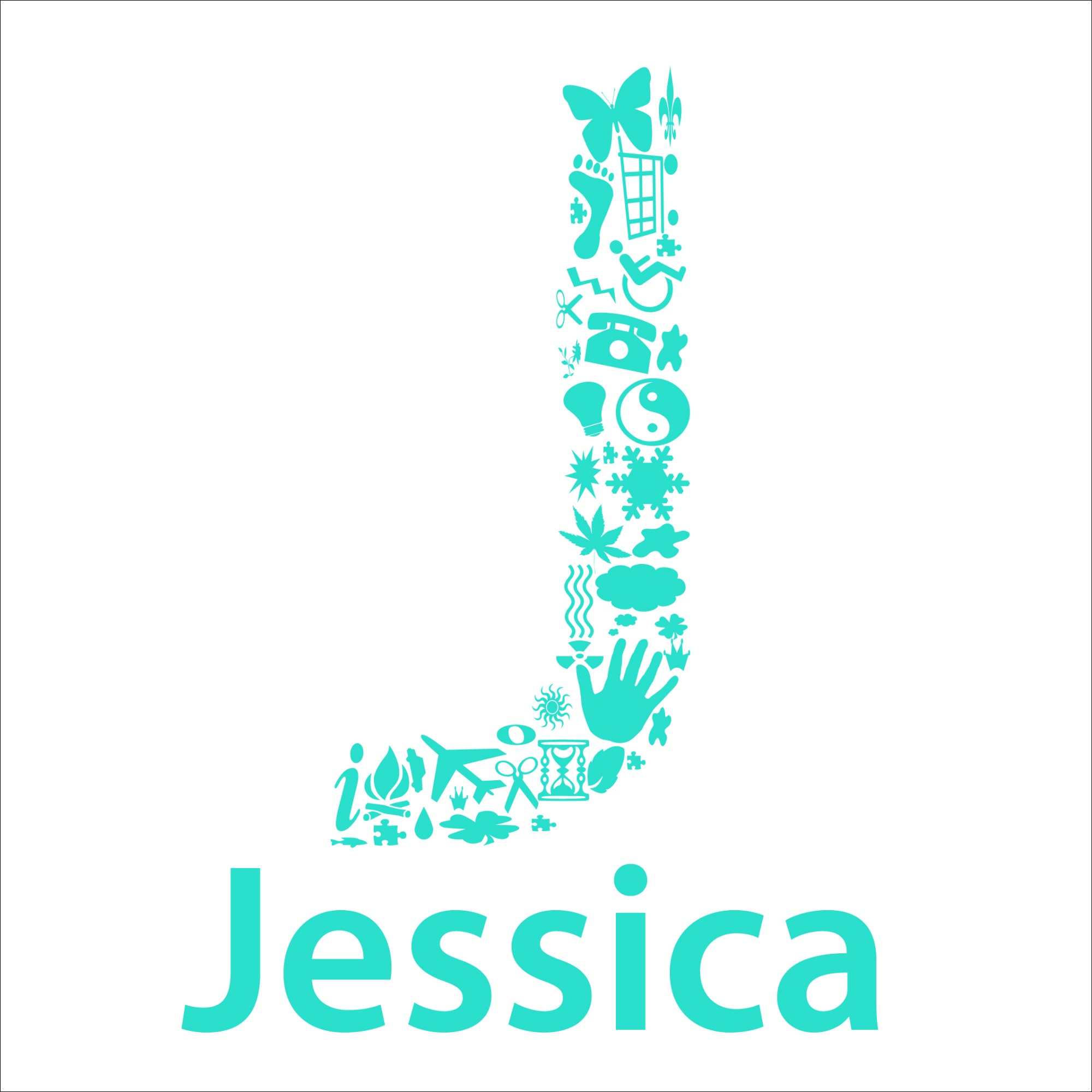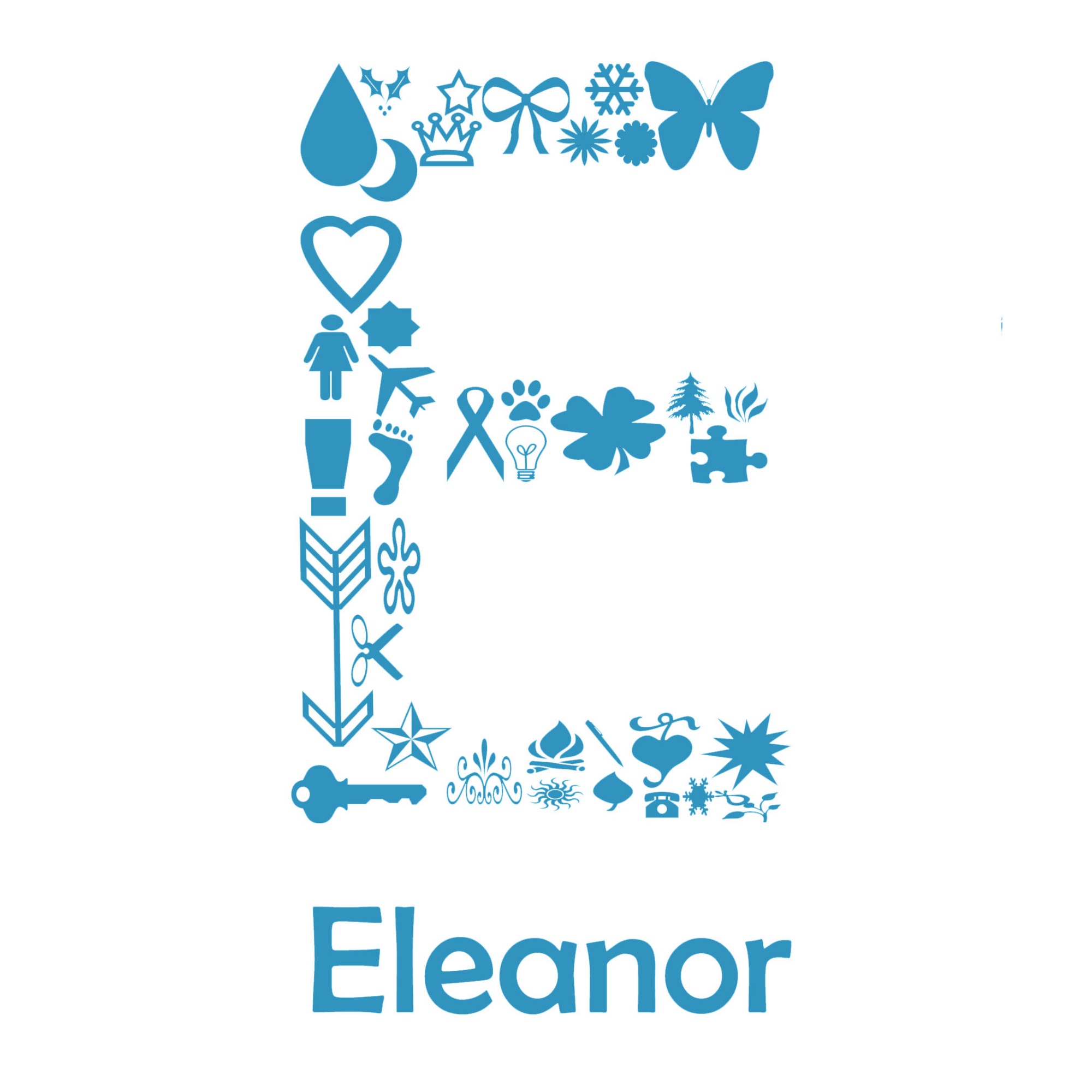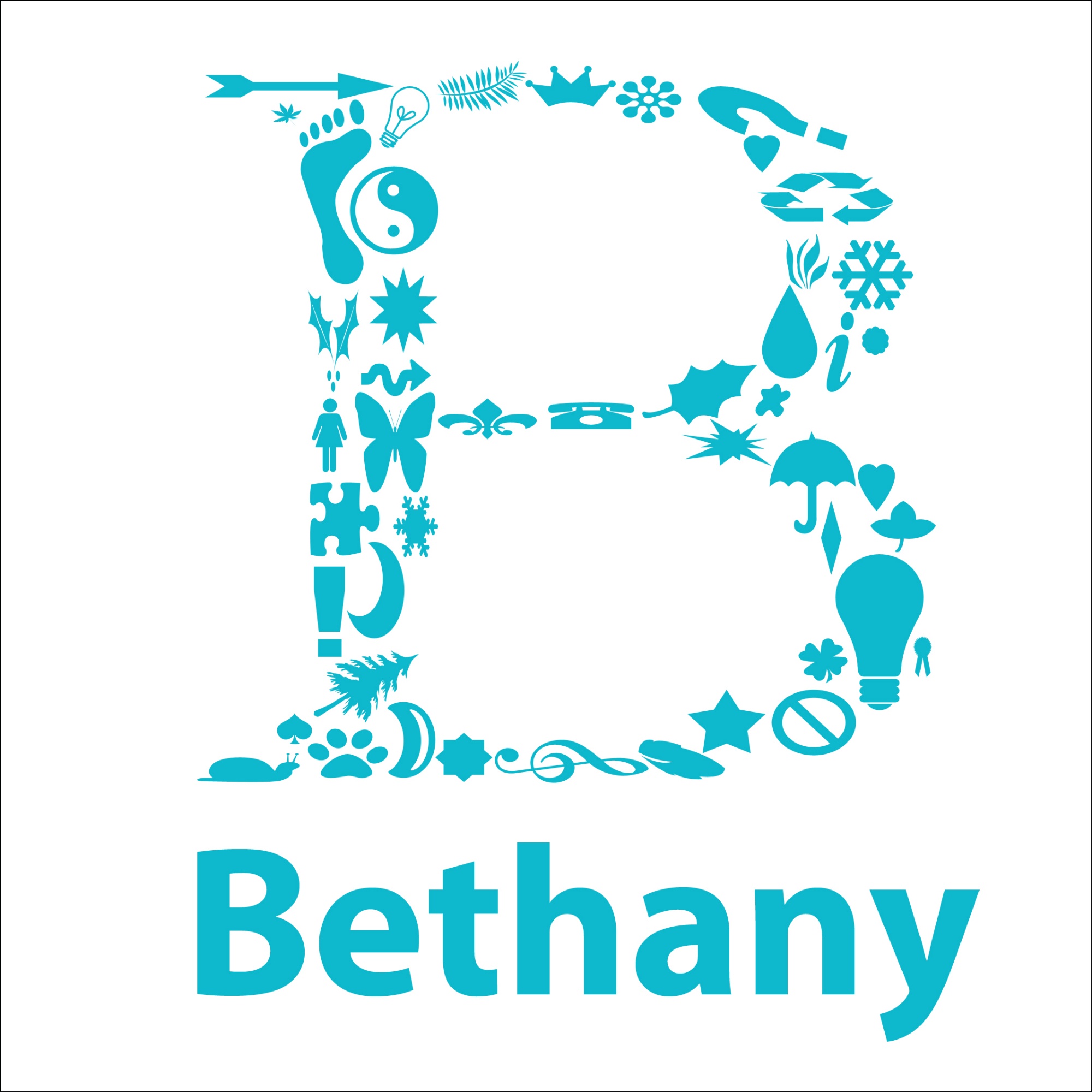 Intermediate Maths Challenge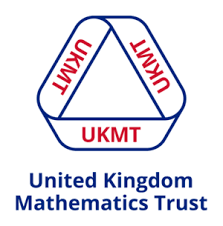 Well done to all who participated in the Intermediate Maths Challenge. Many congratulations to Grace Cooper and Laura Davis of Year 9, for progressing to the next round in this individual maths challenge competition.
Congratulations also go to students who gained Silver certificates:
In Year 9: Grace Cooper, Laura Davis, Vareena Moodley, Maddy Lowe.
In Year 10: Sadiya Ginwalla, Lucy Currie, Aimee Whitmore.
Well done to students who have gained Bronze certificates:
In Year 9: Mia Fendt, Ellie Astle, Isabelle Gittings, Louise Daye, Madeline Gutteridge, Jessica Wellington, Ella Powell, Alanna Green, Amy Lardner, Rebecca Coolican Davies, Maia Stewart, Lacey Bradley, Chloe Jones.
In Year 10: Maariyah Dhalech, Sumaiya Goga, Emmie Hedges, Suraksha Jayakumar, Kara Dionisio, Lizzie Clements, Amelia Capper, Elin Harrison, Lucy Good.
We have a Young Reporter in our Midst!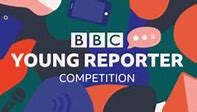 Congratulation to Lucy Maclean in 8R whose recent entry into the BBC Young Reporter Competition 2019 has led to her being asked by BBC Gloucestershire to share her story on the radio. Well done Lucy for impressing the BBC with your writing skills, we look forward to hearing it on the radio in the near future!
Food Technology
We had to show you some fantastic cake decorating skills by our very talented Year 9 students. The lesson was lead by our Trainee Teacher, Miss Thomas and I'm sure you will agree, they all look delicious!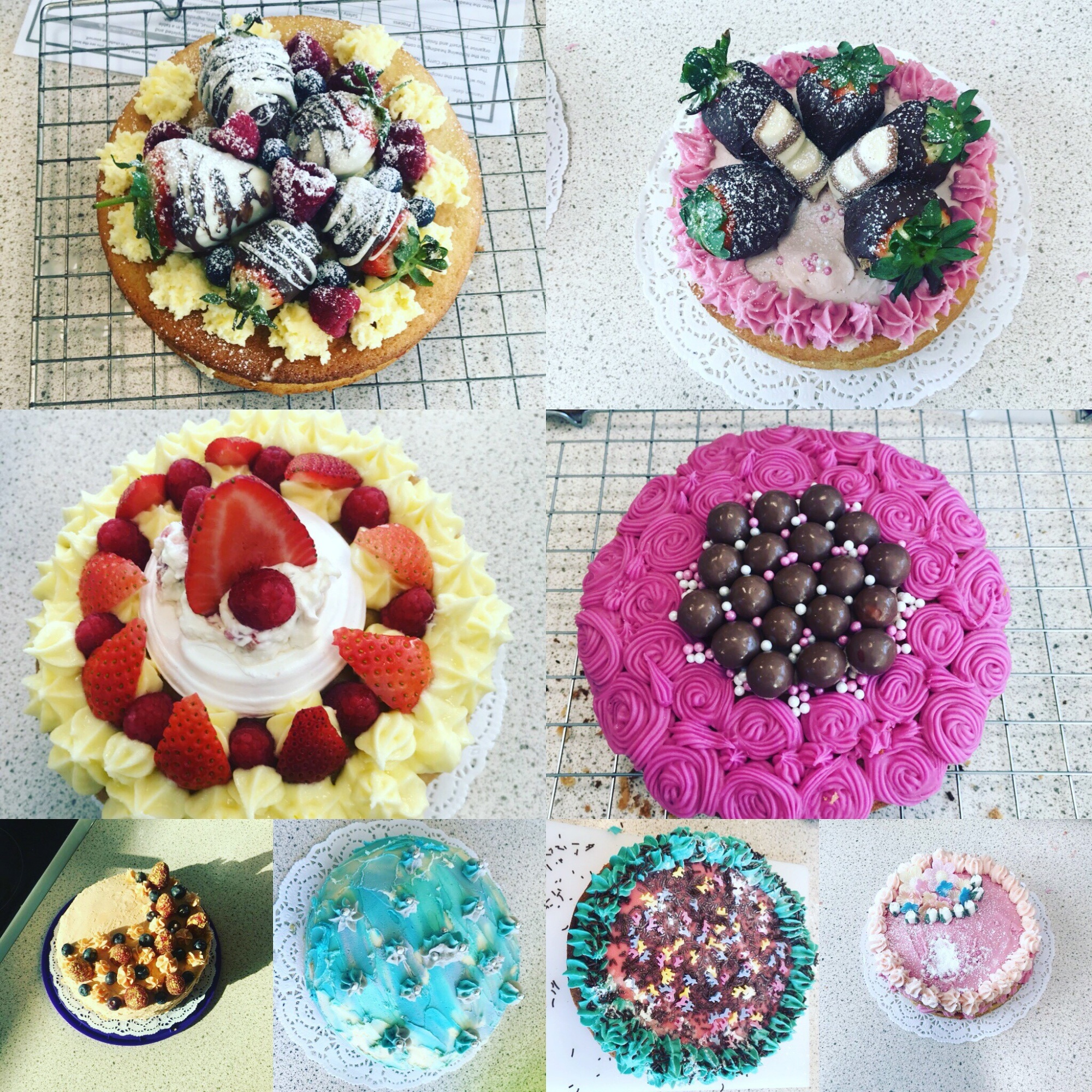 Eco-School Green Flag Award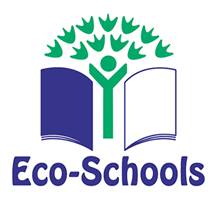 Recently, we have started the journey to become an international Green Flag Award Eco-School. The programme is designed to raise environmental awareness among young people and is run by the environmental charity keep Britain Tidy. Internationally, the programme is the largest educational programme in the world present in 67 countries and 52,000 schools. Our school is now part of this global community working to create environmental change for the benefit of future generations.
The Eco-Schools programme empowers students, raises environmental awareness, improves the school environment and can also lead to financial savings for schools. Being an active member of the programme will be something our students will remember for the rest of their lives.
The programme focuses on ten important global issues: Biodiversity, Energy, Global Citizenship, Healthy Living, Litter, Marine, School Grounds, Transport, Waste, Water.
Every school taking part in the Eco-Schools programme follows the same simple Seven Step framework that takes schools between one and two academic years to complete. After achieving our first Green Flag, our school can continue in the programme to gain multiple Green Flags. One of the most exciting things about the programme is that the process is designed to engage a whole school and its wider community – which is why we have taken the time to inform you about our participation.
We have had volunteers across all year groups to help lead this scheme, which is amazing. Where year groups have more than 3 volunteers, their peer groups will vote for representatives to sit on a committee and feedback to their year group.
Any student can join in and participate on the school projects. If you would like to get involved in the Eco-School programme by sharing your time, ideas or skills please contact me. If you are struggling for spare time, don't worry we will keep you updated on our progress regularly and invite you to any Eco-Schools projects or events that the students decide to organise. We hope you will be as excited about our Eco-Journey as we are!
Amy Heard (Eco School Co-ordinator)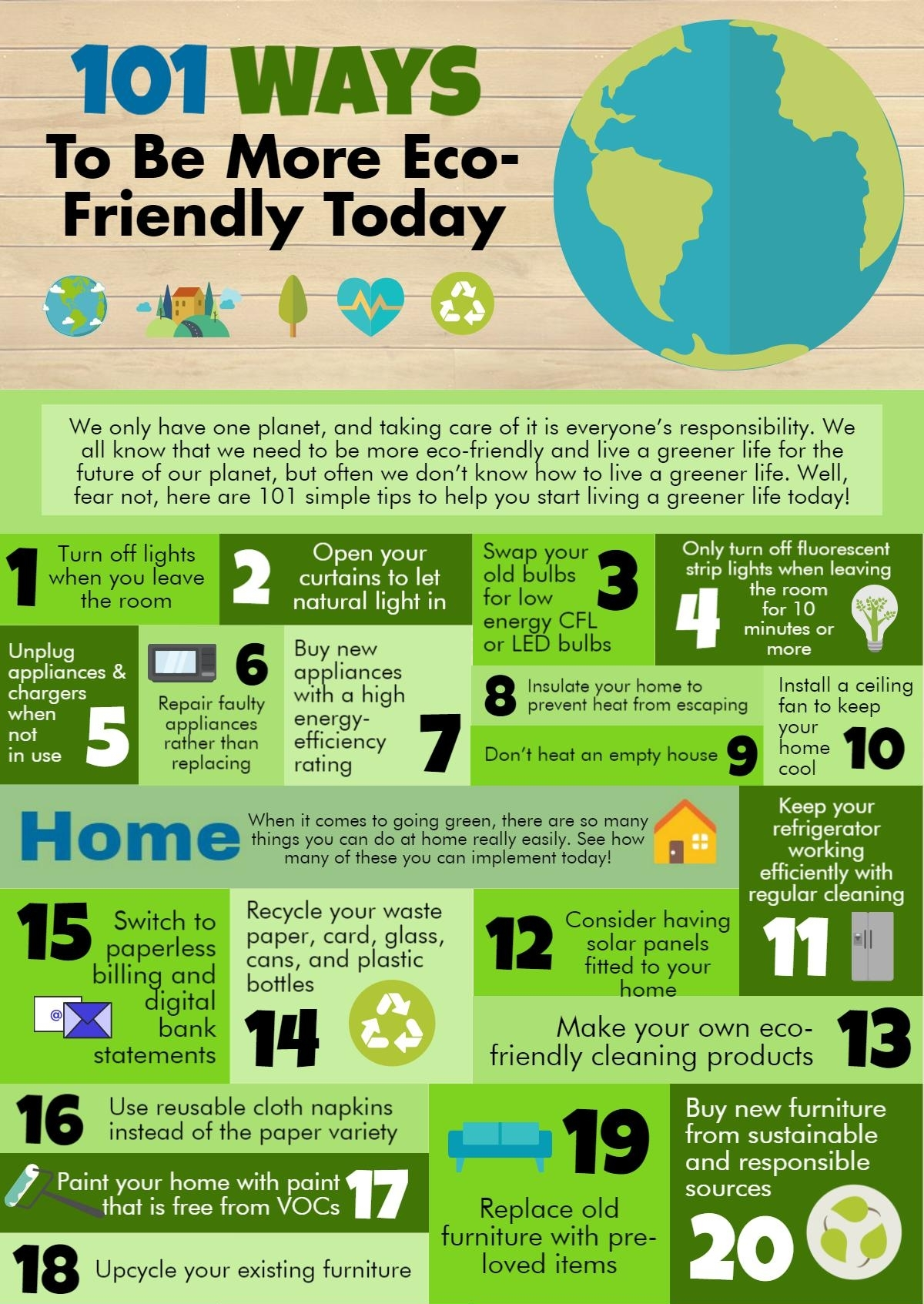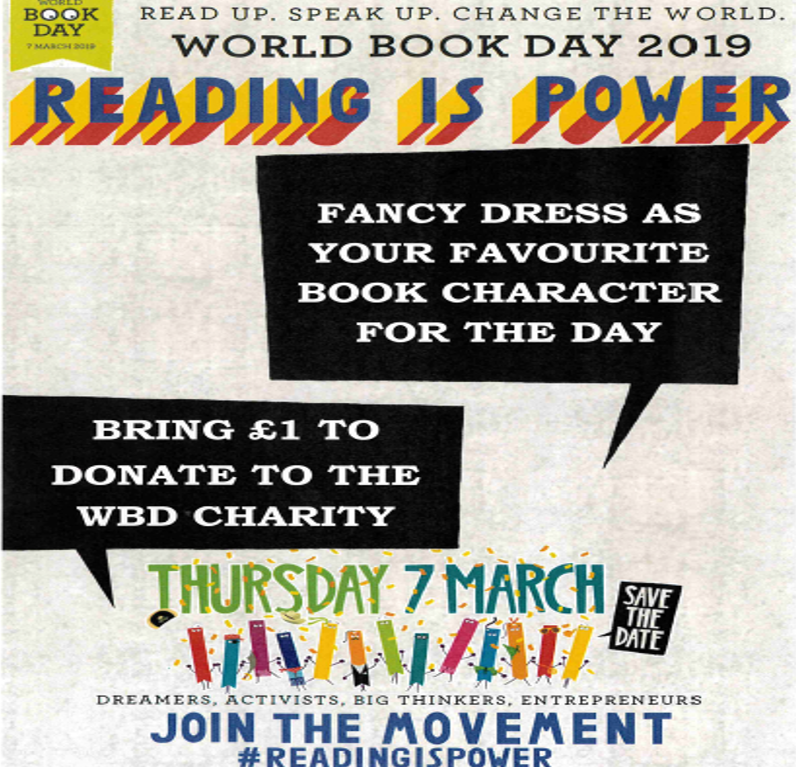 Ribston Hall High School
Stroud Road, Gloucester, GL1 5LE | 01452 382249
rhhs@ribstonhall.gloucs.sch.uk