School News
June has been a month of performance where we have seen great talent displayed by our students of dance, drama and music. The G15 celebration was uplifting and I was hugely proud to see our students perform so beautifully in front of parents, staff and students from all of the schools within Gloucester.
We have seen visits from local employers this month who have given up their time to come into the school to train students in interview technique as well as meeting Sixth formers for business breakfasts.
The Eco-committee have been working hard on an action planning for next year and I met with some impressive representatives of the group recently to discuss their ideas. Please take some time to read about what want to do in school and see if you can respond to their plea for support. We would be grateful for any donations!
We have recently been informed that Ribston Hall has been left a legacy from a former teacher, Mr Cyril Govier. Mr Govier taught Science from 1966-1986 and writes that his legacy be used to establish a Bursary fund to provide modest and occasional financial help to students in need. Mr Govier's will offers his good wishes to the school. We are very thankful.
Sarah Colombini, Headteacher
G15 'Celebration of Success' Event at Gloucester Cathedral
The G15 'Celebration of Success' Event is an annual occasion whereby 15 schools from around Gloucester come together to produce a range of performances that showcase our schools and collectively celebrate the talent within our city.
This year, Ribston Hall was represented by the Senior Choir and Dance group who performed 'Rhythm of Life' on stage in front of a packed audience. They did not disappoint! The evening was a wonderful opportunity to unite all of the Gloucester schools and is a testament to the dedication of both students and teachers involved in music education.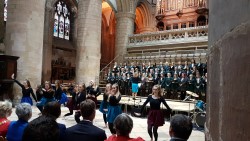 Summer Performance Evening
Our Summer Performance Evening was a fantastic opportunity to celebrate the range of talent we have at Ribston Hall. From dancing and music to drama and theatre, it was an occasion for students to showcase their talents.
To participate in an evening such as this allowed other students, teachers and family to enjoy the gift that so many students possess. The evening's performances included instrumental, vocal, solo and group pieces as well as dances and drama pieces. Thank you to all the performers and to friends and families for your continued support.
Written by Meghan Riley, 11S
Duke of Edinburgh Silver Award Completed!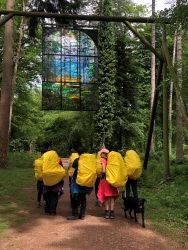 Sixteen, some-may-say-stupid Year 10's successfully completed their Silver DofE Award recently, an exciting year, it has included learning lots of valuable new skills in teamwork,self discipline and independence as well as completing voluntary work and finishing with three days spent walking and camping in the Malverns.
DofE was an exciting and unforgettable experience, providing us all with long lasting memories, and skills we will cherish and use forever. It was a very rewarding and challenging achievement, with many laughs and smiles along the way. Our assessor Gary will not forget our crazy projects and 'evening entertainment', telling us we were his favourite and best groups yet, not forgetting his love of the idea to have a campfire talent show too!
Many of us are looking forward to hopefully canoeing in our Gold DofE next year, along with the help of Liz and Mrs Barnett. We would strongly recommend DofE to anyone looking for an adventure!
Written by Olivia Hughes, 10D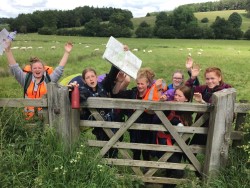 Sporting News
June has been a busy month in the Ribston Sporting calendar despite the rain affecting many fixtures. We have been able to enjoy leading at the Primary School Swimming Gala and Primary School Athletics Event and competing in the U13 'Chance to Shine' Cricket Tournament and the District Athletics Championships.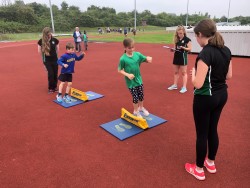 Both leadership days were extremely successful. There were a range of swimming leaders from across Years 7-10 who volunteered to help score, time keep and team manage at GL1.
The Primary School Athletics Event was held in Cheltenham and it was the turn of Year 9 to volunteer to lead. They ensured the event ran without a hitch, showing what mature and responsible students we have here at Ribston. Thanks must go to all our leaders for their hard work throughout our leadership events.
The U13 'Chance to Shine' Cricket Tournament was held in Frampton on Severn. 15 schools entered and 8 schools qualified for the semi-finals, Ribston being one of those. The team played extremely well, taking wickets and scoring runs but unfortunately we were knocked out in the semi-final. A special mention to Sophie Webster in Year 8, who has Captained, led and coached the team this summer.
On Friday 24th June, the PE Department took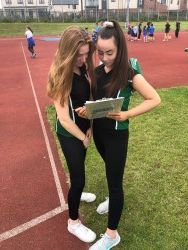 55 students to the Prince of Wales Stadium in Cheltenham for the annual District Athletics Championships. 30 Year 9 Ribston Hall Sports Leaders supported the smooth running of this event which involved over 400 primary pupils.
There are too many individual success stories to mention but congratulations to all those who competed. It is a daunting prospect to compete in front of so many spectators. Each student conducted themselves in true Ribston Spirit, striving to fulfil their potential on the day.
Written by Mrs Katharine Pitman
Commonwealth Judo Championships 2019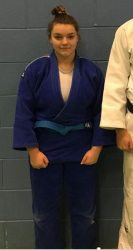 Helena Fuller in 9B has been selected to represent England at the Commonwealth Judo Championships in the Cadet category (under 18's). The tournament takes place on Sunday 29th September 2019 in Walsall. She is placed in the top 6 judoka on the Cadet ID league.
Unfortunately, Helena has sustained an injury and may not be able to attend. However, we wanted to acknowledge such a great achievement for a Year 9 student.
Food Technology
Ever thought about cooking with Game?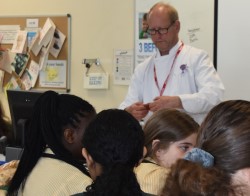 On Monday 3rd June, Simon Gray from The Schools 'Game Changer' programme in partnership with the 'Taste of Game' visited our Year 10 Food Technology class. Simon demonstrated how to prepare pheasant bruschetta & meatballs, whilst also informing the students about the sustainable and ethical issues surrounding Game. Most of the students had never prepared pheasant before let alone eaten it and approached the task with great enthusiasm and maturity.
In addition to using game, Year 10 have made Lemon Meringue pie this month, learning about the various functional properties of eggs (enriching, binding, thickening, aeration) coagulation & denaturation.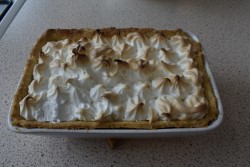 Junior Maths Challenge
Congratulations to the following students who all gained awards during the recent Junior Maths Challenge:
Bronze Award : Grace Beale, Eloise Bulpin, Ruby Elkins, Tanisha Joshi, Sangeetha Joshy, Lakshmi Priya Kalithkar, Jenaye Kelly-Smith, Olivia Lake-Kelly, Hallie Mant, Madeleine Wise, Sienna Zecca.
Silver Award: Anna Frey, Sophie Fudge, Sianna Hadland, Olivia Howe, Breea Jordan.
Gold Award: Amelia Villacis.
Amelia has also participated in the Junior Kangaroo Challenge and we await her result.
Modern Foreign Languages
This summer, two Year 12 Spanish A Level students are heading off to Spain for work experience. We wish both Nadiyah and Yasmin a safe journey (buen viaje) and the best of luck (suerte) with their exciting adventures!
"On July 13th I am going to be going to Zaragoza, which is in the north of Spain, for a week's worth of work experience. I have decided to opt for restaurant/café work for the week because I believe this will best allow me to develop my language ability and explore the culture in depth, by looking at things such as the differences in foods. I am most looking forward to the idea of only speaking Spanish for a week because I know how much this will improve my oral ability and confidence in speaking Spanish. This will help not only with my language ability in general but also with my speaking and listening exams next year. I am also excited at the prospect of meeting new students on this trip, because we will all be in the same position; a little nervous but overly excited." Yasmin Ginwalla, 12.4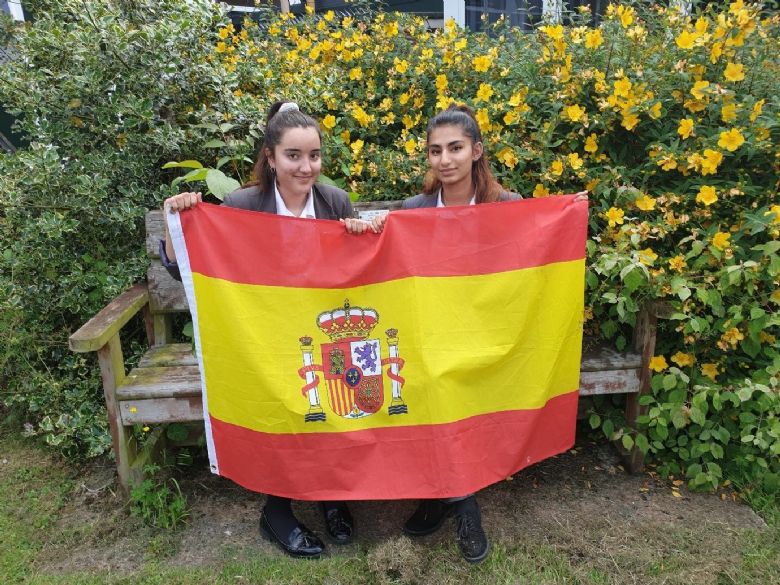 "On August 12th I am going to Granada in the south of Spain for one week.
Whilst there, I will be taking Spanish lessons in the morning followed by work experience in a school in the afternoon. In the evening, I will be spending my free time visiting the city and taking in all the beautiful scenery. I am most excited to be fully immersed in Spanish culture, meet new people and hopefully make lifelong friends." Nadiyah Mulla, 12.4
Religious Studies
During the month of Ramadan, Muslims will fast between dawn and sunset. Fasting is important during Ramadan as it allows Muslims to devote themselves to their faith and become closer to Allah, or God. Fasting is one of the Five Pillars of Islam, which form the basis of how Muslims live their lives. Ramadan is also a time for spiritual reflection, prayer, doing good deeds and spending time with family and friends. People will make a special effort to connect with their communities and reach out to people who need help.
There is a special three-day festival to mark the end of Ramadan. This is called Eid al-Fitr - the Festival of the Breaking of the Fast. It begins when the first sight of the new moon is seen in the sky. Muslims will not only celebrate the end of fasting, but will also thank Allah for the help and strength that he gave them throughout the previous month. Often children are given presents and new clothes.
To commemorate this month, the R.S. department had a variety of activities where students enjoyed learning more about Ramadan, making cards to wish people a pleasant Eid, creating Qur'an bookmarks and attempting to learn some Arabic. The activity that proved most popular however was designing their own Henna patterns! The photo below shows some examples of the excellent designs created.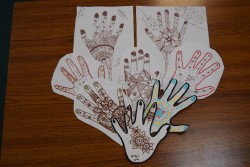 Maths Day at Bristol University
On Wednesday 19thof June, a total of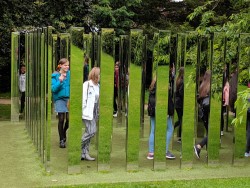 15 students made their way to Bristol University for a Maths day organised by the Advanced Maths Support Programme. We had a fantastic experience with all the activities the AMSP and the university had planned.
We had the opportunity to tour the campus with two university students, and even managed to see a Banksy artwork ! We had the chance to try out nonograms, a type of Japanese crossword and 'Chased the Storm' where we learnt how maths was involved in predicting the weather and had a go at forecasting ourselves.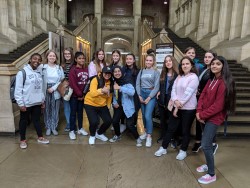 The whole day overall was very interesting and informative; it helped broaden our knowledge of careers and A-Levels in Maths and Further Maths and made us aware of where maths can take us in the future. Overall we had an amazing time there, and this day had helped us to consider taking maths beyond GCSE.
Written by Maariyah Dhalech, 10B
Artists' Corner
This months there are some fantastic recreations of Edvard Munch's painting b 'The Scream' ! The Year 8's made their backgrounds with oil pastel, then scanned in their photos and superimposed them on top using Adobe Photoshop.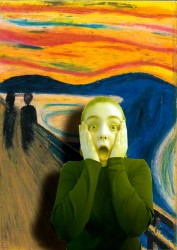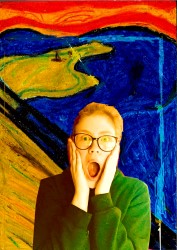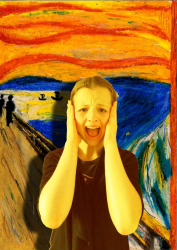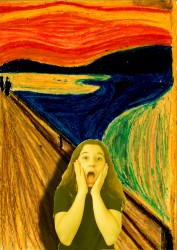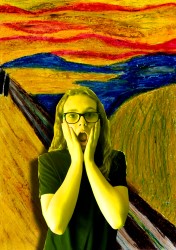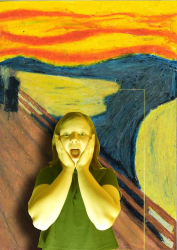 Textiles: Embroidery Artist Visit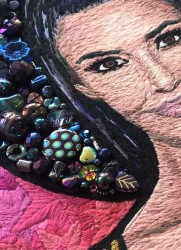 Recently, the Textiles department was lucky to receive a visit from the talented embroidery artist Sarah Gwyer. The session introduced techniques that she uses to construct her pieces and what her works tends to be based on. Sarah's textiles consist of bright coloured embroidery work and beading to create accurate portraits of famous stars ranging from Lady Gaga to Kim Kardashian.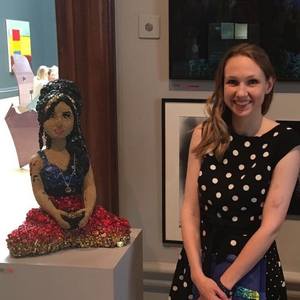 Sarah introduced to us her techniques of shading using threads and showing us how she creates that realistic aspect within her portraits. The session was a useful insight into how Sarah creates her work and techniques that as students we can be inspired to use in our creations. Ribston Textiles girls would love to thanks Sarah for giving her time and influence to show us her astounding work.
Written by Sophie Kimber, 12.1
Graphic Design - Deafness Awareness Posters
Year 9 Graphic Design students experienced their first session with Adobe Photoshop this month where they worked with a contrast exercise to produce posters raising awareness about deafness. It was inspired by the Action@deafness campaign with the idea of the posters produced could be used to raise awareness around how to help Miss Mowatt when speaking to her in class.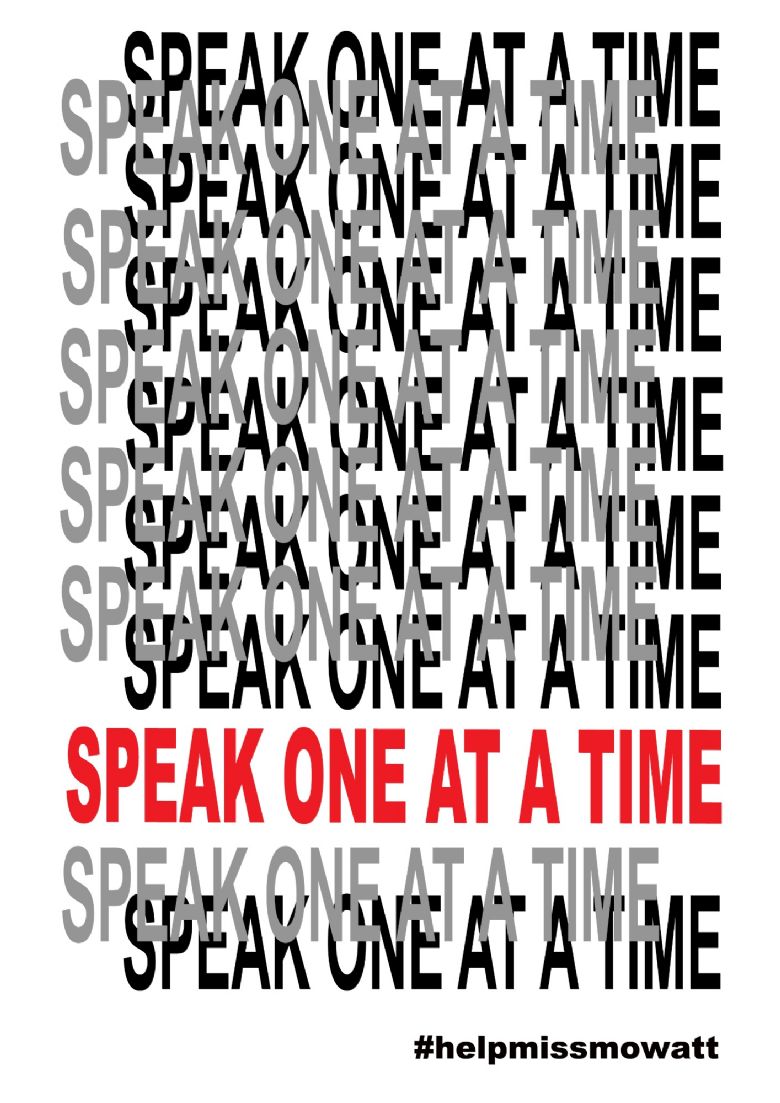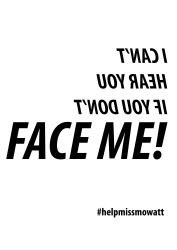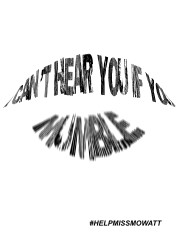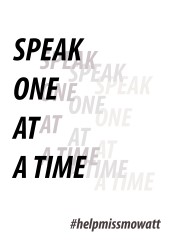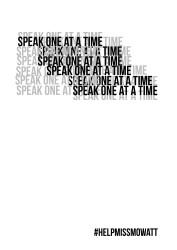 Year 10 Mock Interviews
On the 23rd of May, Year 10 were enrolled to take part in mock interviews. Prior to this date, we received an application form that we were required to fill in prior to the interview. It asked us all sorts of things about ourselves, our strengths, our talents, desired career path, future education and why we would make a suitable employee. We were informed that we must arrive to the interview in 'business attire'.
On the day of the interviews, we all entered our form rooms hoping we looked appropriate. All of us were nervous as we had no idea what sort of situation we were about to be thrown into. We received a list of times, with around fifteen names paired to each time- these were our interview times.
Everyone was feeling the nerves, people were practising their 'interview voice' and the all-important handshake. It turned out that the nervous build-up was much worse than the actual experience.
I was taken to H1 where I saw sets of tables and my fellow students beginning their interviews. We sat down and at this point the nerves hit me. We sat for around thirty minutes discussing my application form. Afterwards we had to complete an evaluation form and wait for our responses. These arrived three weeks later, the comments were both honest and uplifting. Overall, the mock interviews were a really rewarding experience.
Written by Misty Hughes-Gardiner 10S
Stonewall Visit to School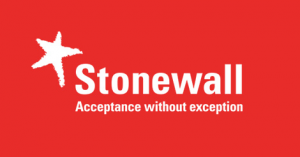 On Wednesday 19th June, Caroline Paige visited Ribston to run sessions to our Y9 and Y10 students.
Caroline is a Stonewall School Ambassador who tells her story to raise awareness of LGBT+ lives. She uses her own experience as a transgender person, from childhood to now and her aim is to raise awareness, and to inspire, not just LGBT+ youngsters, but all youngsters, to be themselves, to believe in themselves, to aspire, to see the best in others, and to respect them for their many and wonderful differences.
The talks were well received by our students who were impressed and inspired by Caroline. She made the students think more about the importance of inclusivity and tolerance in our school and the global community.
Eco School Update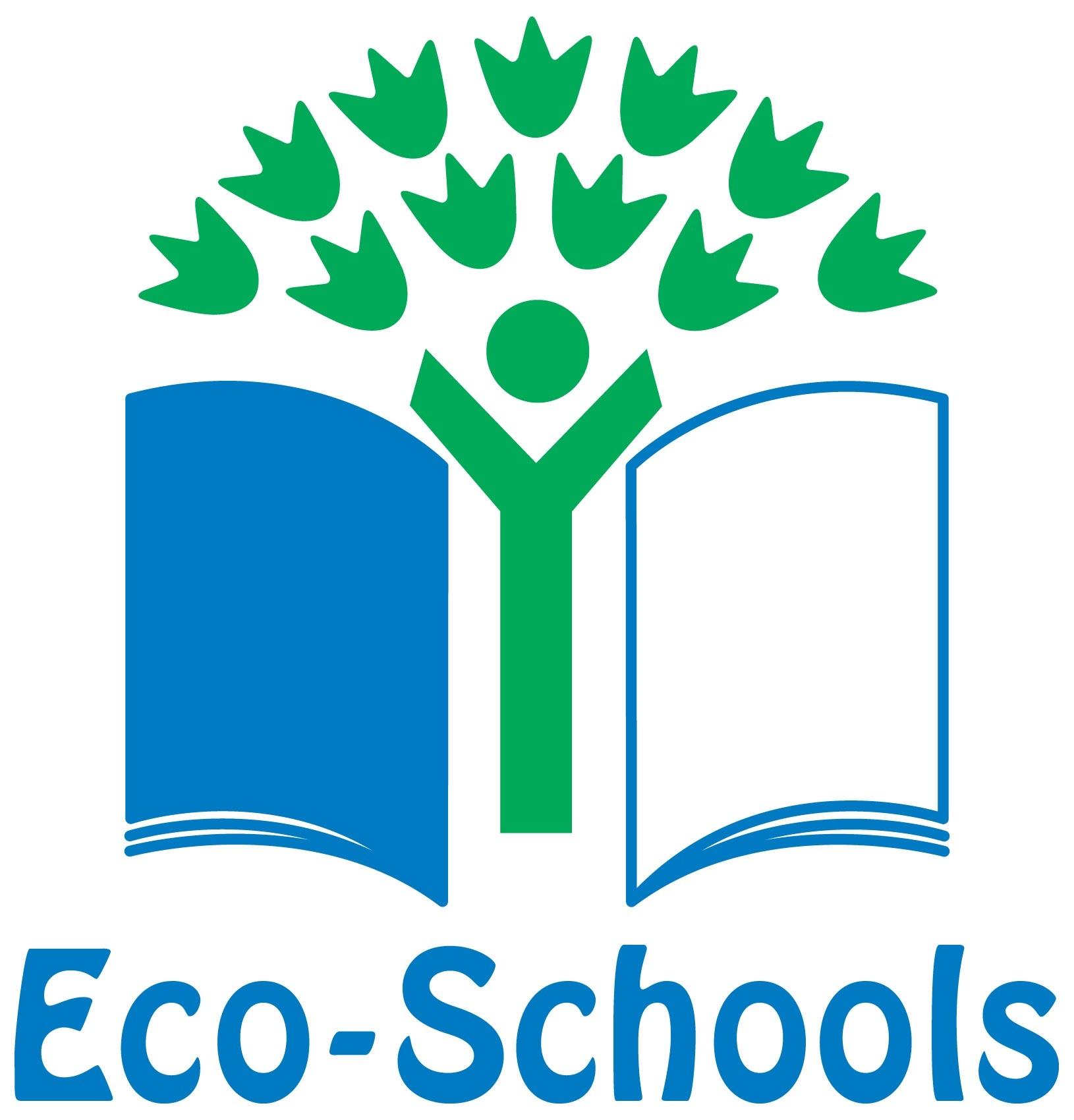 Since launching the Eco school award much has been done and we are almost ready to apply for Bronze Award. We have a committee of enthusiastic and forward thinking students who meet at least once every half term.
They are:
Year 7 – Amelia Villicas, Hope Hart, Rebecca Gravestock, Harroop Bhandal
Year 8 – Daisy Kane, Zara Perkins, Thamiliny Nanthanakumar
Year 9 – Faith Warrington-Alder, Robyn Hammond
Year 11 – Alice Groom, Abigail Wilson, Rhianna Whitbourn
Year 12 – Michelle Tuvi, Abi Paulin, Shalom Githiiru
Staff: Mrs Heard, Mrs Derbyshire, Mrs Karwa, Ms Bishop (Governor)
The committee have completed an audit of the schools practices and identified three areas to be improved on immediately. These are water, recycling and biodiversity.
The students have met and held a purposeful discussion about how we as a school can implement change.
1) Water is wasted around school as taps are left on in bathrooms and drinking water is discarded when it becomes warm. Rain water is not collected and used in school. Posters have been designed and will be put in the bathrooms to remind students about taps and educate them about water waste. We are looking into water butts for the school buildings and asking students to freeze their water the night before school.
2) Not every classroom has paper recycling bins and students put general refuse in these contaminating them. Food waste could be collected and composted from the dining area. There is too much litter around the school grounds that could be collected and recycled. Michelle and Shalom have already met with the Canteen manager and recyclable containers are now being used for take way food. Outside bins with lids and more recycling bins are being costed and posters educating students about what can and can't be recycled will be placed next to every recycling bin.
3) The students felt most strongly about increasing biodiversity -especially the need for a wildlife garden in the school grounds. More specific planting is required and students would like a few orchard trees and a vegetable patch where the fruit and vegetables could be used in Food technology.
Faith, Robyn, Daisy and Michelle met with the Head and represented the group fantastically, speaking passionately. We are pleased to say Mrs Colombini has approved the school wildlife area which will be a whole school project in conjunction with Wellbeing. Keep a look out for opportunities to help support this project from sponsoring a water butt, to donating cuttings of plants or gardening with us.
The Eco Committee staff have been impressed with every students' eagerness to spend time discussing environmental issues and how they have genuine desire to improve environment.
DONATIONS NEEDED:
As part of the Biodiversity drive the Science and Art and Technology departments will be creating insect houses for the school grounds.
If you have any unused / broken pieces of bamboo in the back of your shed please could we have them? Cut into small sections they make perfect nesting sites for bees and other insects. Any small donation will be gratefully accepted. Many thanks in advance.
Pre-owned Uniform
Please do bring into School any good quality uniform that is no longer required. Our stocks are low and there is a real demand for items. Money raised goes back into the School and directly benefits the students.
GCSE and A Level Certificates
A number of past students have not yet collected their certificates.
Please can you remind past students that they can still collect their certificates.
Anyone wishing to collect their certificates can come between 9.30am and 2.30pm up until Thursday, 18th July. Photo ID will be required.