School News
April sped straight into May and our Year 11 and Year 13 students have now gone on their respective study leaves, many having already taken a number of exams. Year 11 have a designated study space and are offered daily preparation sessions led by subject teaching staff to give them last minute 'don't forgets' and a 'you can do this' positive message. Year 13 had their Leavers' Celebration at Gloucester Cathedral this month which was a truly beautiful evening; a very special place to wish Year 13 good luck and send them off on their journey to enjoy their next exciting chapter.
Year 7, 8 and 9 students have been busy supporting us during our Open Mornings and have really impressed the public visiting the school. Many visitors told us what great ambassadors our Key Stage 3 students were, particularly our Year 7 year group who really enjoyed speaking to prospective students about what they love about Ribston Hall. Well done to our Key Stage 3 students!
Our "Admissions Information Morning" for Years 4 & 5 takes place on Tuesday, 18th June from 9.15am until 11am where we will be talking about the grammar school context, dispelling grammar school myths and offering advice and support on how to prepare students for the admissions test. Please pass this onto families who might be interested in attending. No booking necessary.
Sarah Colombini, Headteacher
Introducing our new Librarian / Careers Adviser
Ribston Hall has welcomed a new member of staff, Louisa Haines as our Librarian and Careers Adviser. She has already begun to make some really positive changes to the library and has made some "what's on" and "opportunity" boards detailing things of interest to students such as music/theatre/poetry performances and courses, jobs and work experience opportunities. This month in the library we will be celebrating Pride month with featured topical books.
A highly experienced Careers Adviser, she has also completed many 1:1 appointments with our Year 12 students who are considering their post-18 options. Ms Haines wants to encourage any Ribston student who is looking for information around Careers to pop in and see her in the library to make an appointment.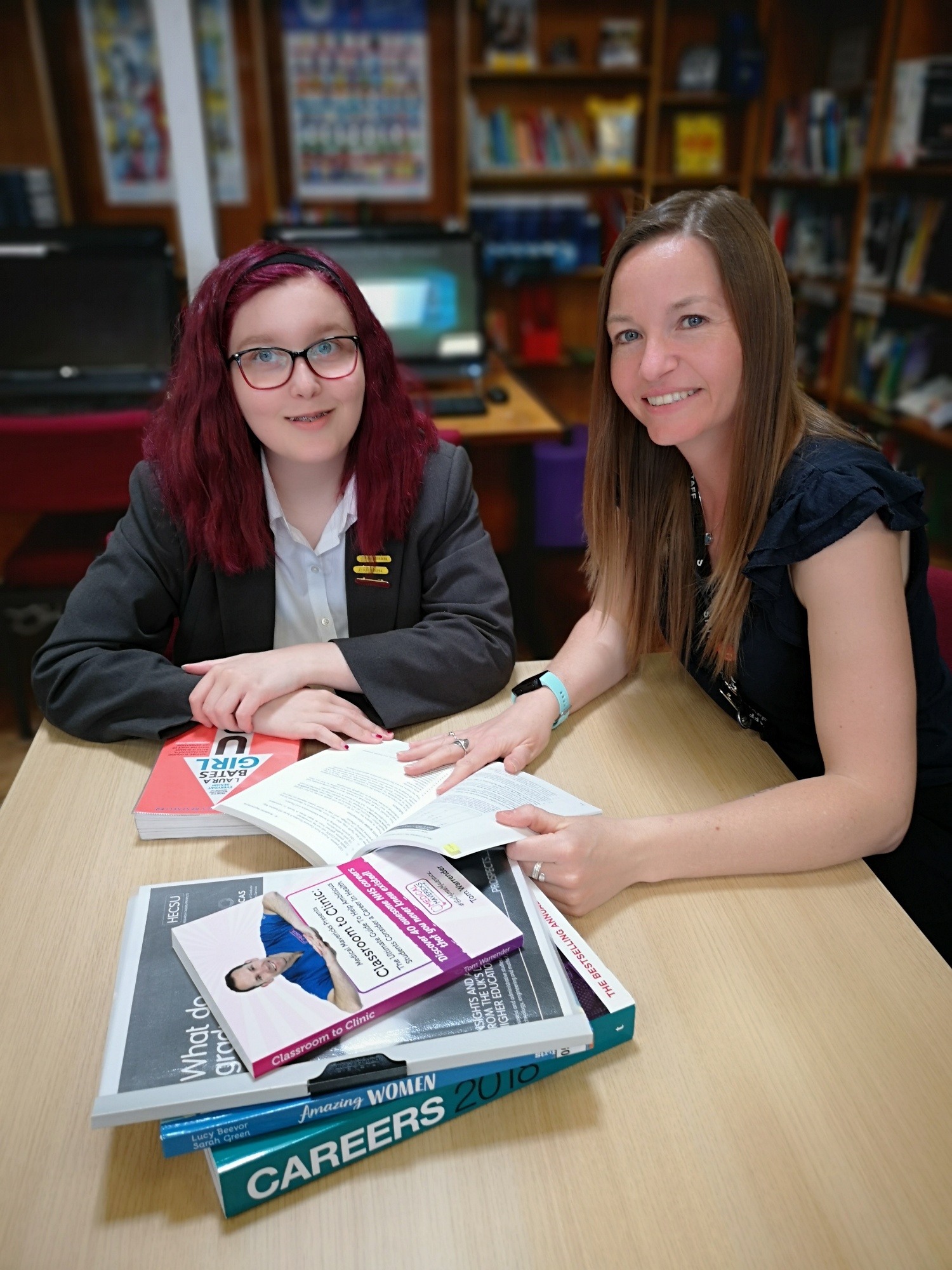 The joy of self discovery for Year 10 students - Higher Project Qualification
Last September, all Year 10 students were invited to explore and present their ideas for independent research projects, with the aim of obtaining a Higher Project (GCSE) Qualification (HPQ) in their area of interest. Six students were selected to take part in this extra-curricular course and happily embarked on their own journeys of discovery. Along the way, they learnt how to develop their original ideas into a robust and focused 'research question' (see below) that they then set about finding an answer for!
List of this years project titles and authors:
Anuradha Puri 'Does stress or genetics have a bigger impact on triggering an autoimmune disease?'
Lizzie Clements 'Has subatomic particle research developed our perceptions of black holes?'
Maja Esmanowicz 'Does owning a dog or pharmacological treatment have a greater impact on an individual who suffers from social anxiety?'
Olivia Hughes 'Is movement therapy or Escitalopram more effective at relieving Generalised Anxiety Disorder in girls aged 13-17?'
Charlotte Wood 'Can the design of a bedroom environment positively affect the cognitive development of children under the age of seven?'
Lucy Good 'Is music therapy an effective way of improving a cancer patients' mood and quality of life compared to other non-pharmacological treatments?'
In after-school and lunchtime sessions, these students developed effective research skills such as how to analyse different sources of information and how to refer to these sources using the University-level 'Harvard referencing' system. After many months of honing the skills of decision-making, objective evaluation, careful (yet flexible) planning, time and task management and writing with purpose, these students completed a 2,000 word research-based scientific report that fully answered their own 'research question'.
As part of the assessment, the students also prepared and delivered presentations of their work and their personal journey of (self, as well as academic) discovery during the HPQ project. The presentations were seen by Mrs Colombini, Mr Waters, Miss Leggett and Miss Erro, amongst others – all of whom asked searching questions and received excellent answers!
This is the second year of the HPQ (pilot) project. Current Year 11 students who took part in the first year of the project reported that it helped them develop many new skills that are transferable to all subjects, including essay writing and public speaking. In addition to obtaining a GCSE qualification in Year 10, they appreciated the freedom to explore a topic of interest in a detailed way and felt that this enabled them to make better-informed decisions about possible future areas of study and career pathways.
Written by Dr Kathryn Wakeman, HPQ teacher.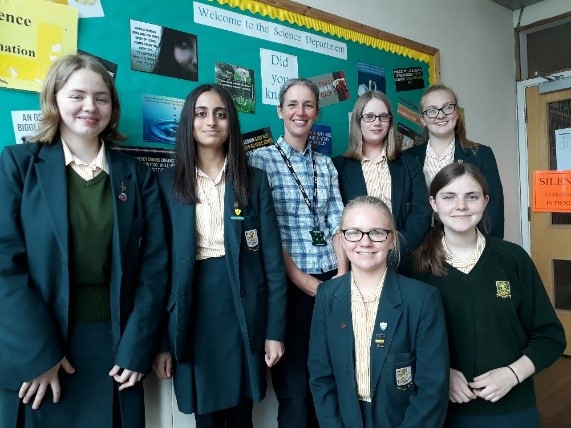 Sporting News
Equestrian Success!
Ribston Hall Equestrian Team have been very successful recently. At the end of May, four teams were taken to the West Wilts Equestrian Centre to compete for the National Qualifiers to be held in October. All of the girls rode really well in extremely good company. The Ribston competitors won first class and 2nd in two disciplines taking Ribston Hall to the Nationals again! The team consisted of Pip Griffiths (9D) riding Maverick, Ellie Savage (9B) riding Murphy, Millie Warner (10R) riding Bella and Roisin Leech (10R) riding Kemuri.
Another team came 7th which allows Ribston to compete for the plate in October at KEYSO. This team consisted of Charlotte Wilford (12SF4) riding Chippy, Louisa Garley (12SF4) riding Jazz, Maisie Taylor (12SF4) riding Whispa and Roisin Leech riding Colonel.
Ellie Savage and Pip Griffiths individually qualified for the school and are both off to the Nationals with two different disciplines, Pip showjumping on her pony Maverick and Ellie on her horse Cleo.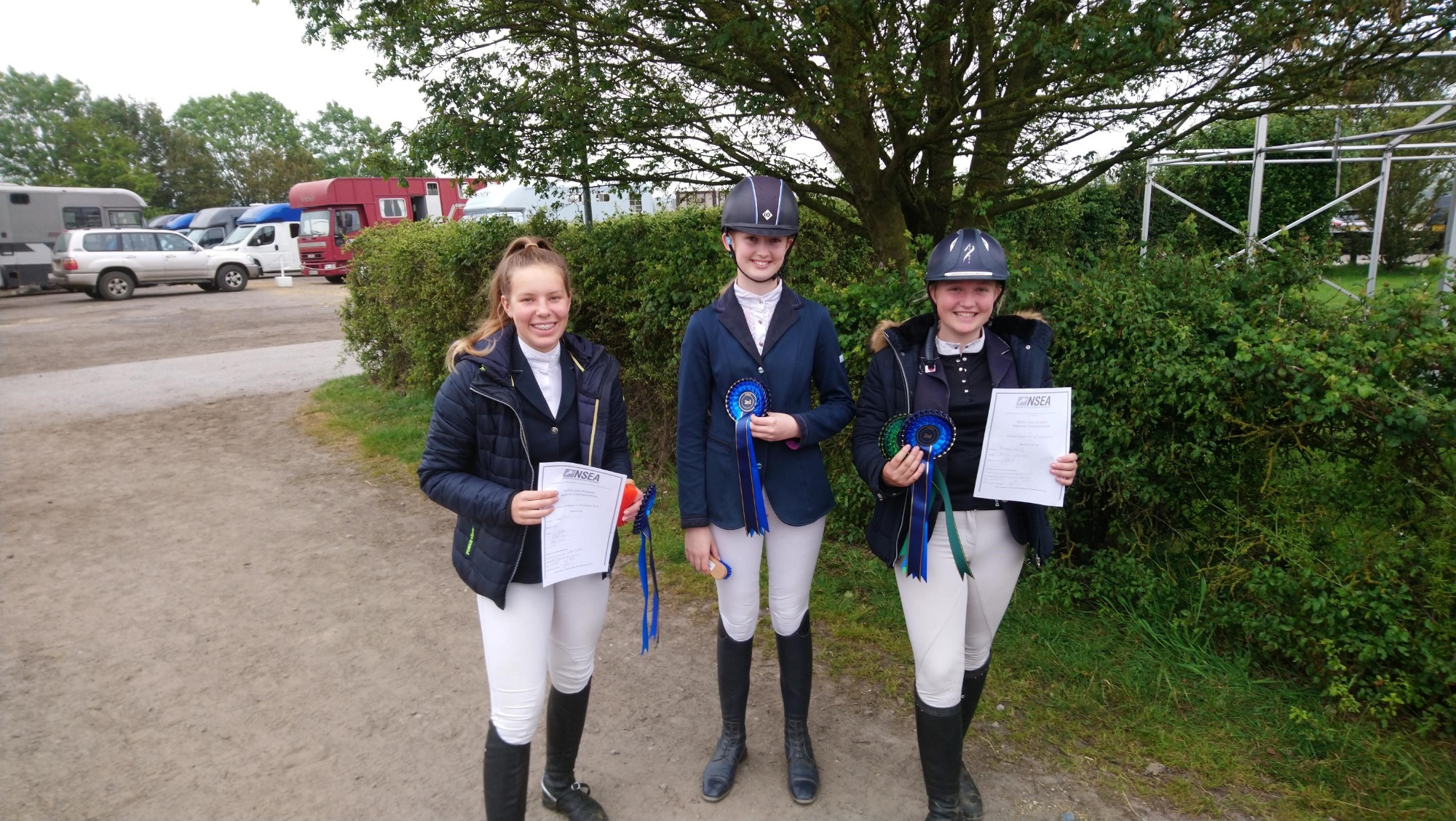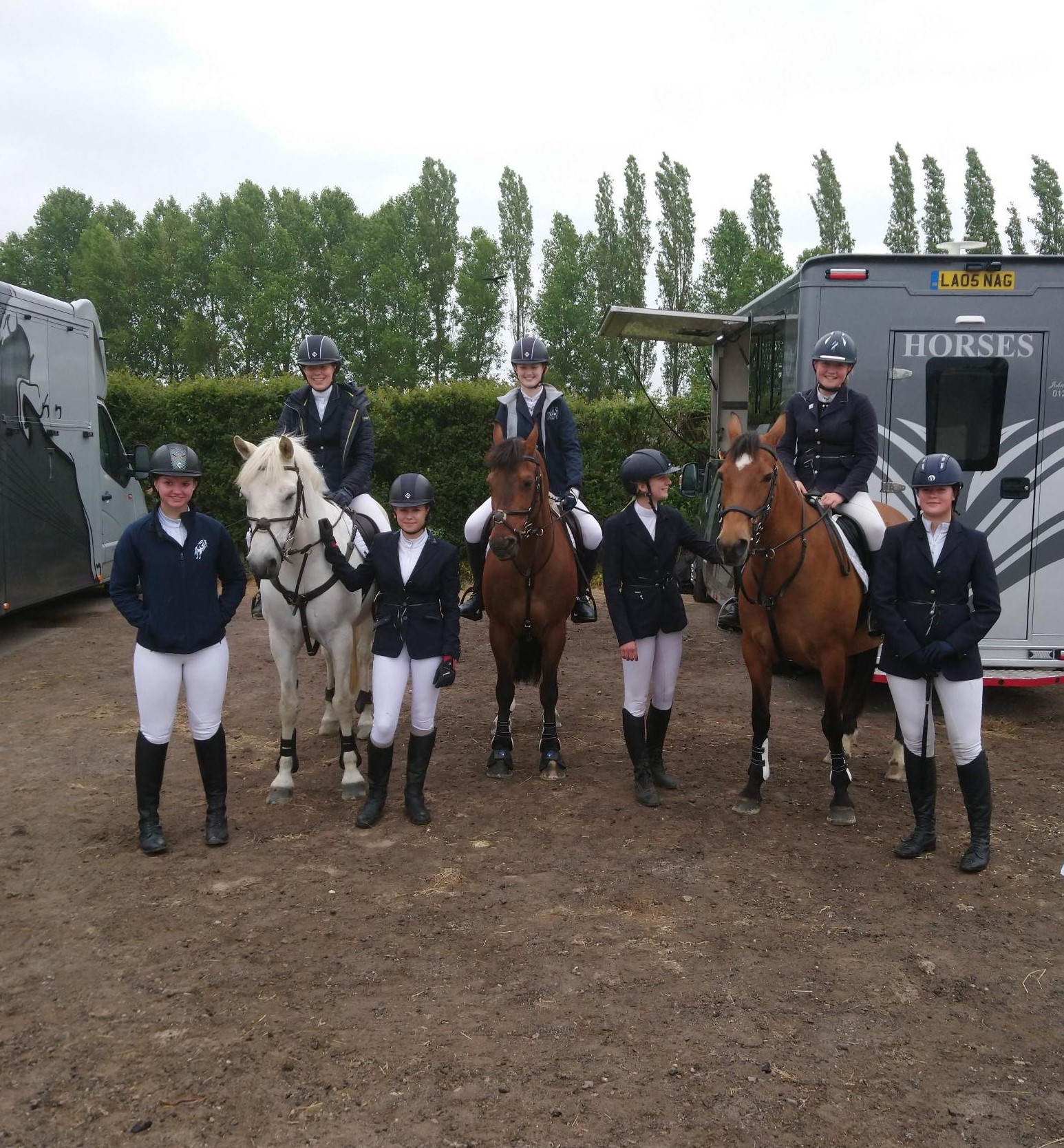 Ribston Cheerleaders!
Months of hard work and training were put to the test on Wednesday 15th May for the 'Cheer in Schools' competition. The Ribston squad was made up of both experienced cheerleaders and new students. They worked hard to incorporate difficult stunts, including an ambitious pyramid, and tumbles. The students were outstanding on the day and performed an excellent routine. Congratulations to the squad who gained 3rd place. Well done team!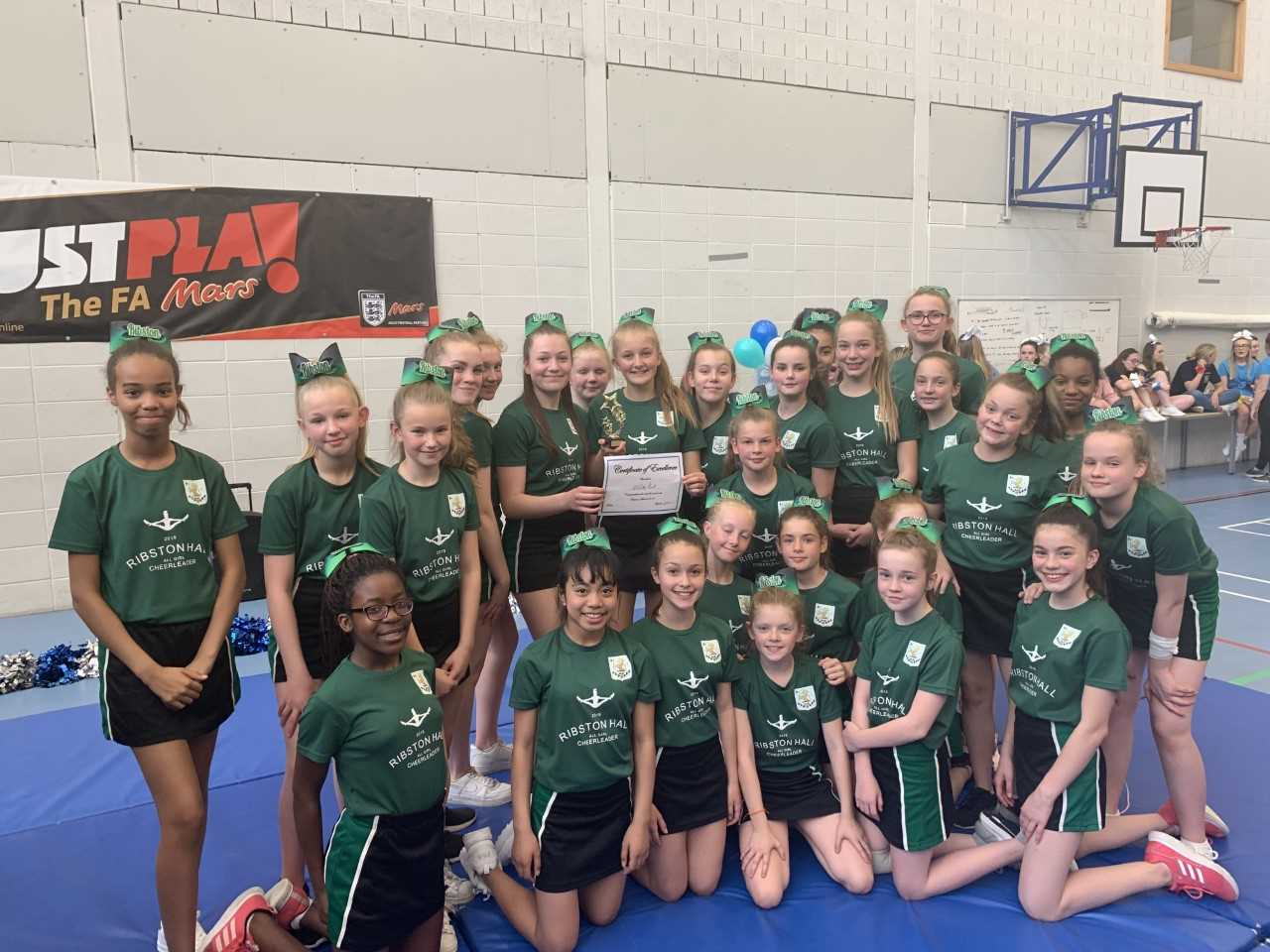 Left to right (bottom upwards): Glory Ohen, Monica Funtilon, Olivia Leeds, Katie Hughes, Cerys Cooper, Charlotte Berry. Next Up: Georgia Birt, Freya Howell, Millie Sharpe. Then: Chloe Morgan, Mathilde Hiatt, Imogen Richards. Top Row: Chloe Thorogood, Isobelle Moger, Brea Jordan, Amber Christie, Floriana Martin, Hannah Cook, Ofeila Pym, Katie Lane, Cadiviona Ferrie, Sophie Webster, Salima Dhaudi, Holly Done, Rhiannon Bulpin, Jessika Kline.
Ribston Rubgy
The Year 7 Touch Rugby Team had a fantastic tournament at St Peters High School on the 10th May. The sun was shining and the girls played their socks off in closely fought matches from teams across the County. We won our pool and moved into the semi final to play against Dene Magna. Unfortunately, we were unable to secure another victory but the girls were a credit to the school both on and off the pitch. We are very proud of them!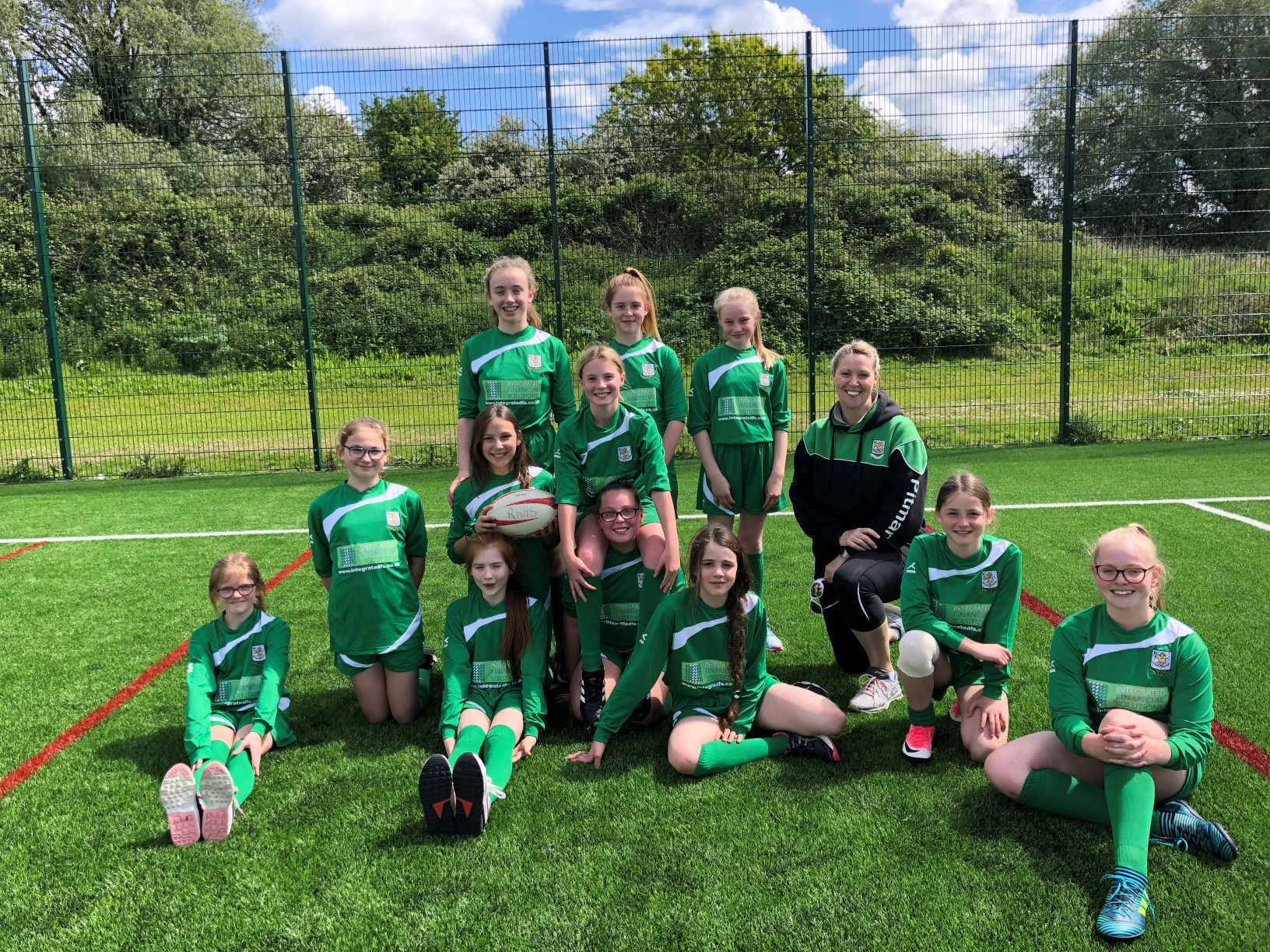 Left to right: Back row - Evie Warwick, Eli Blaxill, Jemima James. Middle row - Eloise Bulpin, Maisey Pollok, Becky Chisholme, Sienna Zecca, Mrs Pitman. Front row - Katy Hughes, Millie Sharpe, Isabelle Clarke, Bea Jordan, Katie Baldwin.
Football News
Issy Wood (8B) and Amelie Owen (8B) played in the U14's Gloucestershire County Cup Final on Sunday 28th April and won as Bishops Cleeve Colts beat Gloucester City Meteors 4:1.
U14 Girls' Manager, Richard Wood said that 'it was a fantastic end to a great season where they have also finished as U14 Gloucestershire County Girls League winners'. Issy and Amelie had a great experience, playing at the Gloucestershire FA Headquarters at Oaklands Park, Almondsbury. Mr Wood stated that Issy and Amelie have played a vital part in the success of the team this year and in the final on Sunday.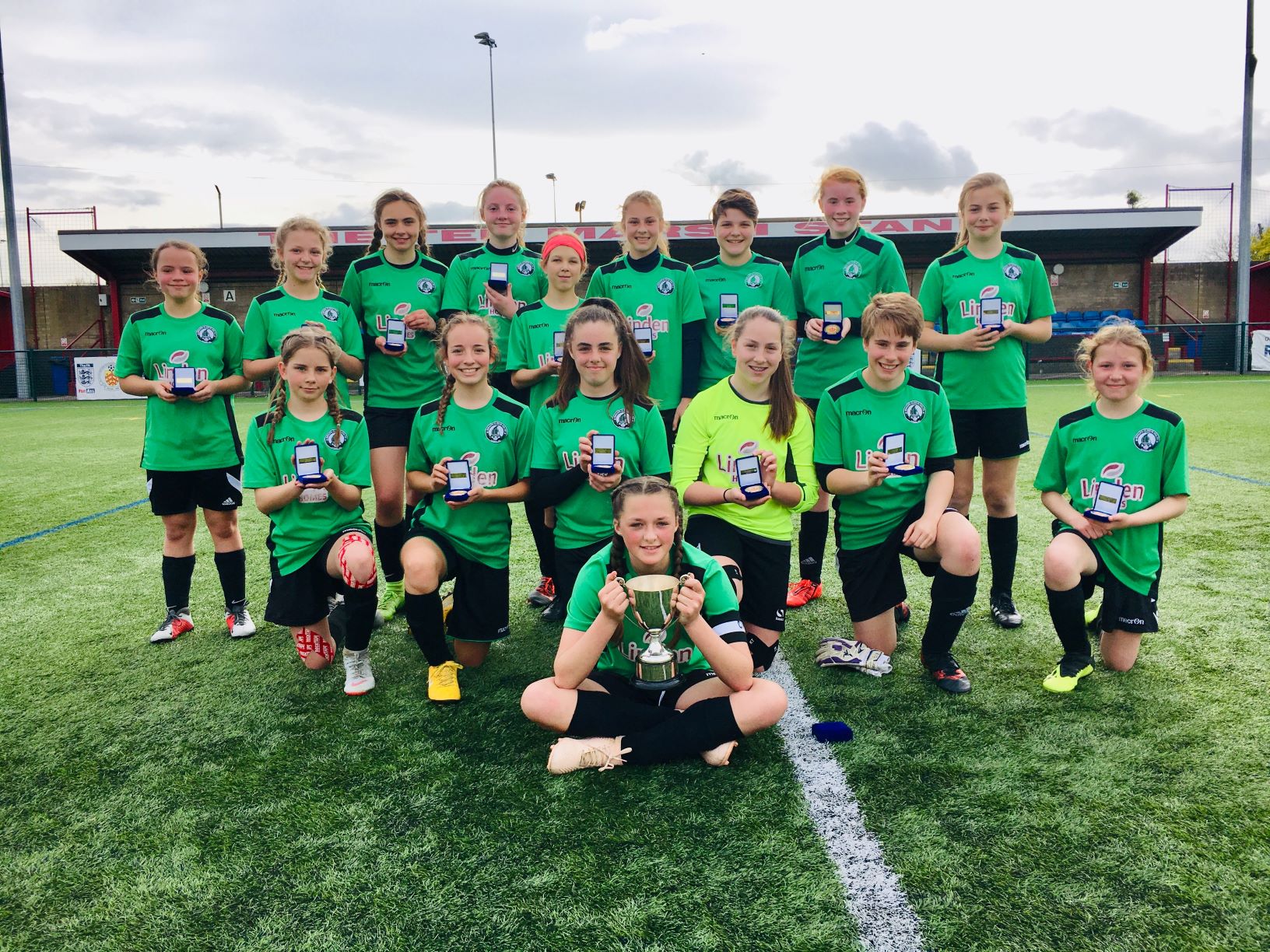 Taekwondo Achievement!
Congratulations to Eve Fisher-Hull (7S) who has achieved the highest rank achievable in Taekwondo - her Black Belt. This martial art focuses on a combination of combat techniques and self-defence and it takes a lot of training, hard work and commitment to get to this stage - well done!
Tenner Challenge Awards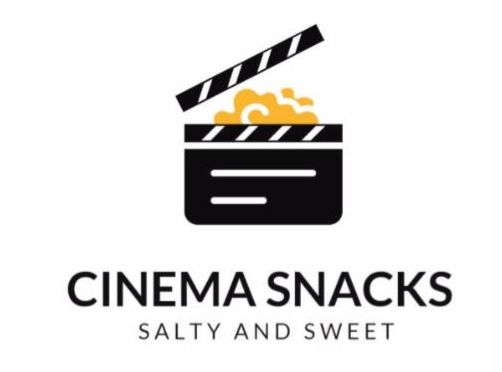 Congratulations to 'Cinema Snack's: Mia Cecchi, Eulalie Bisimwa and Chloe Thorogood (all in 7R), who attended the National Tenner Challenge Awards at the Bank of England with Mrs Nicklin on Wednesday 8th May to receive their award for their winning logo design. The team were the first to collect their award, and bravely and confidently spoke to the audience about how they came up with their design and what they had enjoyed about the Tenner Challenge.
The girls were presented with their award by judge Matt Brookes, Creative Director at SpiderZone agency in West Midlands. They were also presented with a copy of the £10 note featuring Jane Austin art work, which was signed and presented by Sarah John, Chief Cashier and Director of Bank Notes, Bank of England.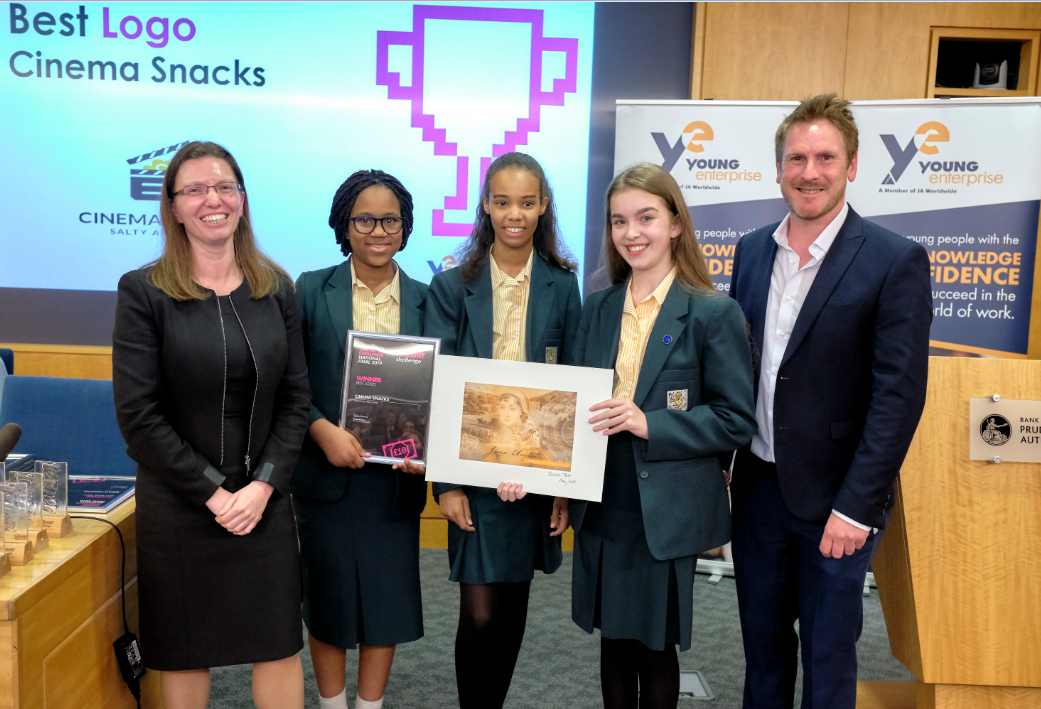 Year 12 Visit to the Gloucester Business Roadshow
Y12 A Level Business Studies visited the Gloucester Business Roadshow at Cheltenham Town Hall on Wednesday 22nd May.
In addition to being able to visit and talk to business exhibitors from a vast range of businesses including hotels, colleges, solicitors, marketing businesses and Active Gloucestershire, students also took part in a networking event 'Students meet business'. Here, they had the opportunity to spend time with business experts and cross examine them about their sector, experience and gain valuable advice from them. Students were lucky enough to be able to talk to business managers and directors from Nettl web design, The Growth Hub, PACT Property and Assets, The Business Kitchen, Neil Morgan Design and FSB Experts in Business.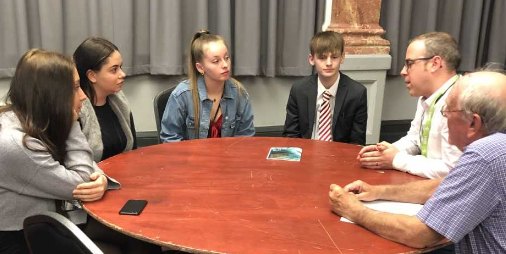 The student found the experience to be very valuable and particularly enjoyed finding out about how some of the business experts had set up their own businesses, what they look for in CV's from candidates, and found that they were interested in and able to offer them advice about their own plans for the future.
Modern Foreign Languages
The spring and summer terms are always action-packed days for the Languages Department, with language learning brought to life through celebrating the culture of the native countries.
Highlights have been celebrating "La Chandeleur", where Year 9 students cooked, decorated and devoured in record time their own crepes. Teams from Years 7 - 9 then participated in a nationwide competition to celebrate the International Day of Francophonie. Students in all years also submitted their best photographs showcasing special places they have visited in French-speaking countries. We are delighted to announce that Amber Meredith-Wilkes (9S) is the winning entrant for her photo of the Love Locks on the Pont des Arts in Paris.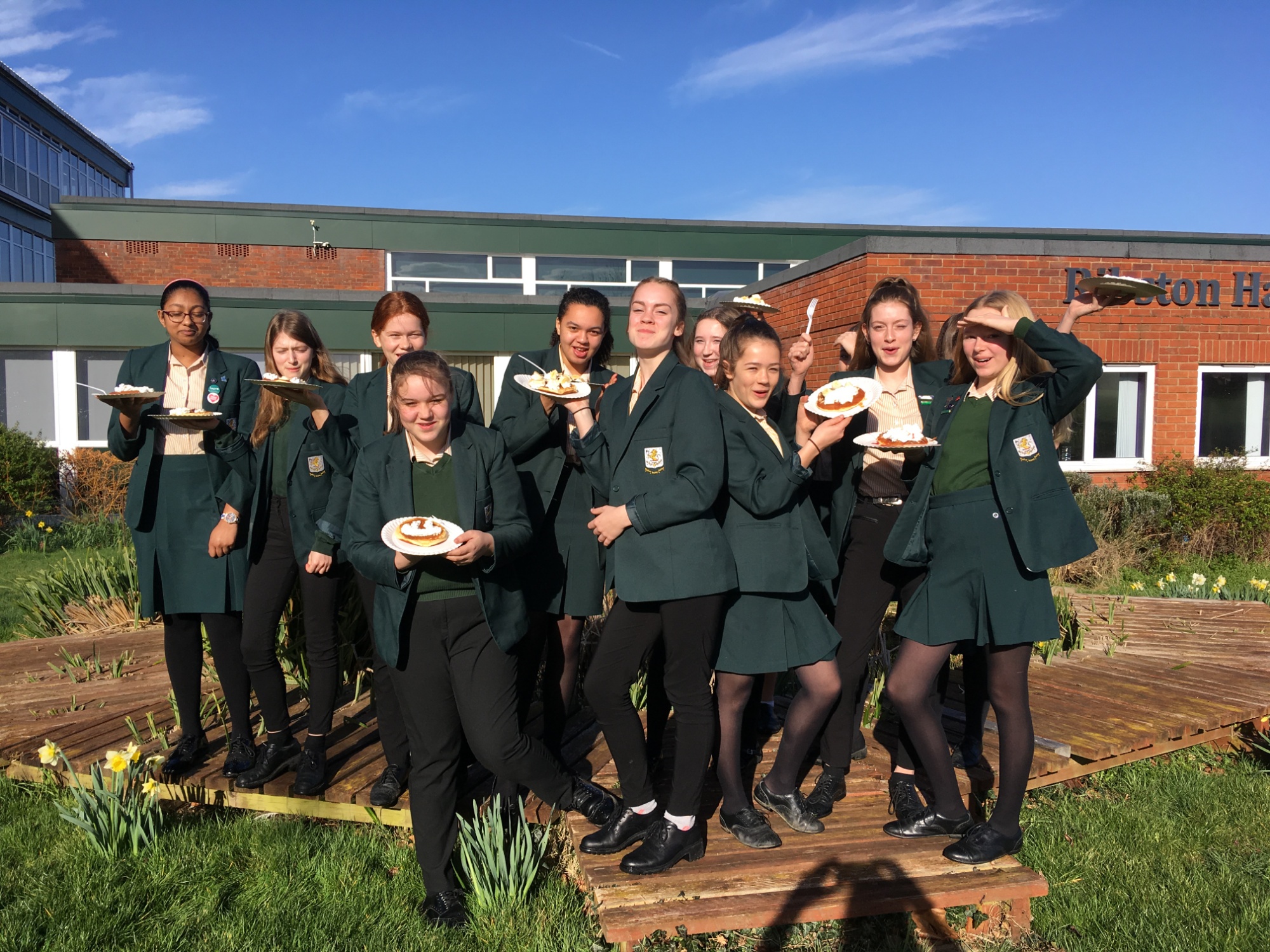 These events were then followed by the great annual Easter egg hunt and egg decorating competition in French and German, and the Semana Santa celebrations in Spanish.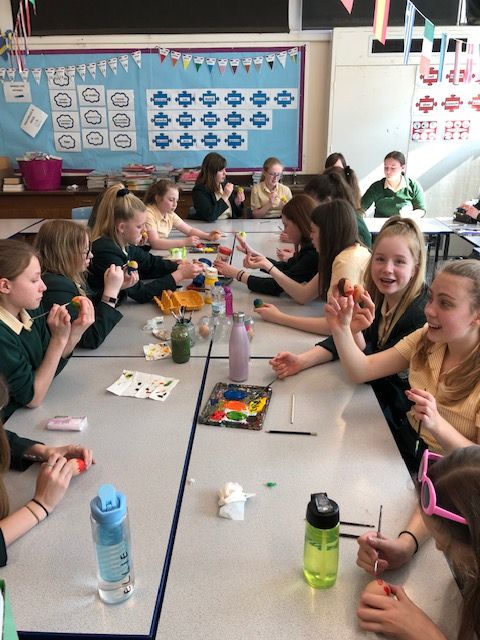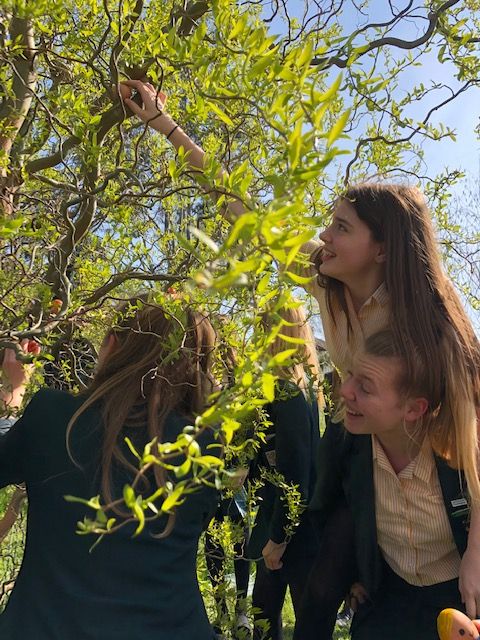 The Languages Department is now gearing up for Linguavision, our European Song competition for students in Years 7 - 9. Linguavision is at the heart of our languages celebrations at Ribston Hall High School, and students are currently working hard with their teachers and sixth form mentors to ensure that they avoid the dreaded "nul points" when voting takes place in June. This year's theme is musicals - allowing the students to really showcase their talents.
A special mention must also be made of Eleanor Raven (12SF5) who'll be participating in the University of Bristol's Summer School to study Modern Languages and Cultures.
Religious Studies
On Wednesday 1st May, Year 10 Full Course RS students ventured to Cadbury World for a Philosophy & Ethics A-Level taster trip. Whilst there, we attended a lecture led by Richard, a member of the Education Sector at Cadbury. The lecture discussed the business ethics of Cadbury; including the history of the Cadbury family and their Quaker beliefs, how their faith influenced their marketing and business, and their relevance in modern society today. We also learnt about Bournville, which is a village created by Cadbury to support the community of Birmingham, who at the time were living in poor conditions.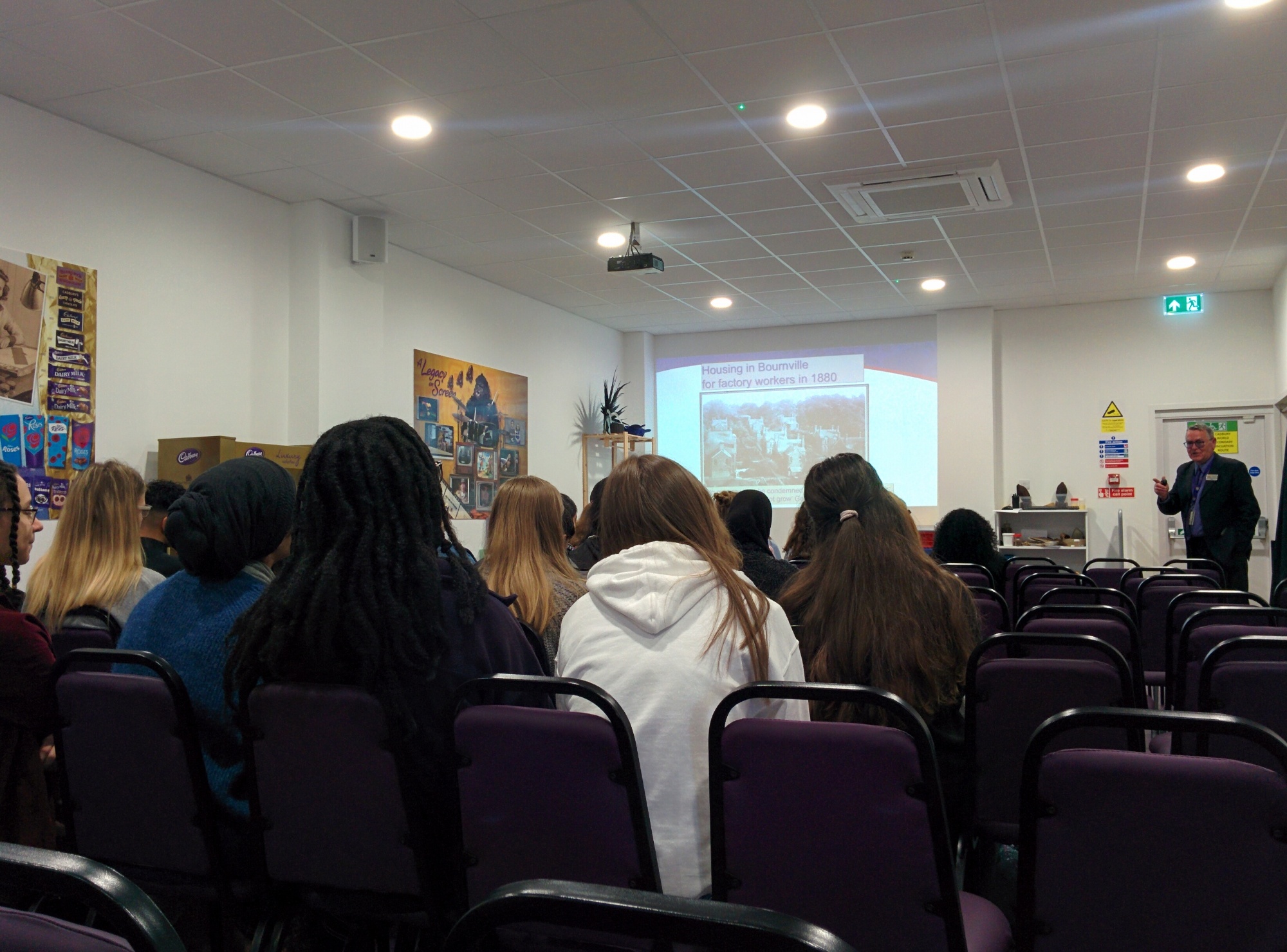 After the lecture, we had the opportunity to explore the Cadbury factory, including the riches of free chocolate, the Cadabra ride which showed us the Choc Kingdom and the gift shop. Overall, we had an incredible time and we would like to thank Miss Erro and Mrs Cresswell for this choc-tastic experience!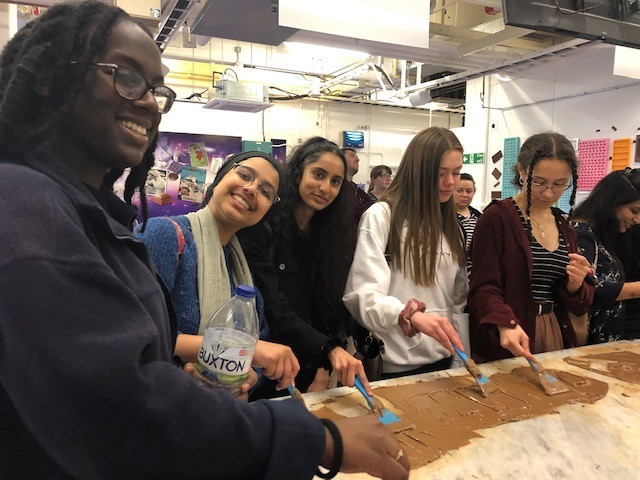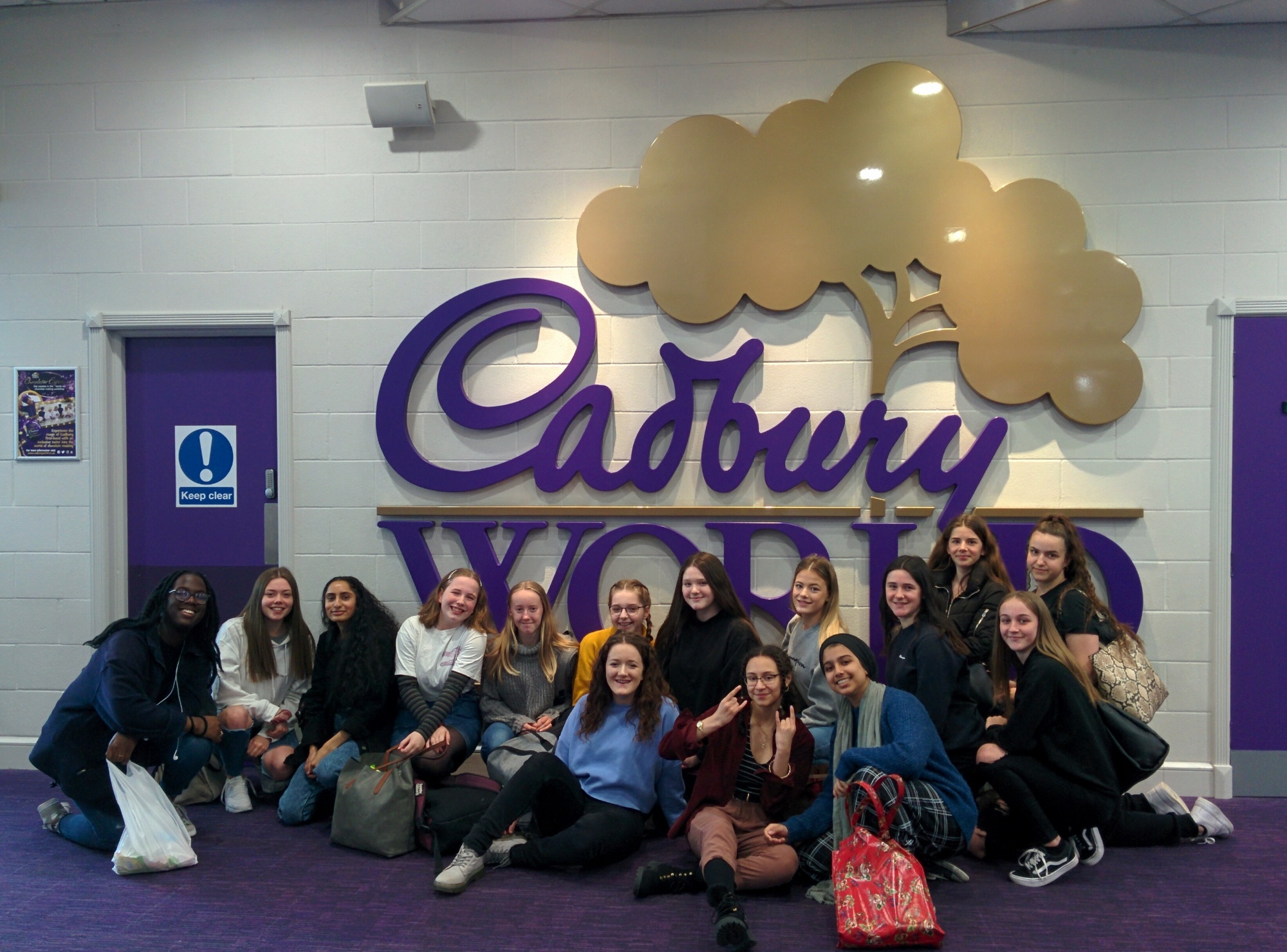 Written by Alicia White, Maariyah Dhalech, Myiesha Mulla and Clareece Saysell.
Artists' Corner
Year 9 Art Students in Mrs Adorisio's class studied the work of sculptor Lygia Clark before then creating their own 3D abstract sculptures using paper and card. Fantastic work demonstrated by these students - very well done!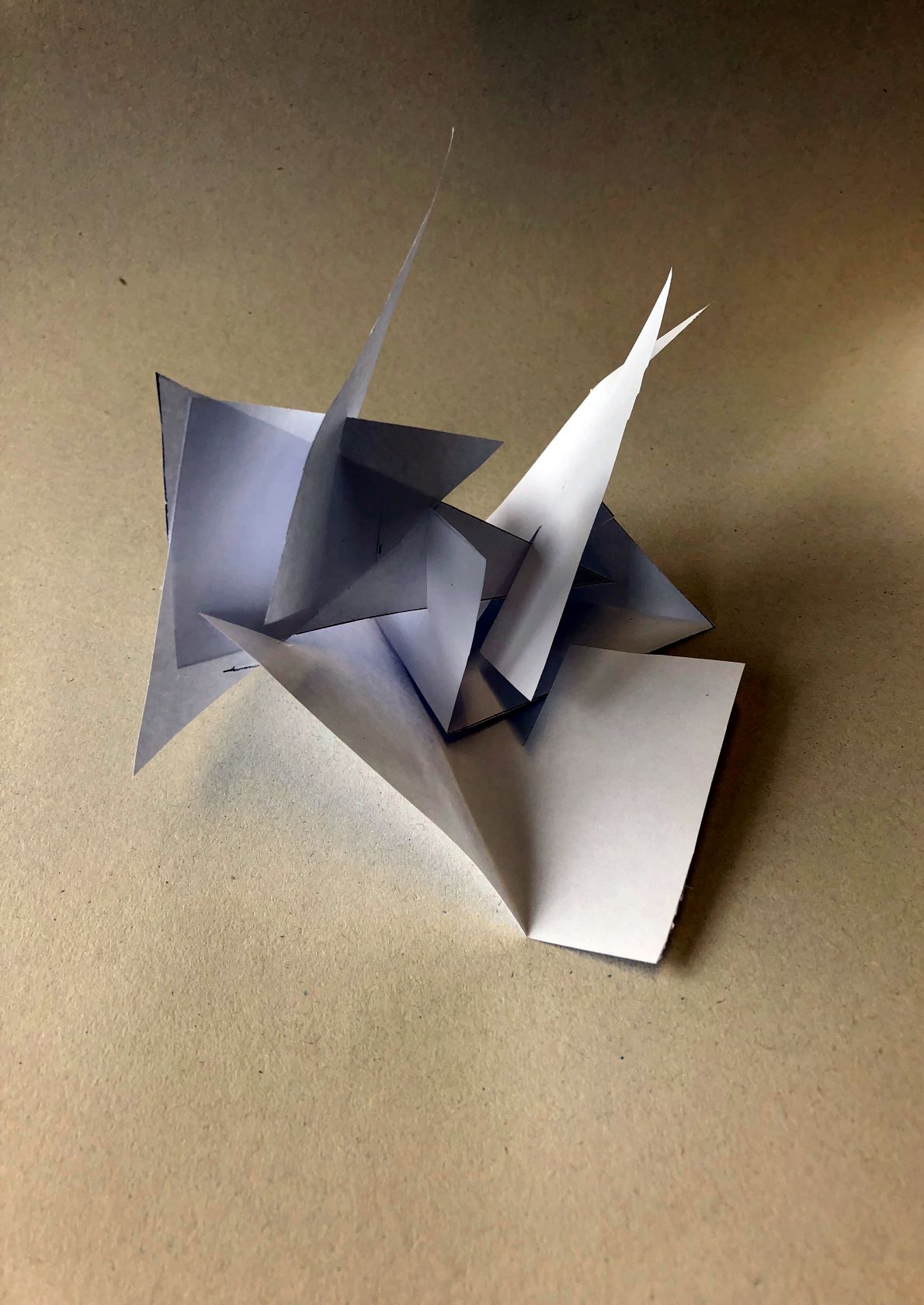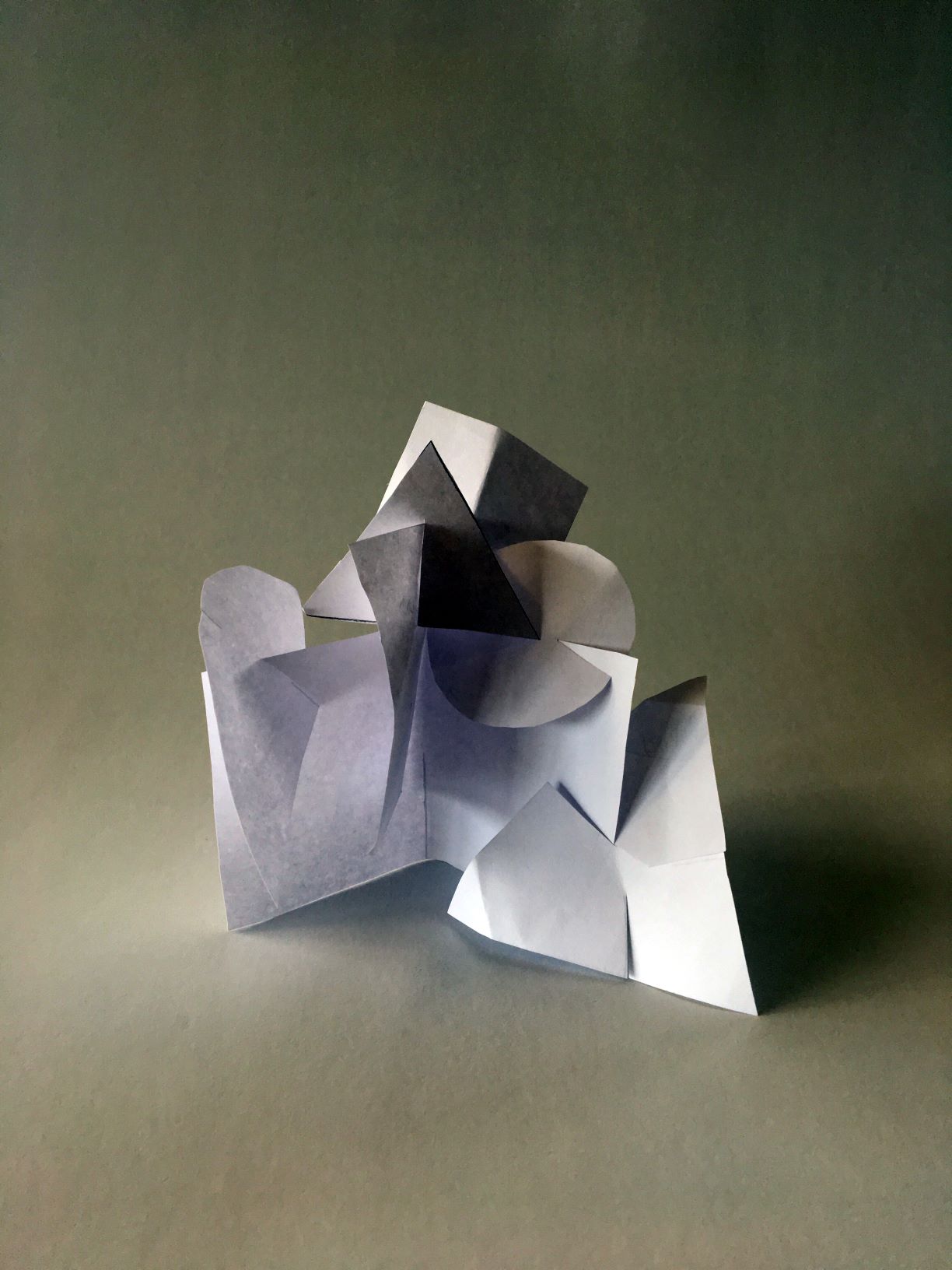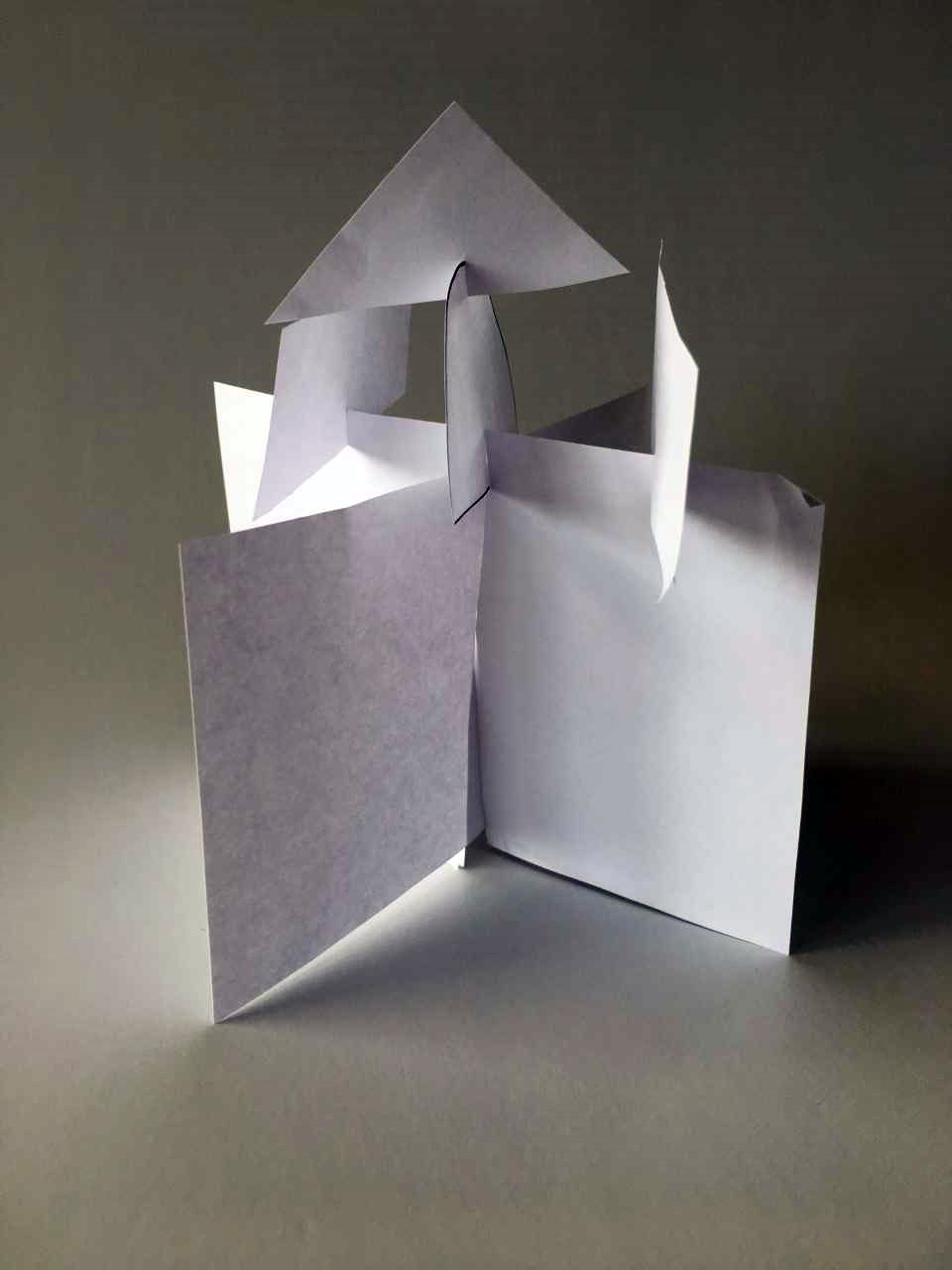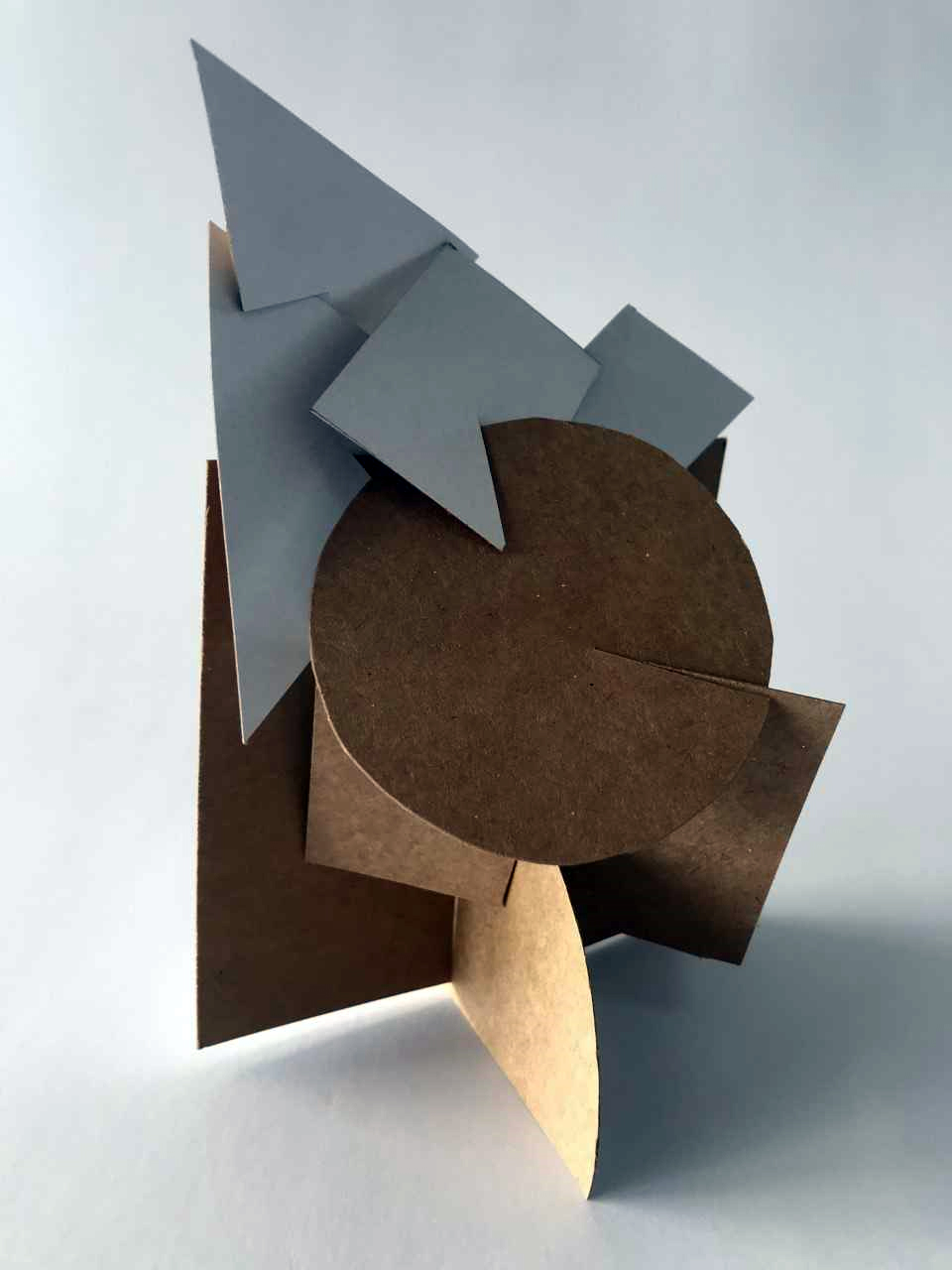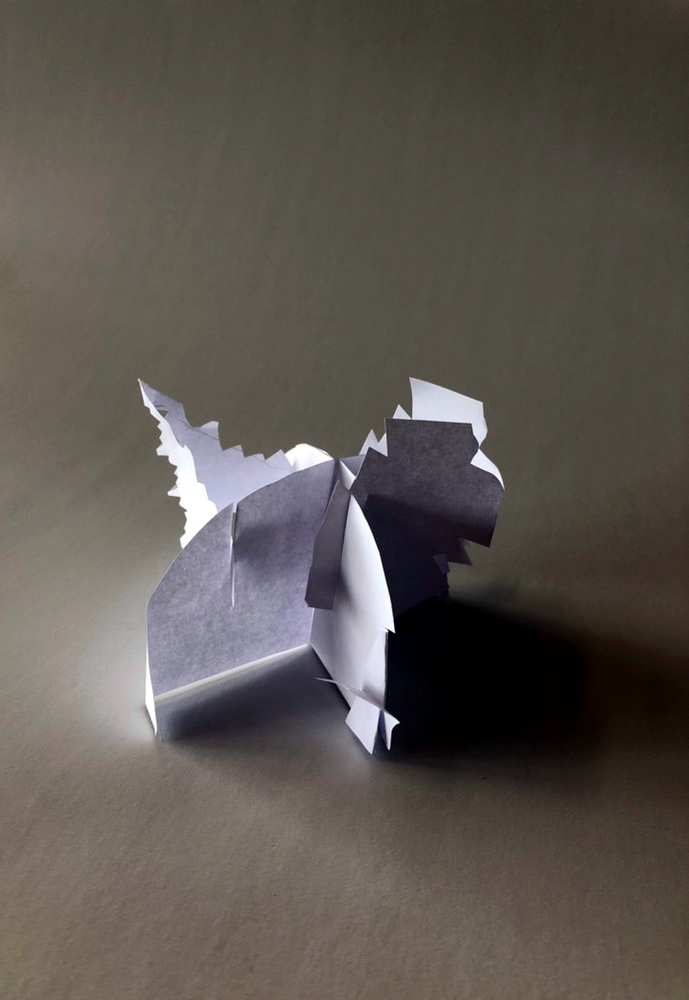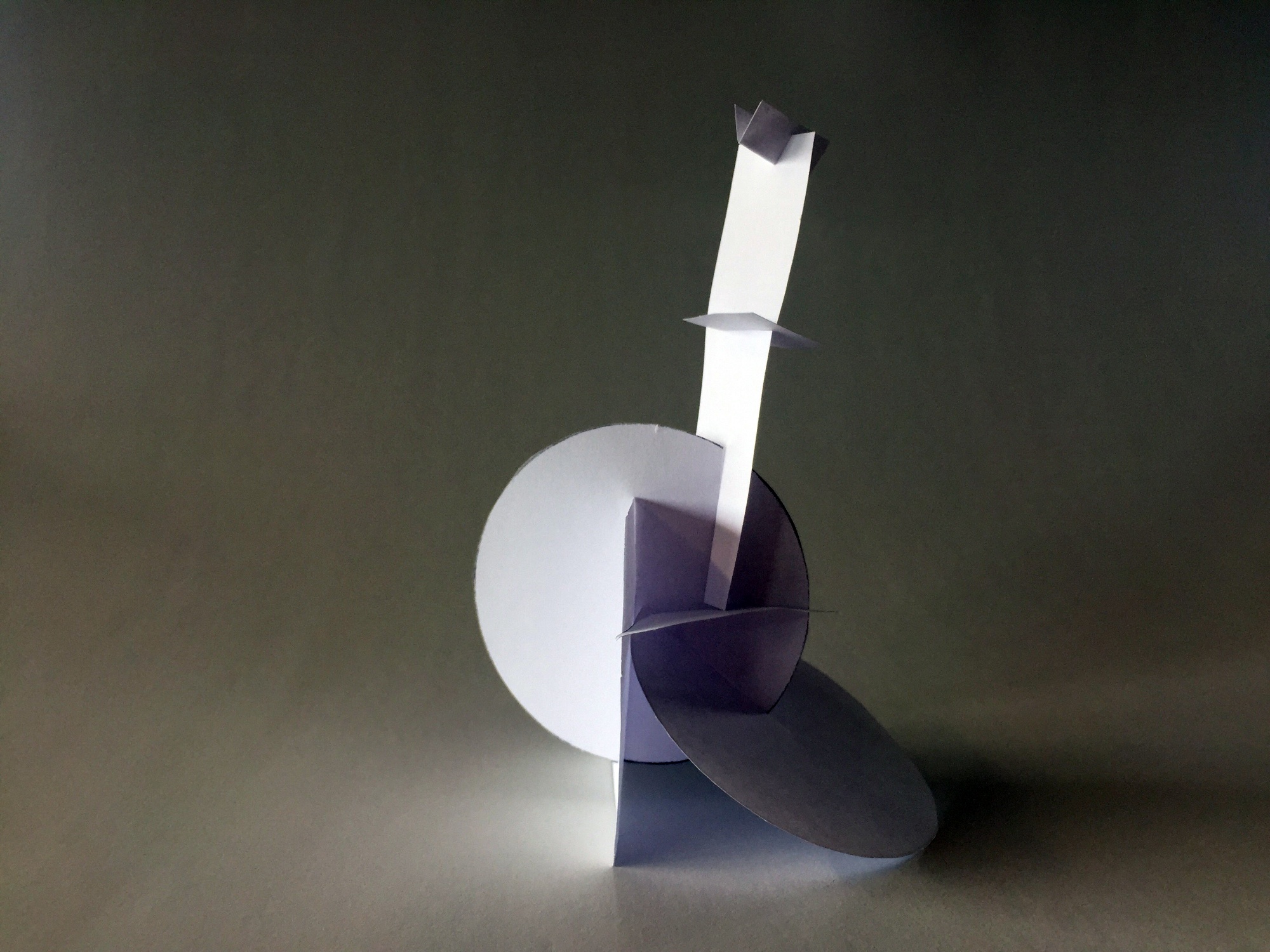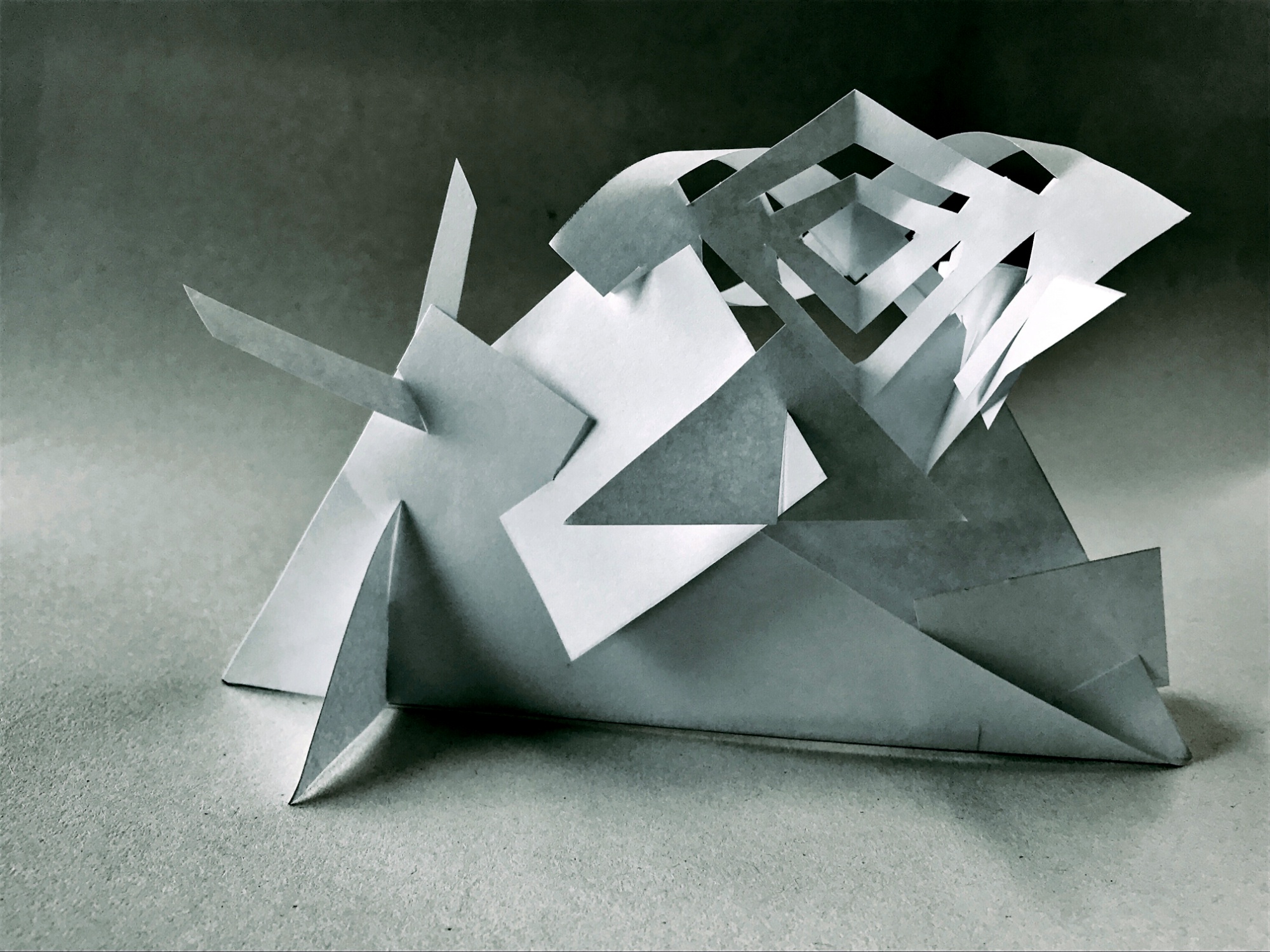 Lessons From Auschwitz
At the start of spring myself and fellow Year 12 student Izzy Godwin, had the exciting opportunity to participate in the Holocaust Education Trust's Lessons from the Auschwitz programme. The trust focuses on sharing the stories of the last survivors of the Holocaust to the future generations in order to prevent the hate which allowed the holocaust to happen. For this reason, Izzy and I are working on a project to educate Ribston students about the lessons to be learnt from the Holocaust.
During our time with the trust, we travelled to Auschwitz in Poland with a group of other young people and had the amazing opportunity to meet a Holocaust survivor. We met Ziggy, a charming and light-hearted man, who told us the horrifying reality of life as a Jew in Nazi Poland. Ziggy's message, despite the atrocities he had experienced, was one of love and acceptance, and it is his message we hope to translate to everyone we can – "Please, don't hate."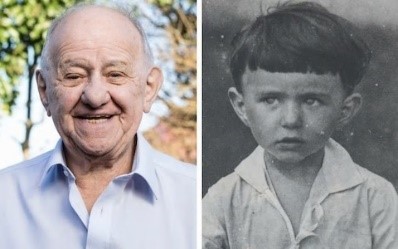 Our visit to Poland, in particular Auschwitz 1 and Auschwitz Birkenau, reinforced Ziggy's message. Nothing sparked by hate will ever lead to something good. This was clear as we walked through the hallway surrounded by thousands of shoes, that would never be worn again.
After taking some much-needed time to process all that we'd seen, Izzy and I have come to realise that we all have so much power as autonomous human beings, and education only magnifies this. The Holocaust can never be made right, but with the rise of antisemitism and ignorance in Europe, all of us need to be aware of our actions and stand up to hate, to honour those that died and those that live in hope of a better world. We will now be working with the pastoral team and students to make sure that Ziggy's words of 'please, don't hate' resonate through our school community.
Written by Abigail Paulin, Year 12.
We couldn't leave out some Science!
Mr Cole, Curriculum Lead for Science, wanted to show some fun Chemistry that has been going on in Year 9 lessons. Students have been learning about the combustion of fuels and were asked to film the methanol 'whoosh' demonstration where vaporised methanol is the fuel. It is a really exciting demonstration and gets the students talking. Here's a still of the practical: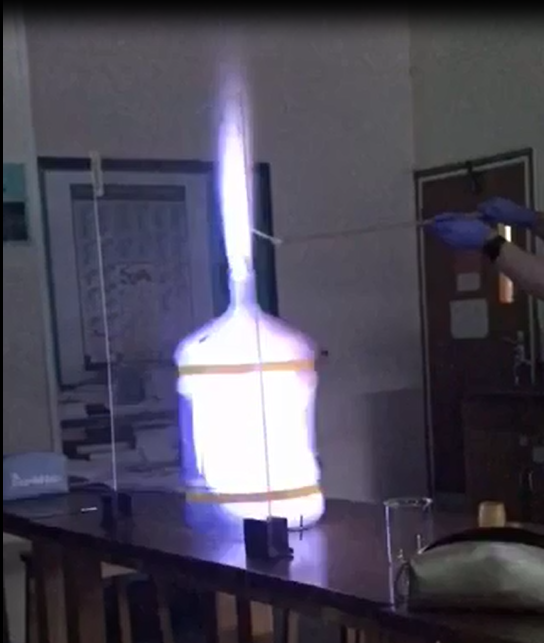 Healthy Eating Week -10th-14th June
The British Nutrition Foundation's Healthy Eating Week is on 10th-14th June. Specifically, the BNF wants to encourage and promote, healthy eating and drinking habits, being physically active, food provenance and cooking from scratch as opposed to eating out and ready-made, processed food.
During the week, students will have these key messages promoted through tutor time. The canteen will also be serving more 'healthy options' at break and lunch time. Please can we encourage our young people to make good choices at home as well as at School.
Pre-owned Uniform
Please do bring into School any good quality uniform that is no longer required. Our stocks are low and there is a real demand for items. Money raised goes back into the School and directly benefits the students.