April 2020
This is the second Ribston Roar to be produced during the lockdown that has occurred due to the COVID-19 pandemic.
For many of our students, parents and staff, this 'new kind of normal' has been extremely difficult in many ways. Worry over the virus and the impact it might have on loved ones has heightened anxiety, we know people might be suffering financially from furlough or losing their jobs alongside the impact of isolation and not being able to spend time with friends and family has been hard.
Supporting our staff, parents and students through this tough time has been at the forefront of everything we have been doing at Ribston. Our staff have been amazing at keeping in contact and monitoring students, offering advice to parents and rallying around their colleagues when they need support. Our students have been flexible and have continued to work hard, kept in touch with each other, looked after one another and continued to show compassion for people in the local community. Parents have been patient and understanding of the difficulties the school has faced to run remotely and have offered great feedback to us when we have needed to make changes to improve the remote learning plan, ensuring it enables our learners as best as possible. This is why I am so proud to be the Head at Ribston; this situation has not beaten the Ribston spirit but has amplified it, pulling the school community even closer together.
"You never know how strong you are.... until being strong is the only choice you have." Cayla Mills
The students have been doing all sorts of amazing things this month since Lockdown so please enjoy reading the Ribston Roar this month.
As ever, please remember to stay safe and look after each other. Sending our thoughts and best wishes to everyone within our precious Ribston community.
Sarah Colombini
Headteacher
Supporting the NHS
It has been heartening to see the Ribston community come together to support the NHS in many different ways. Here are some of the things that have been happening this month: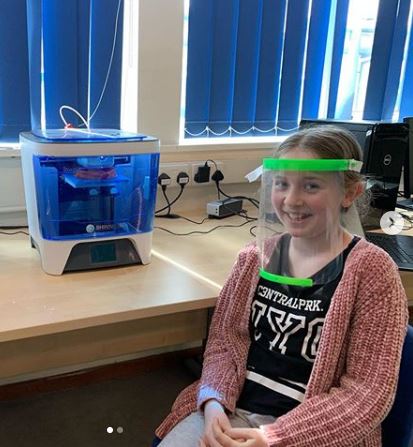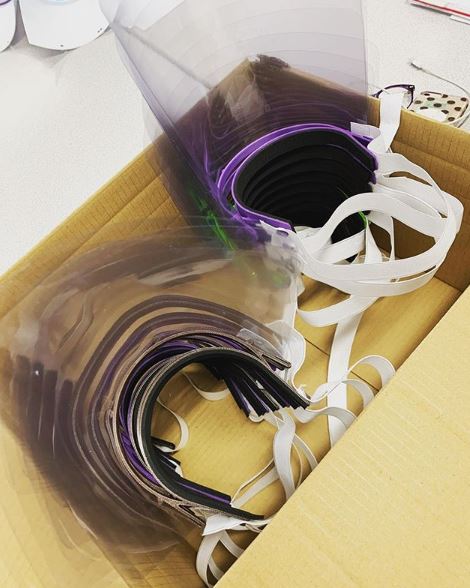 At the beginning of April we started to 3D print face shields at school. Mr Storey and Mr Waters Following feedback from one of our key worker parents who works at Gloucester Royal Hospital, we have changed the design of the face shield frame we are printing. Thanks to feedback from Gloucester Royal Hospital and hard work from Mr Storey, Mr Waters and our students, we have 30 of our new-design face shields ready to distribute and have ordered raw materials for 75 more.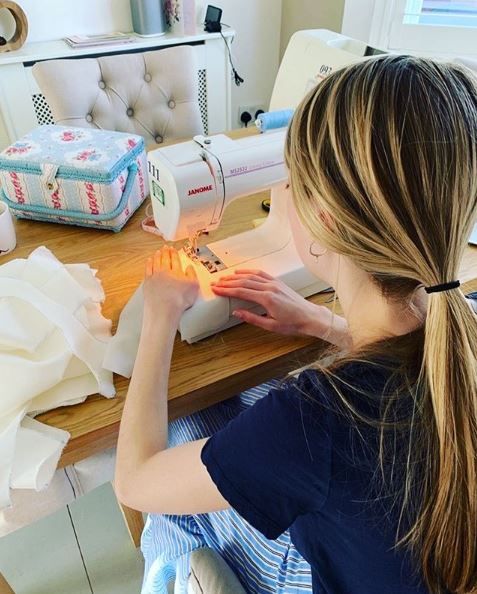 A-Level Textile Design Student and Subject Captain Sophie Kimber, has started making scrubs for a group supporting Gloucestershire NHS Hospitals. An example of one of the completed set of scrubs made for NHS staff is on the right. She has even taught her sister embroidery to put on the bags. It is fantastic to see students getting involved with community projects and putting invaluable practical skills to great use! Well done Sophie - we are very proud of you.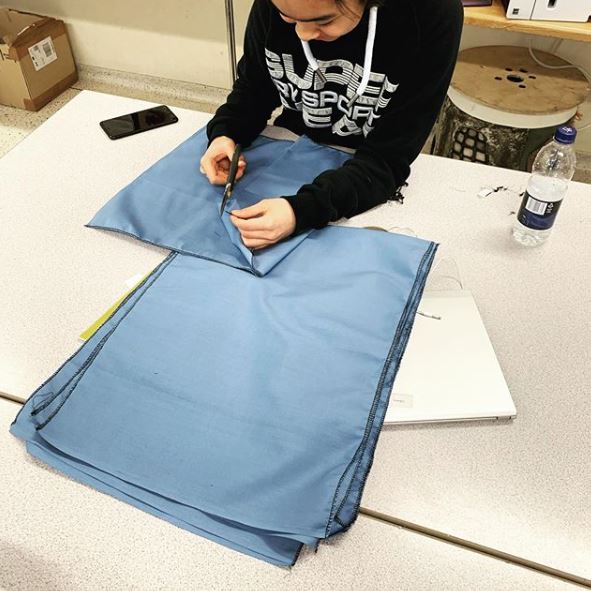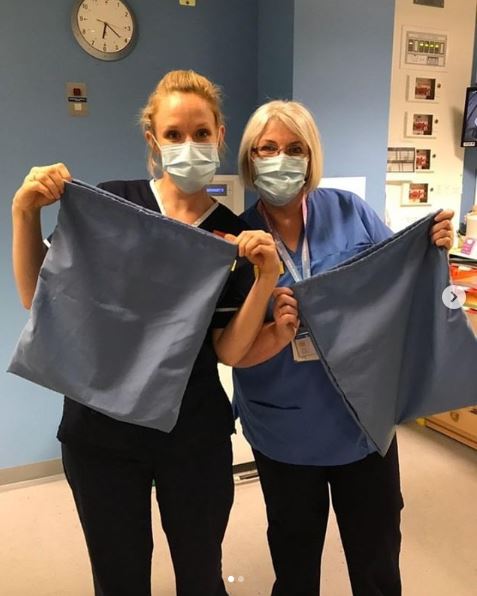 Mrs Finch, our Curriculum Lead for Design and some students have been making Scrubs Washing Bags. Items like this are desperately needed to avoid cross contamination. Gloucester Royal Infirmary Maternity Ward were very grateful to receive these bags.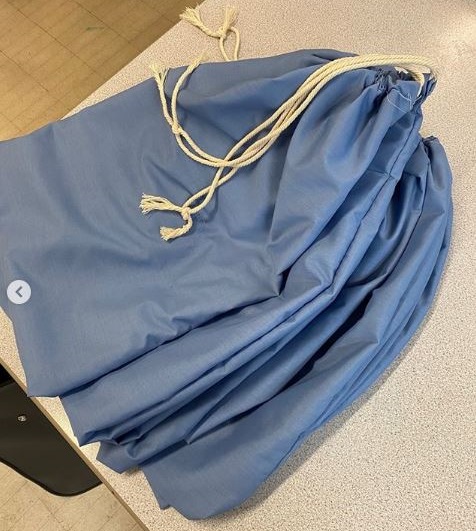 This is Nick from Oncology at Cheltenham General Hospital receiving a stock of brand new goggles and face shields from our Science Department. They are being used in Oncology, Haematology and Immunology.
Pets helping Students with their Remote Learning
Mrs Colombini asked students to send in pictures of their pets that have been helping them to work remotely from home. There were too many to add so here is a selection, including a few unusual pets helping out.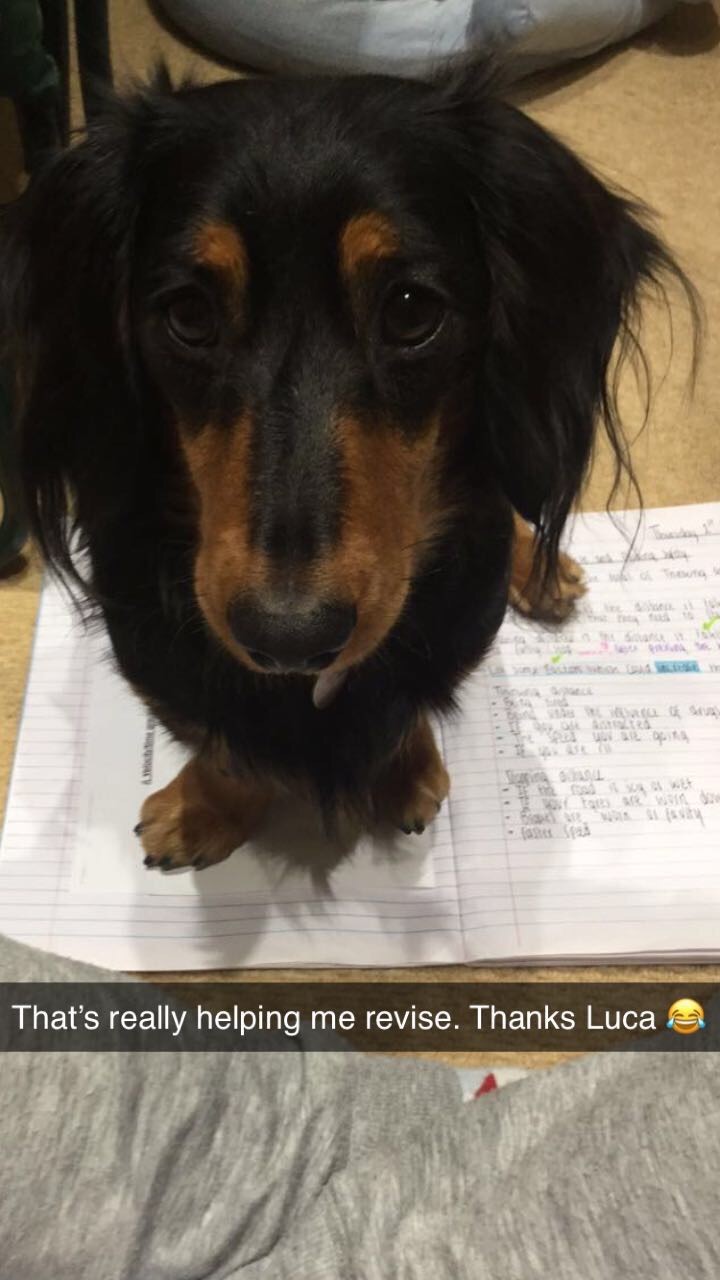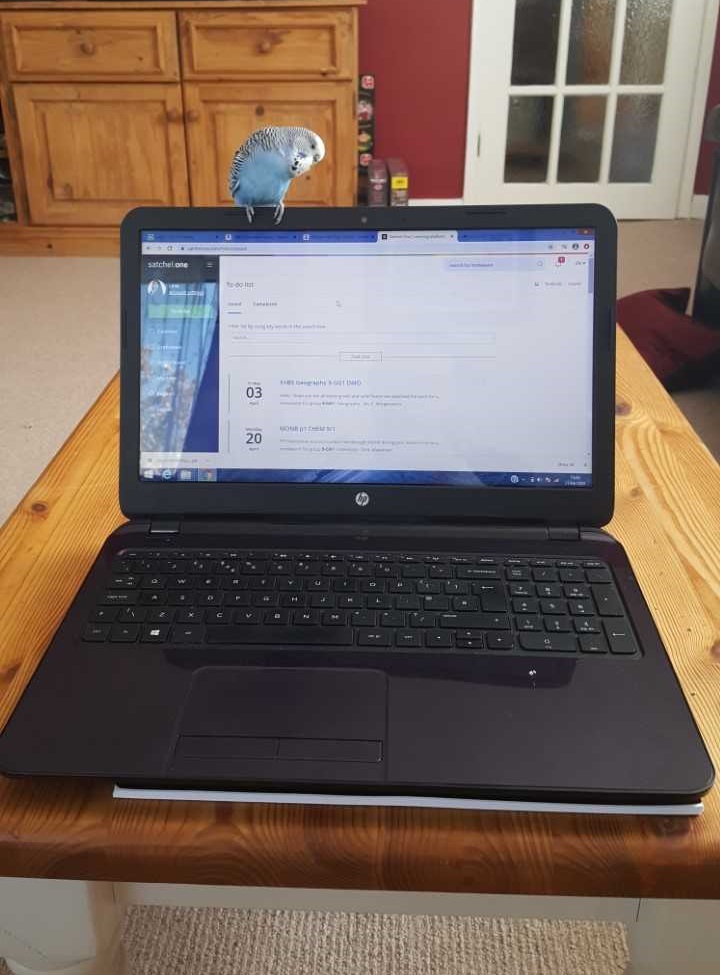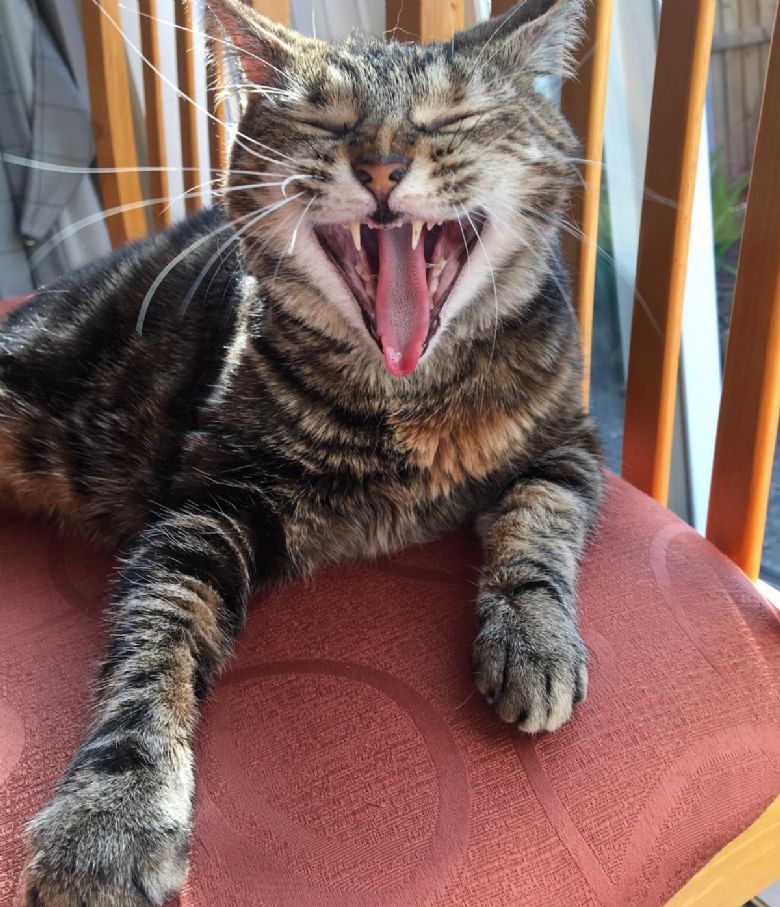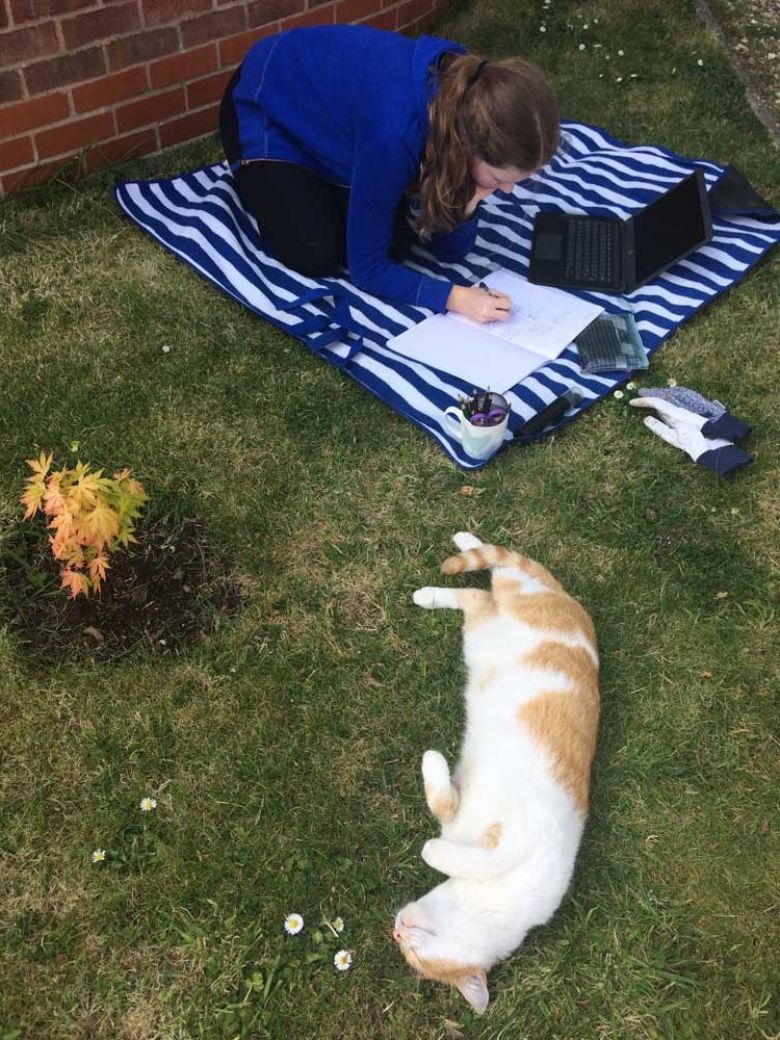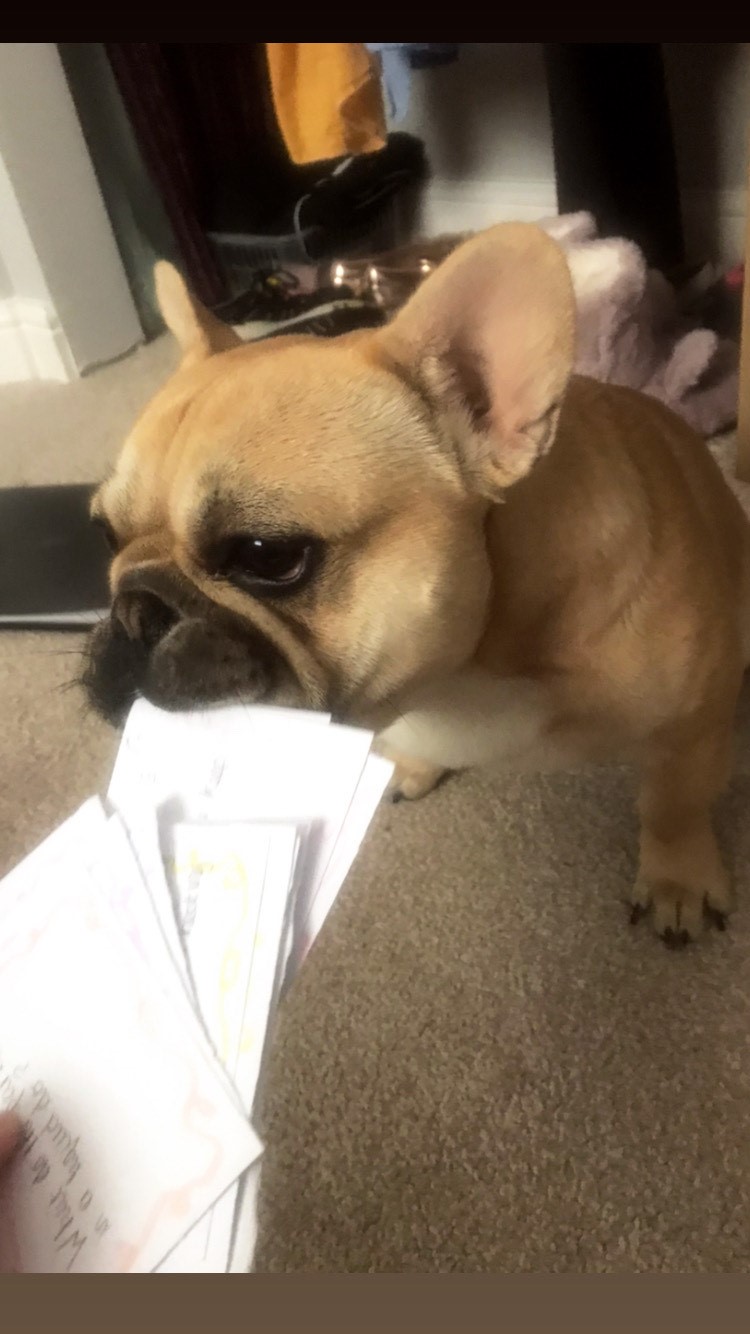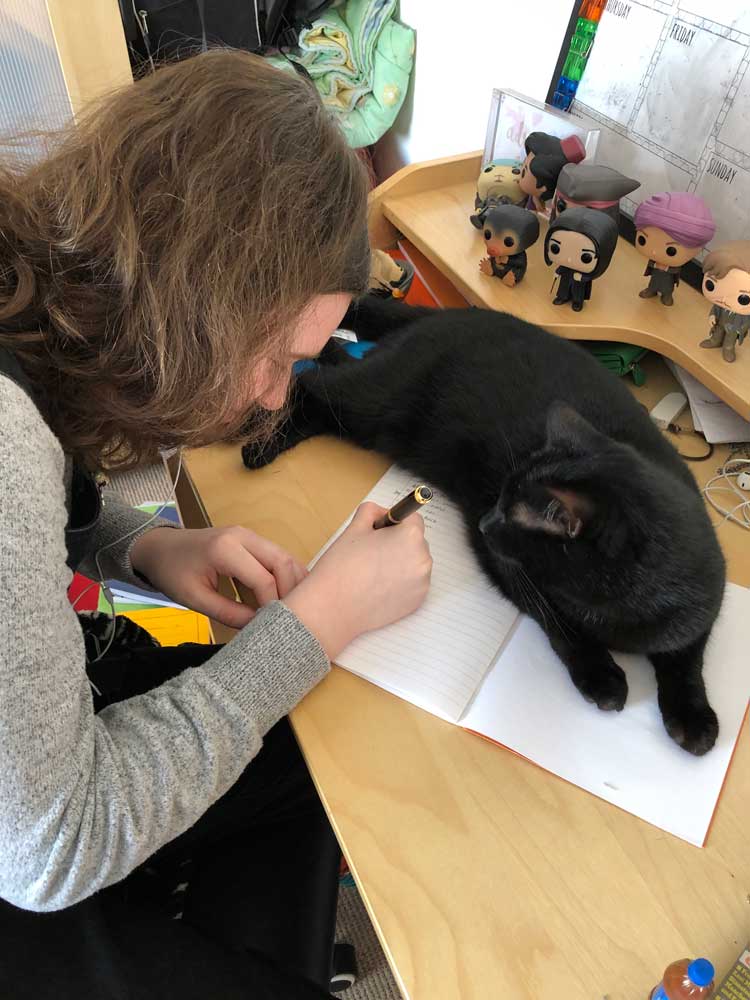 Thank you to all of the students that submitted photos, as a huge animal lover, I thought they were all just great. Prizes will be sent to the following students for these very helpful pets: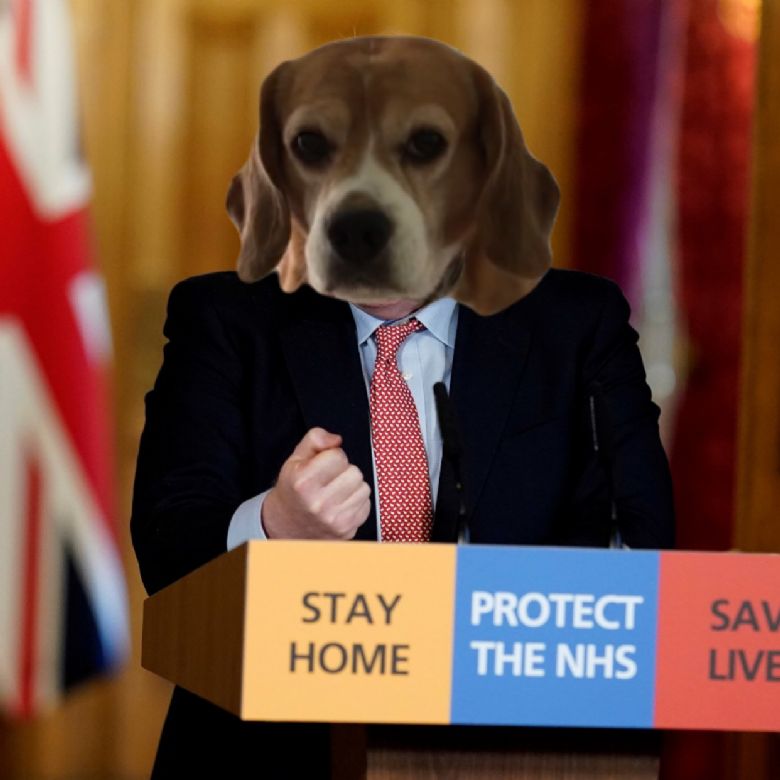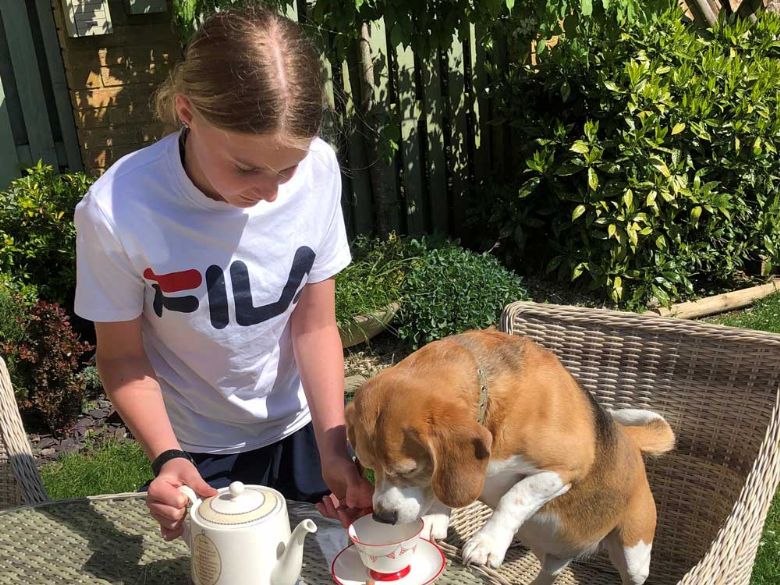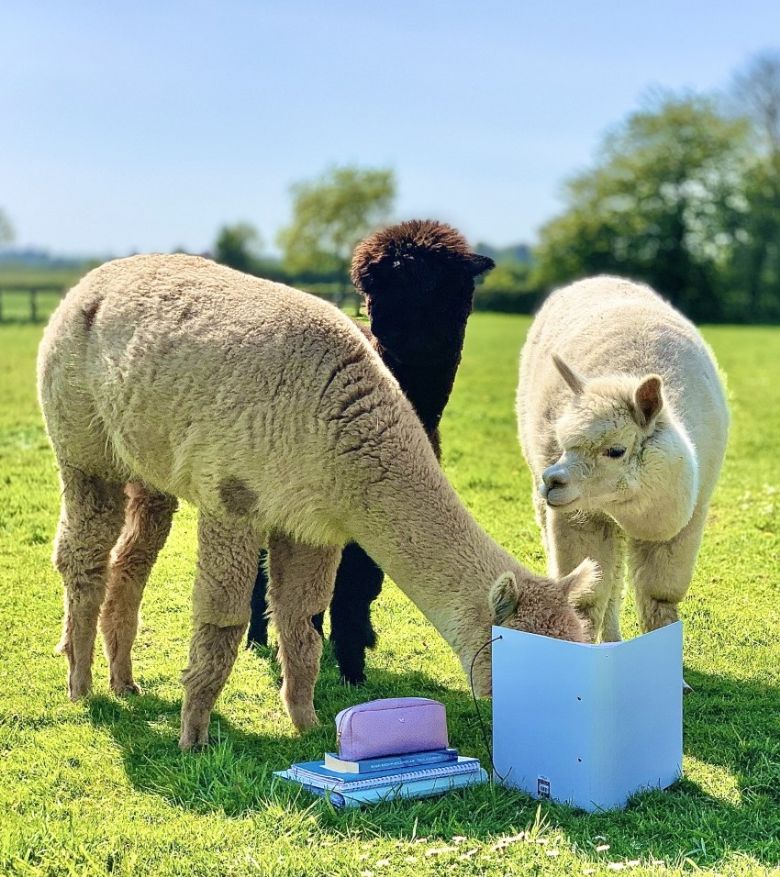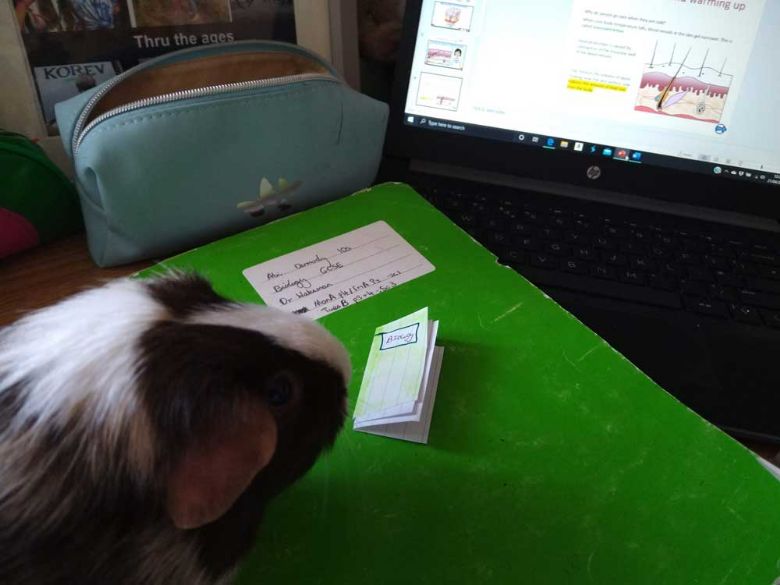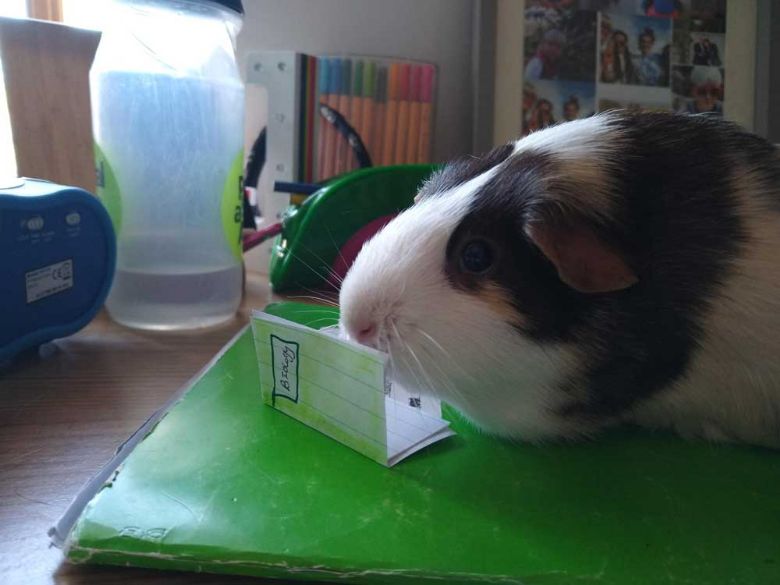 Introducing the Sixth Form Head Student Team to the Ribston community.
Zoe - Head Student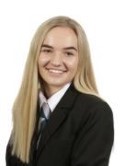 Hello, I'm Zoe and am excited to have been appointed as your Head Student for the coming year.
Some of you may recognise me from sport, particularly netball, but if sport isn't your thing you may simply know me from seeing someone rather tall with a smiley face around school! I always remember seeing a friendly face as head girl, which is exactly what I want to be for you. I cannot wait to talk to you all in school – so if you see me, please do say hi! I am always happy to stop and have a chat as I want to understand and learn more about the students I will be representing. I am really proud of Ribston and look forward to working with Lauren, Liv and Meg in the coming year, as well as all of you, to make our school an even better place and celebrate 100 years of Ribston well!
Lauren - Wellbeing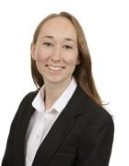 Hello, my name's Lauren and I'm really excited to be your Deputy Head Student for Wellbeing!
You may have seen me around school, either singing in the choir or in the Science Department. In my spare time, I enjoy walking my three dogs, reading and meeting with friends. I think in light of the current situation, it's more important than ever to take care of our mental health. I'm looking forward to working alongside the Wellbeing Ambassadors and Mrs Ford to promote awareness about these issues and to ensure everyone feels supported. I'm always up for a chat, so please feel free to approach me any time around school. I'm very eager to get back with Zoe, Meg and Liv; it's going to be a fantastic year!
Meg – School Council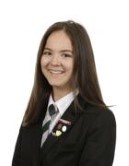 Hi everyone! I'm Meg and I am proud to be your new Deputy Head Student overseeing the School Council.
For those of you that don't know me, I'd like to think I am a kind, approachable person. My personal interests involve music and performance, but I also love science, travel and running! I am excited about the year ahead of us, despite times being uncertain at the moment. I am looking forward to getting to know and listen to, not only the School Council, but the rest of the school too. I am eager to be working with Zoe, Lauren and Liv and to organise some fun things and celebrate the centenary together this year!
Liv – Houses & Charity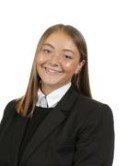 Hi everyone! I'm Liv and I'm really excited to be your new Deputy Head Student responsible for Houses and Charity!
I'm sure most of you will know me or will have seen me around school, but for those of you who don't, I would say I'm quite an outgoing person. My personal hobbies include music, water-sports and photography, but I am also a big fan of travelling and going to festivals! I have already been thinking about some things that I would like to organise for you all over the next year and I am always open to suggestions, so please come and speak to me, or drop me an email, with any thoughts or ideas you have!
Looking after our Wellbeing during Lockdown
Millions of us around the UK are experiencing high levels of stress, especially in the current climate and it is damaging our health. Stress is one of the great public health challenges of our time, Individually we need to understand what is causing us personal stress and learn what steps we can take to reduce it for ourselves and those around us. Our students have been keeping in touch with their form tutors and have been sent, via email, activities, based around how to manage stress. Some of our Wellbeing Ambassadors at Ribston have shared how they are coping during Lockdown- from playing charades over Zoom with friends to completing small daily challenges,
Becca Allen "During quarantine, I have enjoyed taking part in a virtual choir, singing one of my favourite songs with my drama group, giving us the opportunity to video call once a week where we also have a friendly musical theatre quiz and a catch up. The song has been published on youtube: https://youtu.be/5ARGEvgL2rY"
Danielle Veluz "During Lockdown I have realised that I get to spend more time with my family. I never knew how much I would miss my friends even though I've only known them since September!"
Niamh Hall "Quarantine has been rough keeping on top of school work and I think I speak for the whole of Year 10 when I say it's been stressful but, my routine has been important and keeping that implemented has really helped as well as keeping in touch with friends and ensuring to keep active."
Lauren Smith "I decided to use some of the free time we now have whilst in lockdown to download the 'coach to 5k' app and complete the running program; running makes me feel better when I'm stressed and getting out for some fresh air each day prevents me getting too bored being at home."
Lucy Good "During my time in lockdown, I have been reading lots of books to relax as well as to widen my knowledge."
Abi Wilson "I've been focusing on deep breathing whenever I feel myself getting overwhelmed - in for three, hold for two, out for three, hold for two and repeat."
Alex Williams "I have been spending lockdown getting back into old hobbies again and playing games to take care of myself! My friends and I have also begun playing online games together every week!"
Misty Hughes-Gardiner "I have been focusing on doing exercise as it helps calm the mind and body as well as keeping healthy and happy!"
We were also invited to take part in a t-shirt design competition, from Claire Libby, the founder of the iamme app, The app is a positive mental health app, created by young people, for young people. Designed to educate, enable and empower. https://www.iammeapp.com
Below are some of the designs submitted by RHHS Students :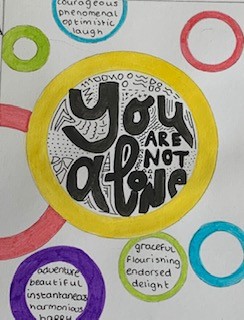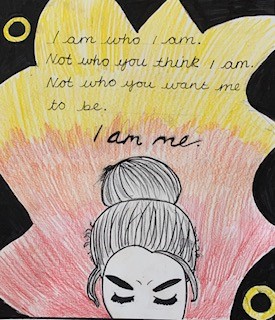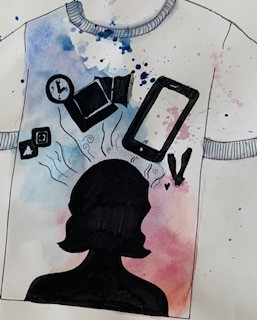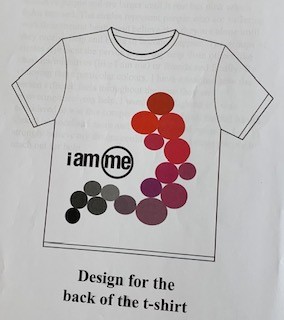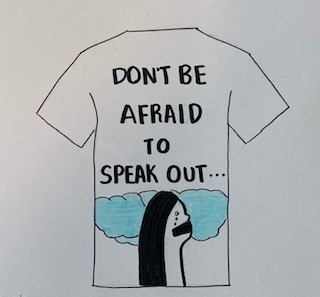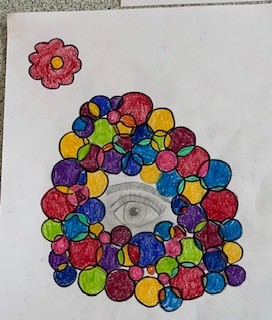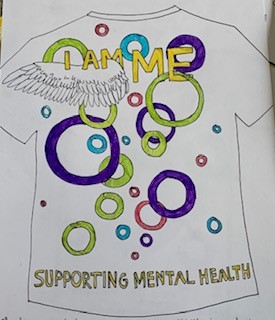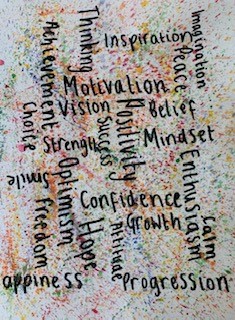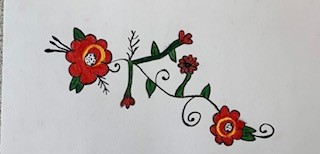 Year 7 Daily Challenges during Lockdown
It has been lovely to see the Yr 7 students completing the daily challenges that I have been setting them. The challenges have included:
Day 11: Create a word art picture containing words that you associate with this time
Day 12: Using Playdough or blue tack and spaghetti. 15 mins on the clock. How many animals can you create?
Day 13: I am currently putting together a video that will be sent out to Yr6's who will be joining Ribston in September. I would love to include a voice of the experts (you!). Send through a photo of you containing a word or short sentence about how you feel about Ribston
Day 14: Research Mehndi patterns and make one of your own on paper
Day 15: Complete a drawing lesson with Rob http://www.robbiddulph.com/draw-with-rob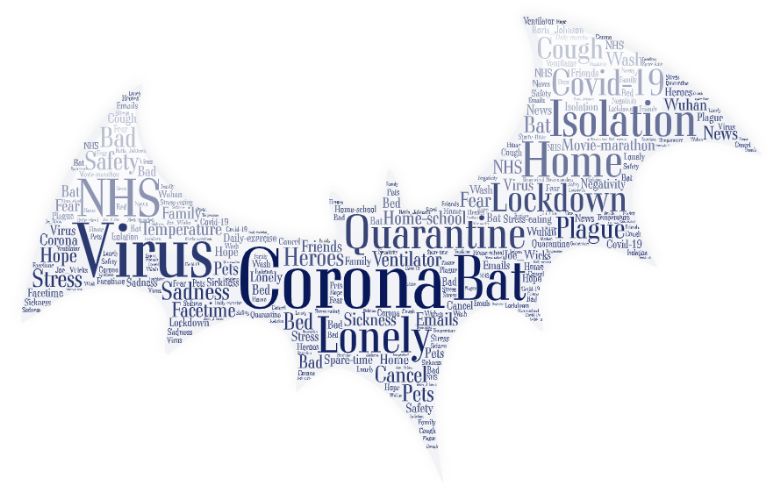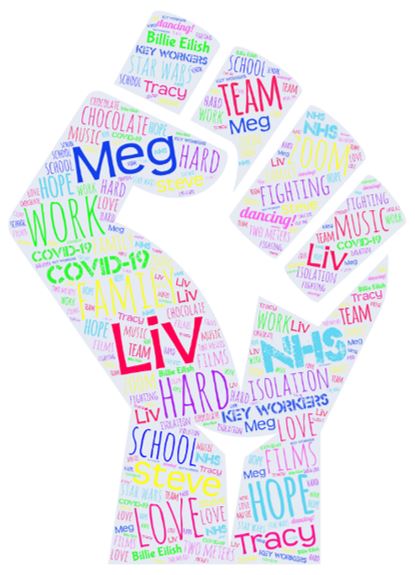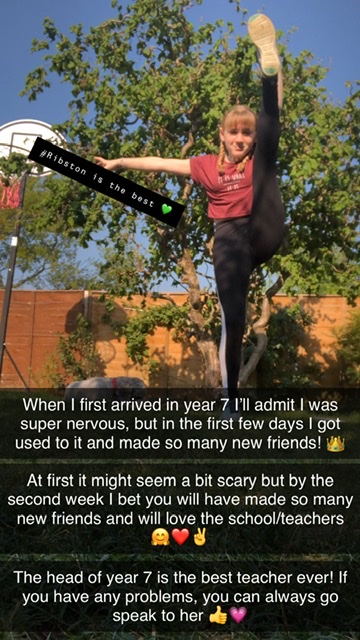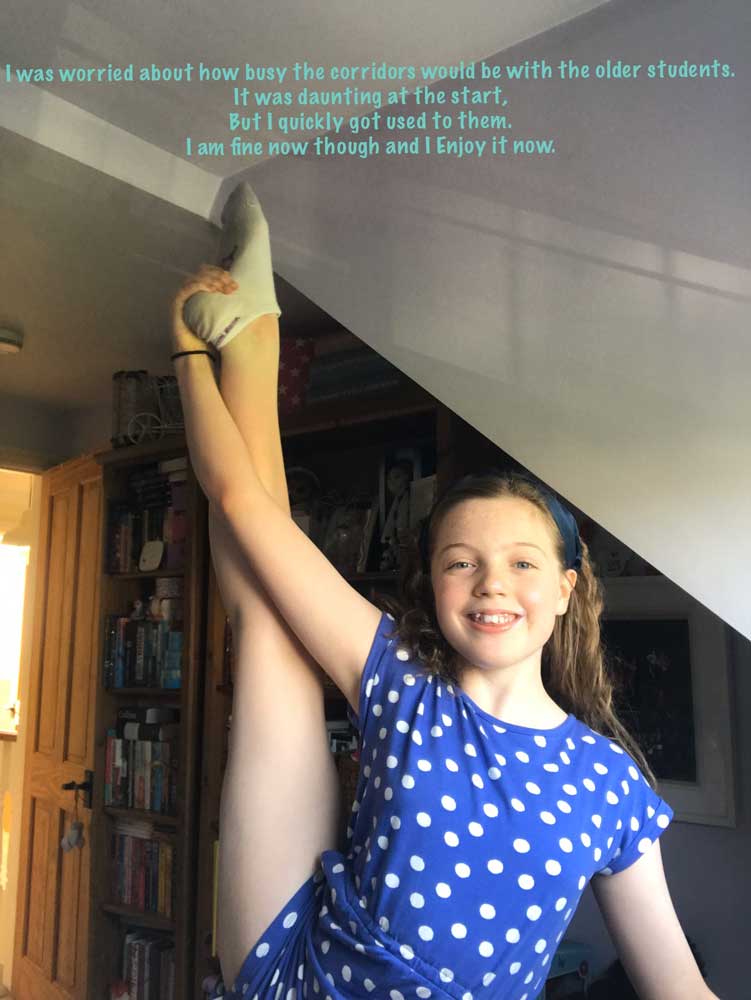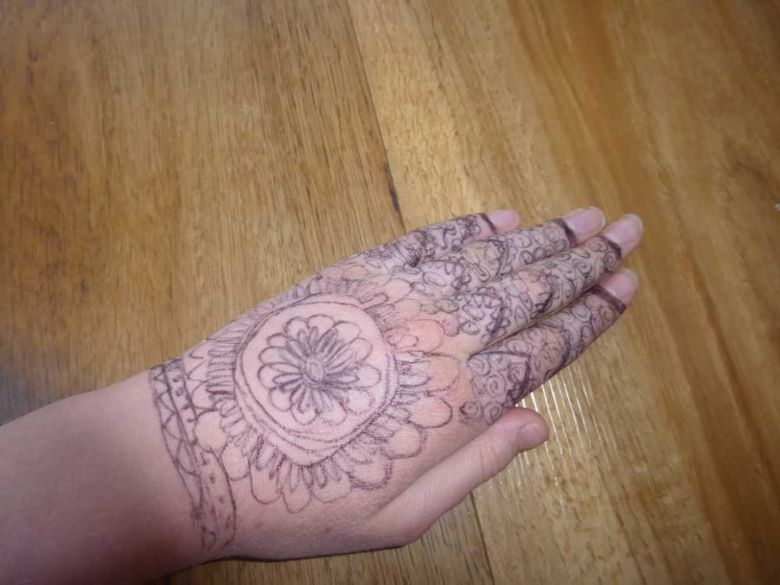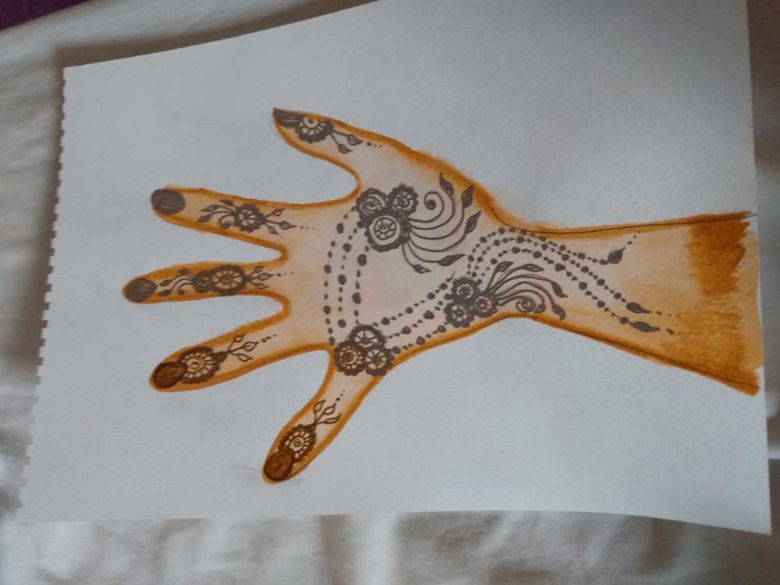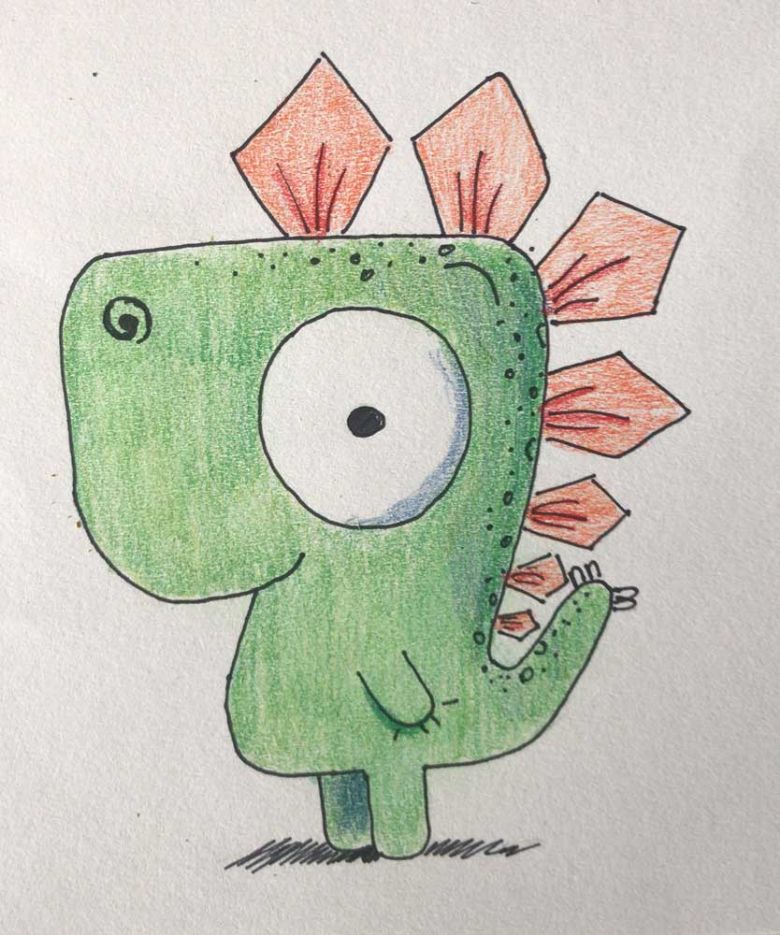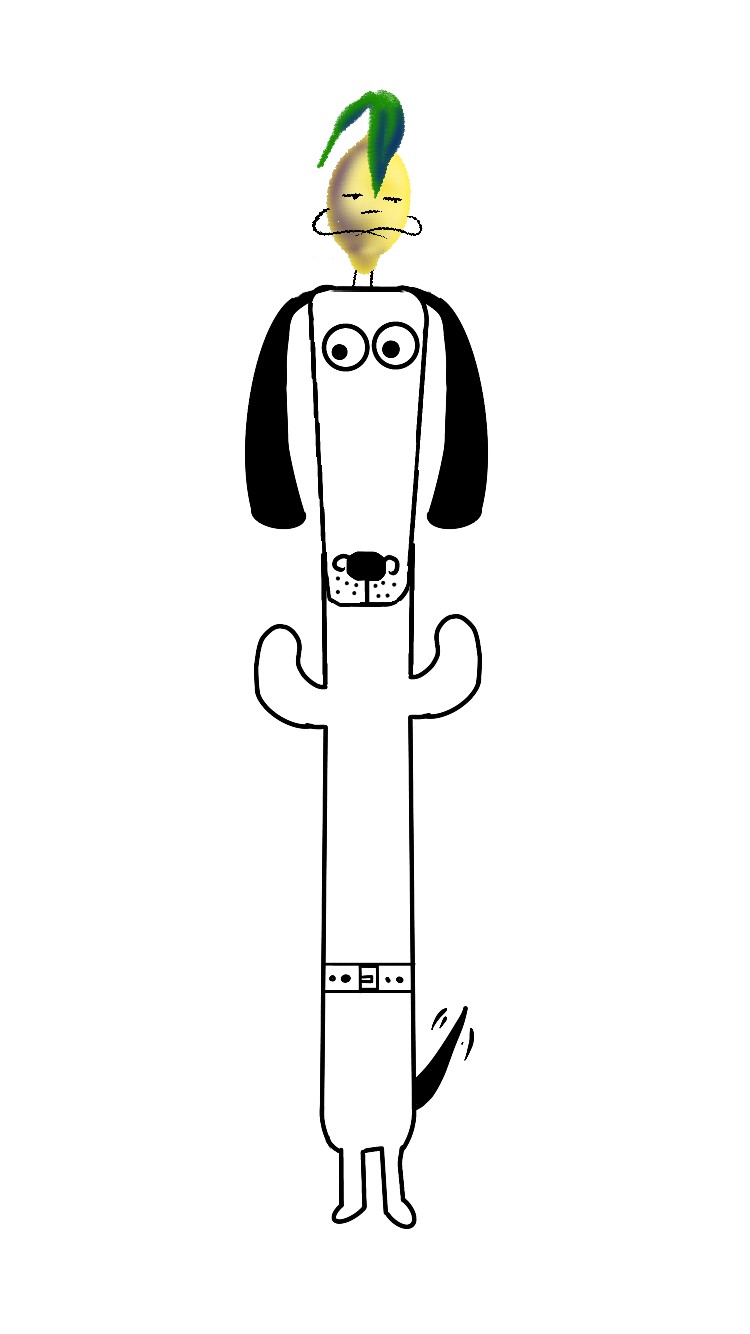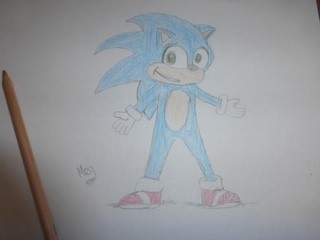 A special mention needs to go Meg Scott who has completed all 15 challenges and sent me wonderful pictures!
Mrs Hay, Head of Year 7
Year 7 Wildlife Report!
Over the last month I've been looking at the wildlife in my garden and this is what I've found.
Rainbow backed Starlings feast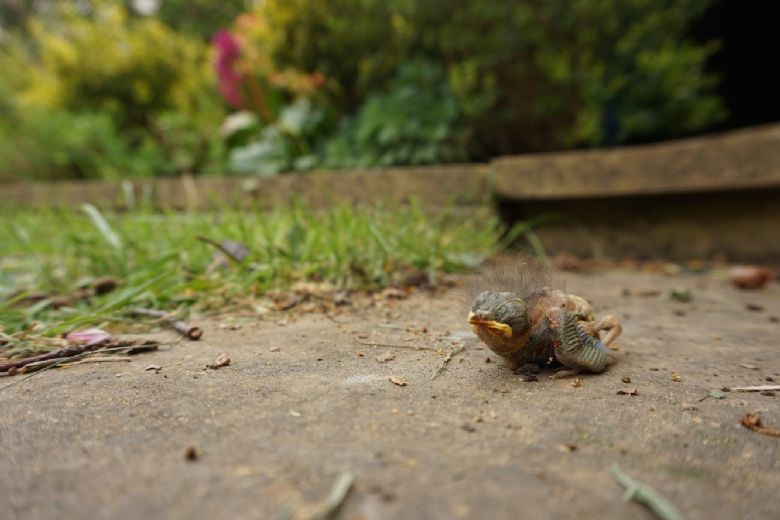 on ants that they peck up from the ground. A mess of twigs is visible from a garden which may look like a tree stump however, it is actually a rook's nest. Robins and blackbirds frequently visited earlier in the year to collect nesting material as well, and the robins were going to nest in my garden but they were very close to the door, so we accidentally scared them off. In mid-April I found a baby blackbird in the garden. Unfortunately, it was dead, so I believe it was taken from its nest but when I found it ants were eating it. I then buried it so that it was safe and hidden. Many other birds regularly visit too including magpies, seagulls, great tits, blue tits and bullfinches and I get these even without feeding them – I do have a bird feeder but always forget to fill it up.
Bugs can be annoying but really, they are hardworking and helpful little creatures. Bees are fluffy and pollinate everything but what many don't know is there is 260 species of bee in the UK at least 10 of which I regularly see in my garden. It isn't always as it seems as there are Hoverflies and Bee flies which look like Bees however they aren't.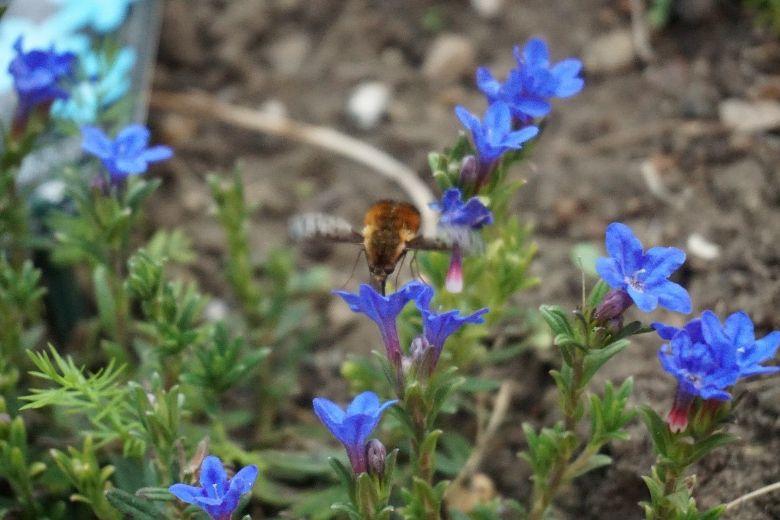 Bee flies have long visible proboscises and are round and extra fluffy like bumble bees. Hoverflies are often mistaken for bees and wasps due to their black and yellow strips however if you look at the eyes, they're large and sectioned so you can see that they aren't actually bees. Bee flies also have similar eyes. Another well know insect is the Butterfly. They're everywhere especially at this time of year. I've seen peacocks, orange tips, holly blues, tortoiseshells and speckled woods already this year. There are also lots of snails too (as there usually is)- especially in the watering can which has now become a snail home.
Two years ago, I put a wildlife pond into the back of my garden which is quite small (2 by 1 feet) and last year I had frogspawn in it. Now I have 3 frogs in it. Two are adults the other is the one remaining froglet (teenage frogs) still in the pond.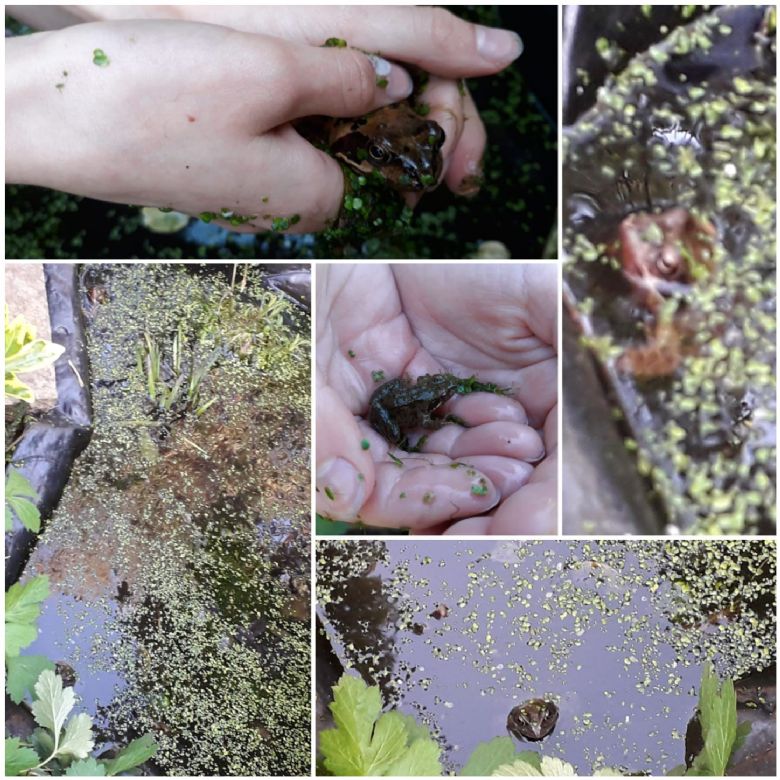 Earlier in the year I planted spring onions, leaks, peas and radishes which are delicious and fun to grow to. Strawberries and lots of different herbs have been growing in my garden for the last three years too and a crab apple tree was planted around the same time and amazingly it has blossomed for the first time this year.
I hope you enjoyed reading about all the wildlife I've found in my garden.
Seren Williams Yr7
Year 8
Mrs Nicklin, Head of Year 8 wanted to share some of the lovely things that our Year 8's have been doing this month:
Keela Sullivan 8S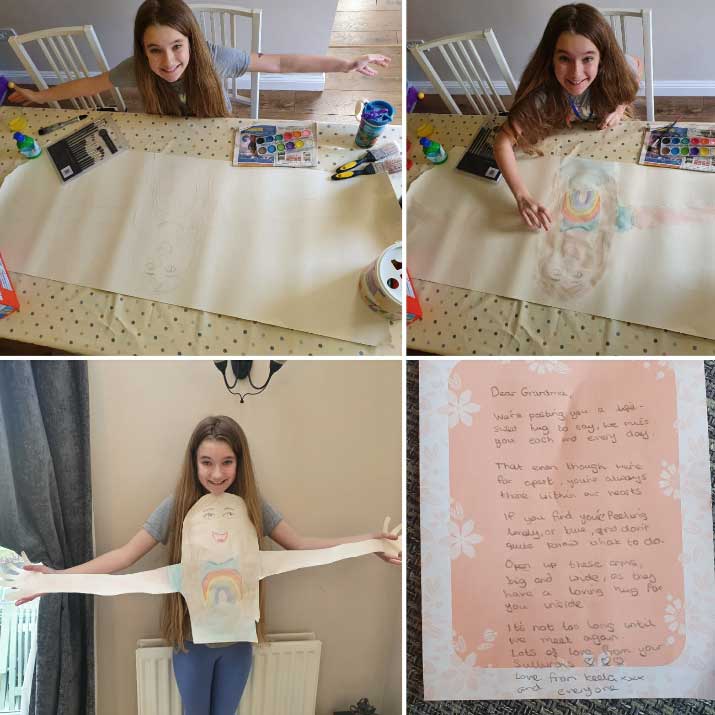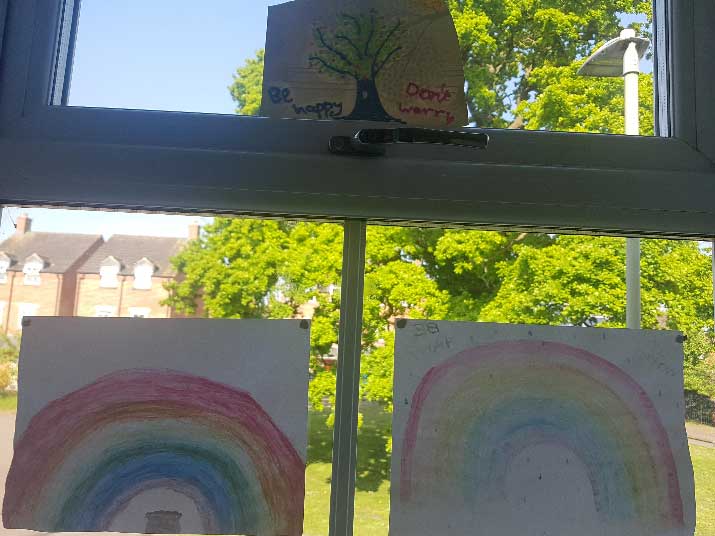 Keela has been keeping very busy at home, alongside her studies. She has been keeping a diary, painting rainbows for her window and sending some to her grandma too. She has also sent her grandma a giant hug to help her not feel so lonely at this time, and has written a poem to go with it.
Hannah Brown 8B Sewing for the NHS
I recently heard about a campaign for people to sew items for our hard-working NHS staff and I wanted to get involved. I decided that the easiest and quickest thing to do was to make the ear savers/ mask adapters that fit on the back of a mask to make them more comfortable, as wearing a mask for a long period of time is painful for the ears. First of all I made a few that were sent to Tewkesbury hospital which is a dedicated COVID-19 hospital. I was then asked for them by so many people I had to get my mum involved too. So far we have made nearly 150 and they have been used in Cheltenham hospital, Gloucester hospital and the Nuffield Orthopaedic Centre in Oxford where they are now dealing with trauma patients, some of which have COVID-19. Most recently I have been asked to make some for the oncology ward in Gloucester hospital. I have encouraged family members and friends to get sewing for the NHS too to help with the demand. If anyone else would like to get involved there are two sewing groups on Facebook "Sewing for our NHS" which is a national group and "Supplies for NHS & Carers" which is specifically for the Gloucester and Cheltenham area. Here are two pictures of my ear savers/mask adapters being used: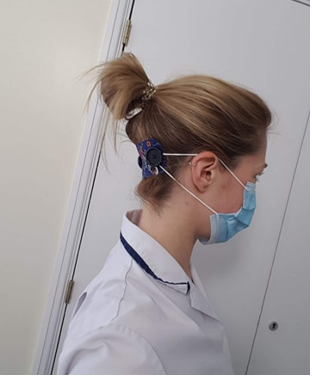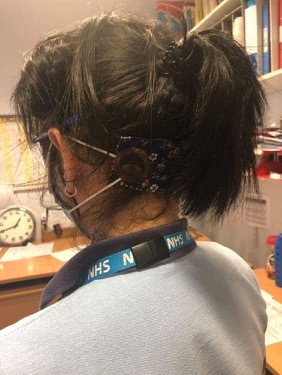 Mia Hall 8B Mia has been keeping busy by writing a full-length story, and she is now on her second! She has also been helping her little sister to ride her bike without stabilisers.
Cassie Gay 8D Cassie has designed a rainbow window display to thank the NHS.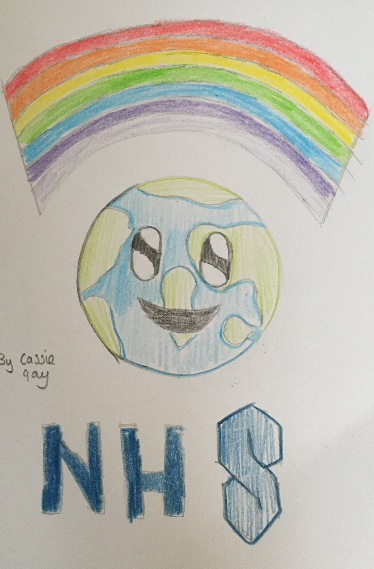 Humanities Department - Easter Competition
Over the Easter break, students were invited to take part in our annual 'Hard-Boiled Humanities' competition. Students were asked to decorate an egg with a well-known figure from History, Geography or R.S. We had lots of fantastic entries- some of the entries are pictured here.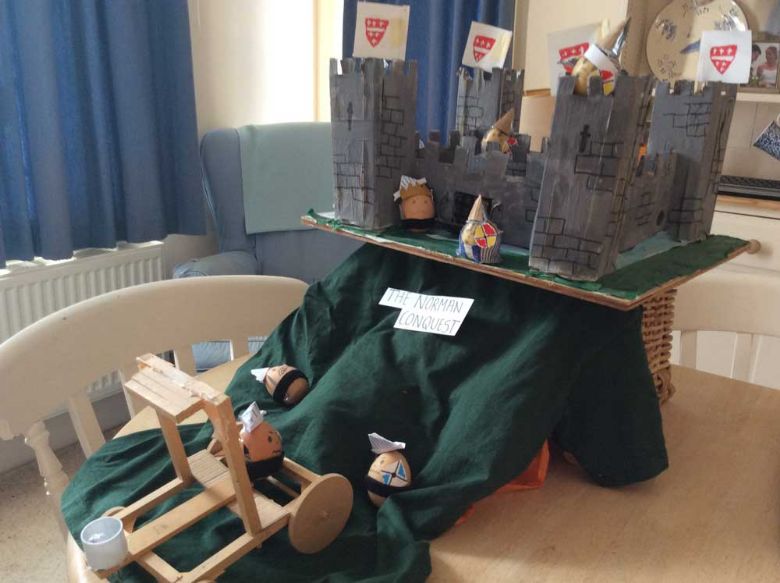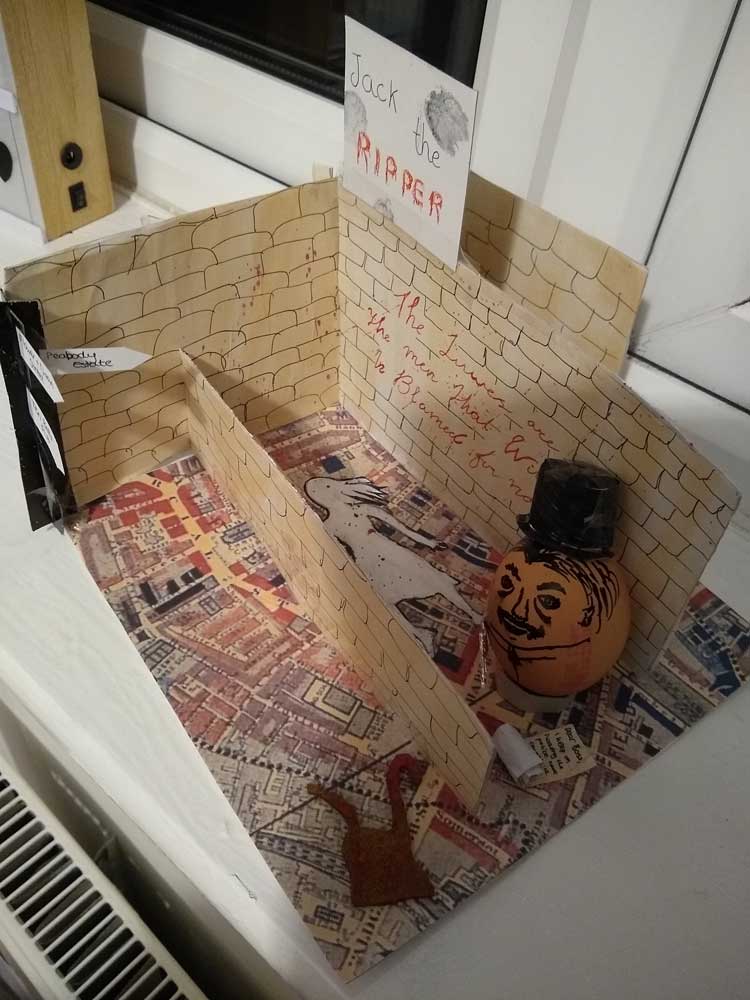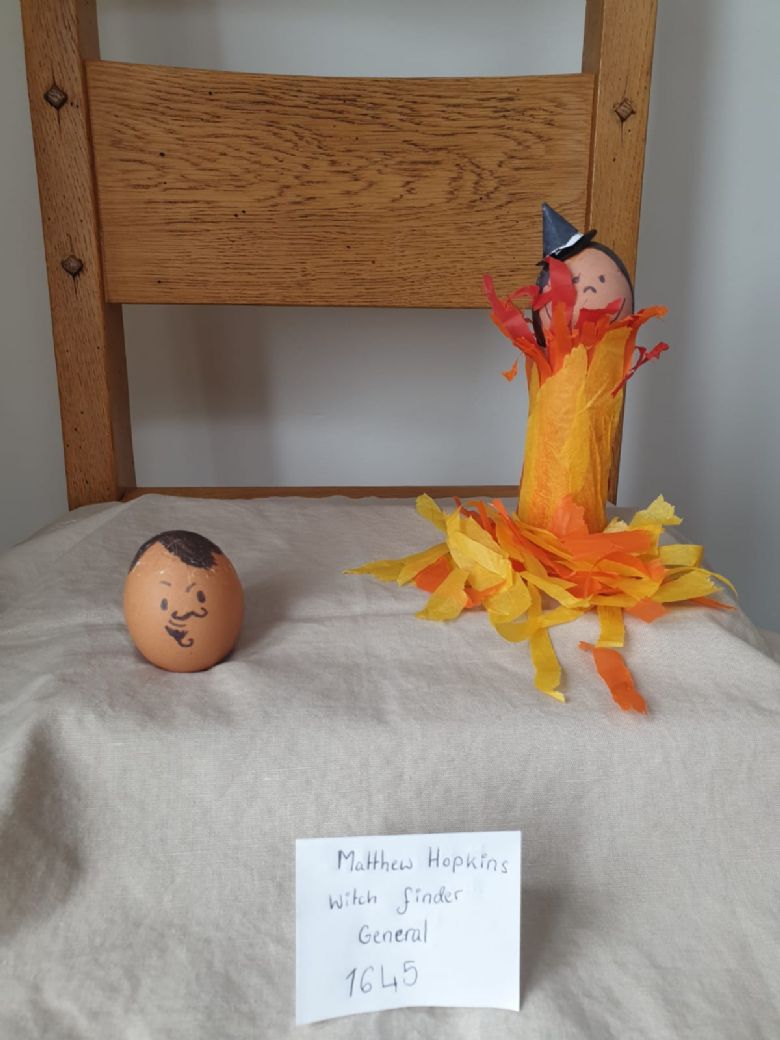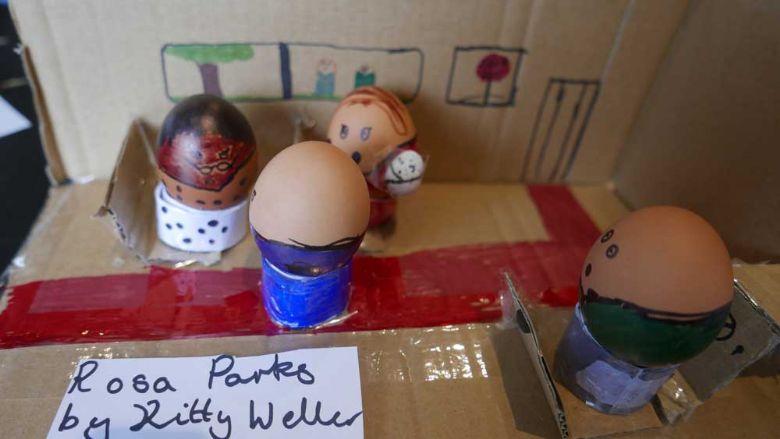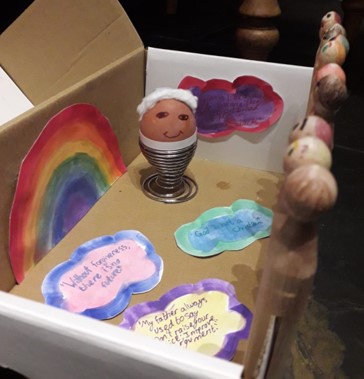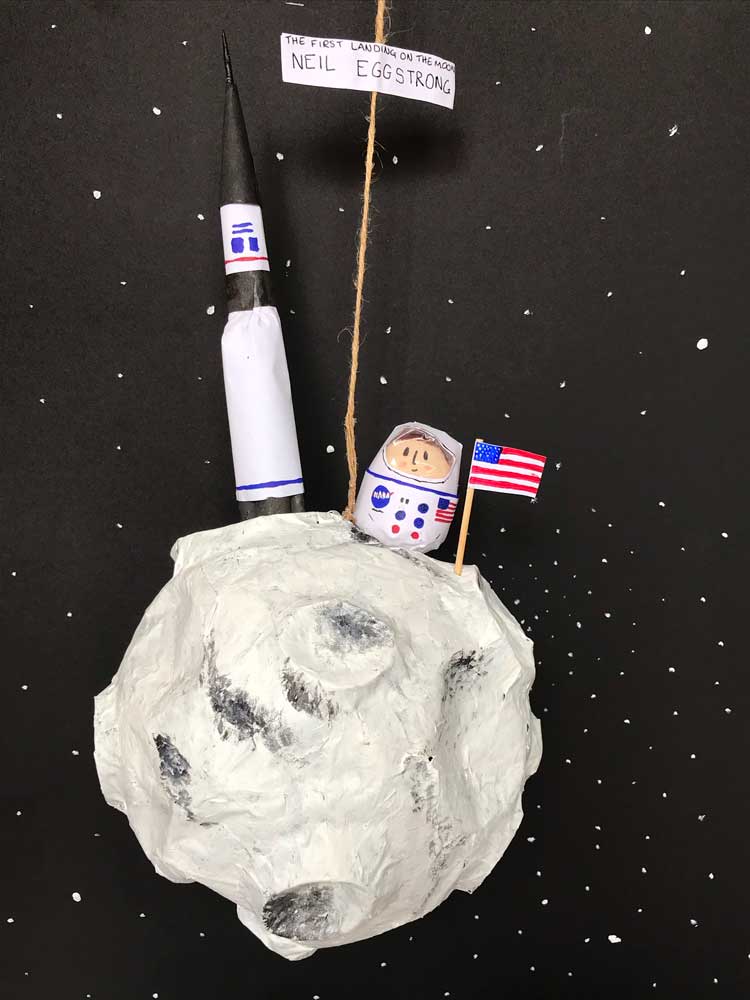 The Humanities staff had a really tough decision when judging the entries as they were so impressed with the creativity of all of them. Our overall winner however was Poppy Wynter with her entry 'Neil Eggstrong'. Poppy has received her prize via email.
Easter Drama Competition - Roald Dahl Monologues
Drama continued over the Easter holidays, with Year 7 students writing and filming their own monologues based on a Roald Dahl character.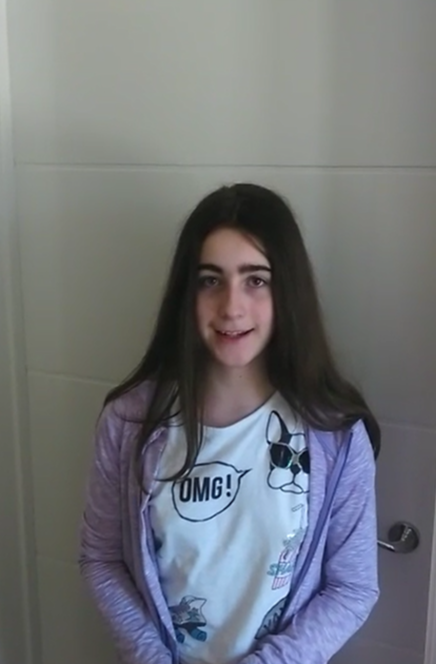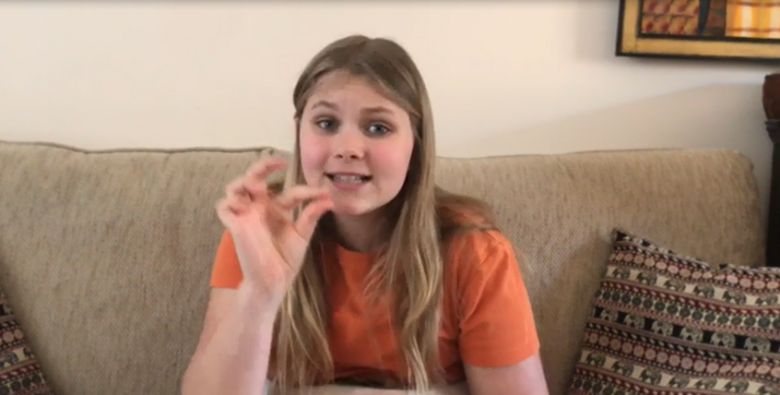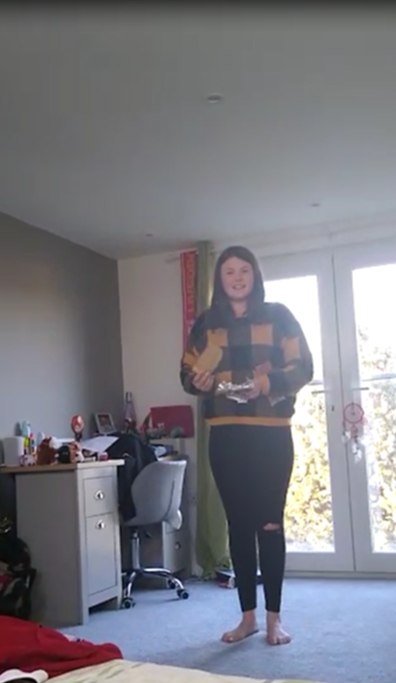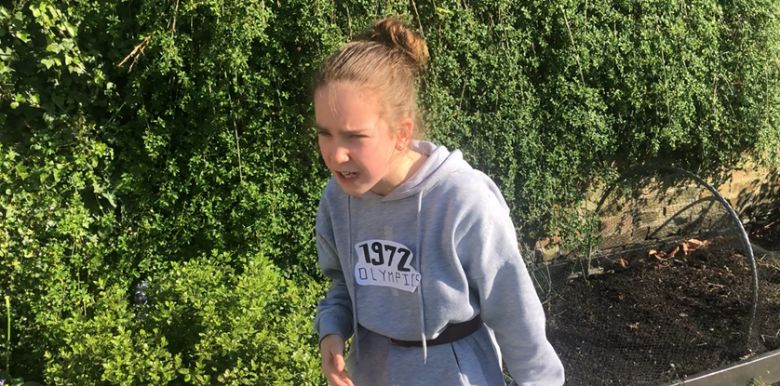 A particular well done to Rosa Jolly, whose portrayal of Miss Trunchbull from Matilda was so frightening I think it would even leave Mrs Colombini scared!
Mrs Hill
Modern Foreign Languages
Students completed a number of MFL "Language Challenges" over the Easter holidays. These varied from changing the language settings on their personal devices to sending friends and family messages in a foreign language, creating music playlists of their favourite foreign artists, watching popular children's cartoons, researching and creating origami structures of world-famous landmarks, writing shopping lists and learning popular tongue twisters in French, German and Spanish.
We also launched "Linguacuisine", encouraging students to research and follow recipes in the foreign language and send in pictures of their dishes.
Rose Whitehead, 9D sums it all up "I really enjoyed doing these challenge activities and liked broadening my learning."
Here are some of your brilliant creations! Language Award certificates will be on their way to all entrants soon. Thank you for your amazing efforts!
Mrs Holman, Lead teacher for MFL
Peppa Pig in French and other work by Rosa Jolly, Yr 7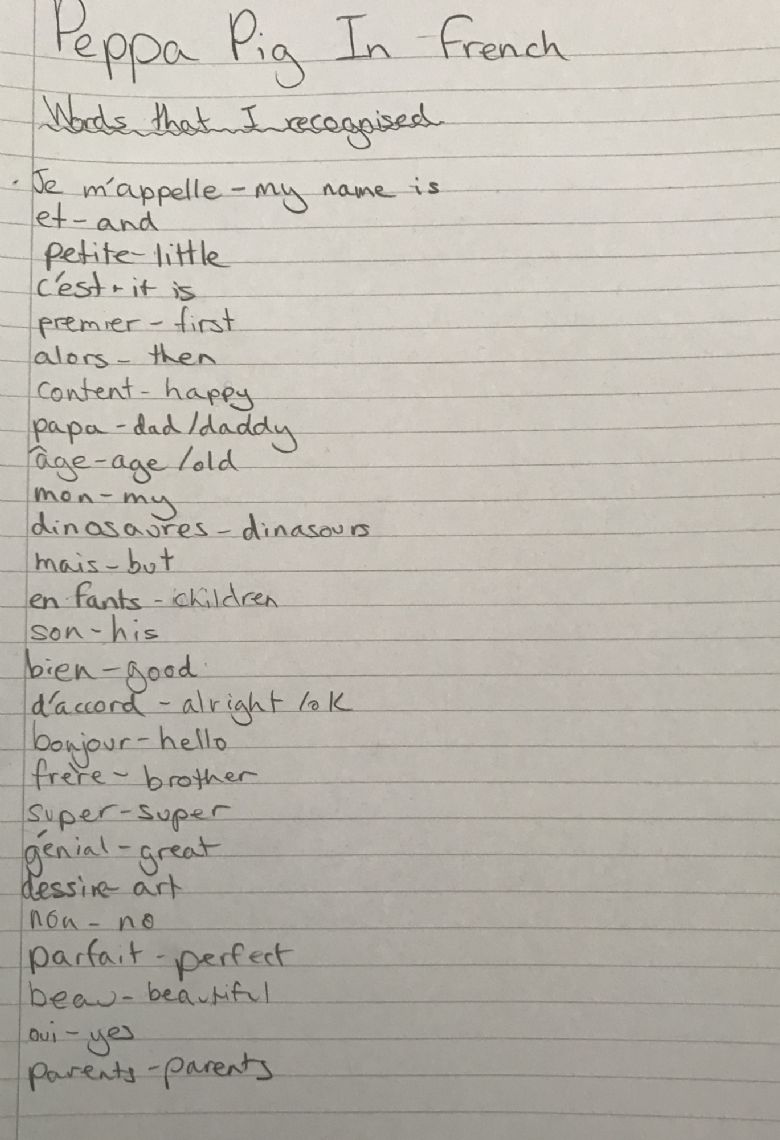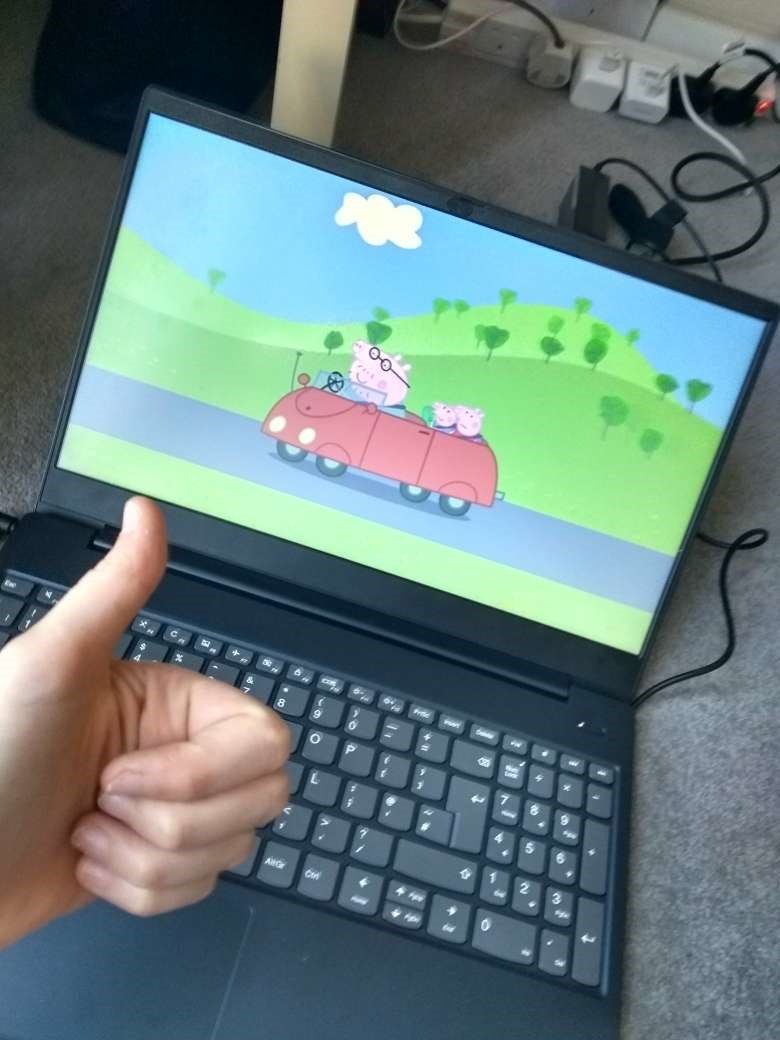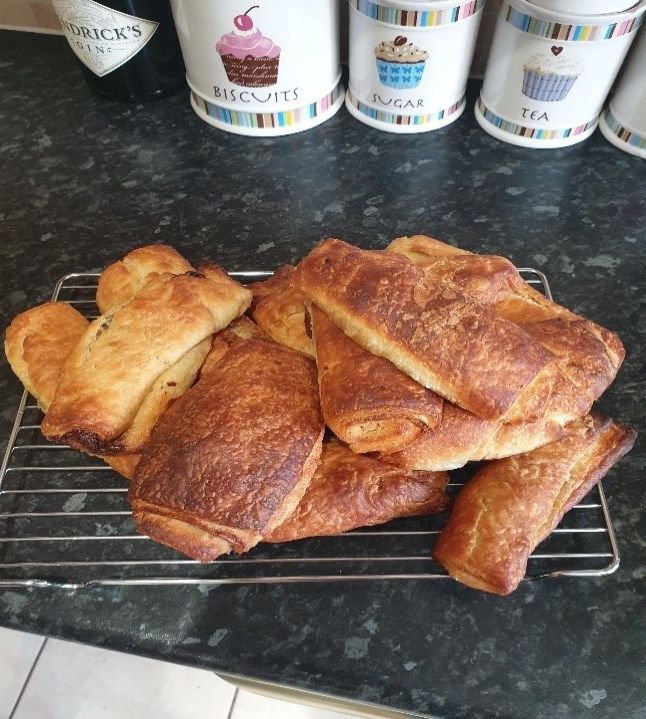 Pain au Chocolat by Madison Brown, Yr7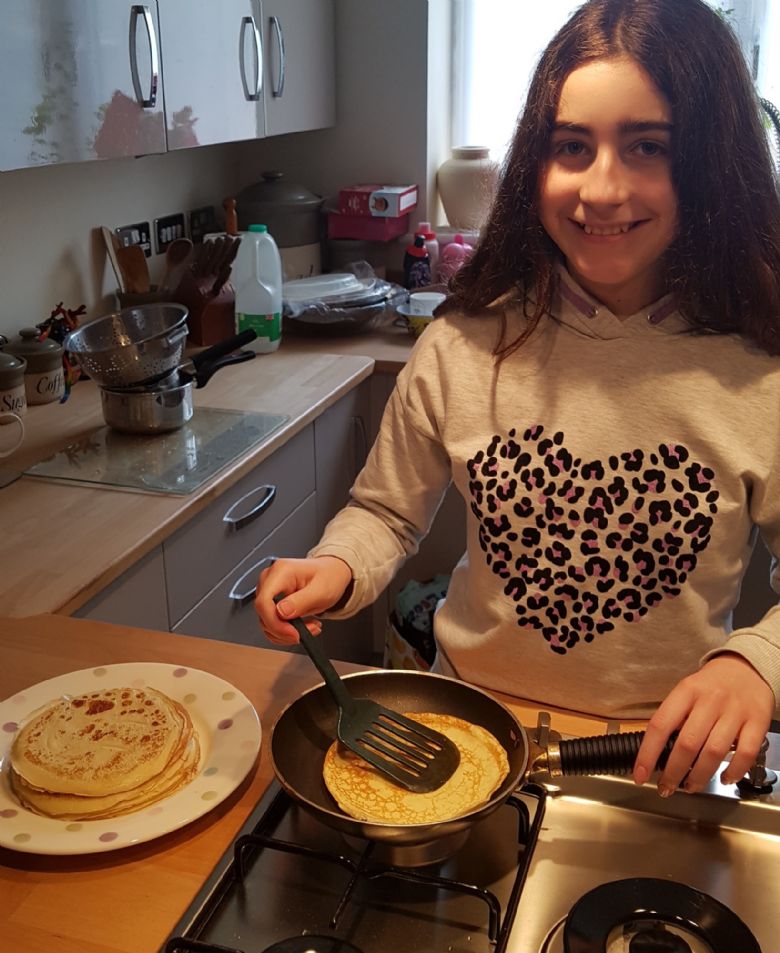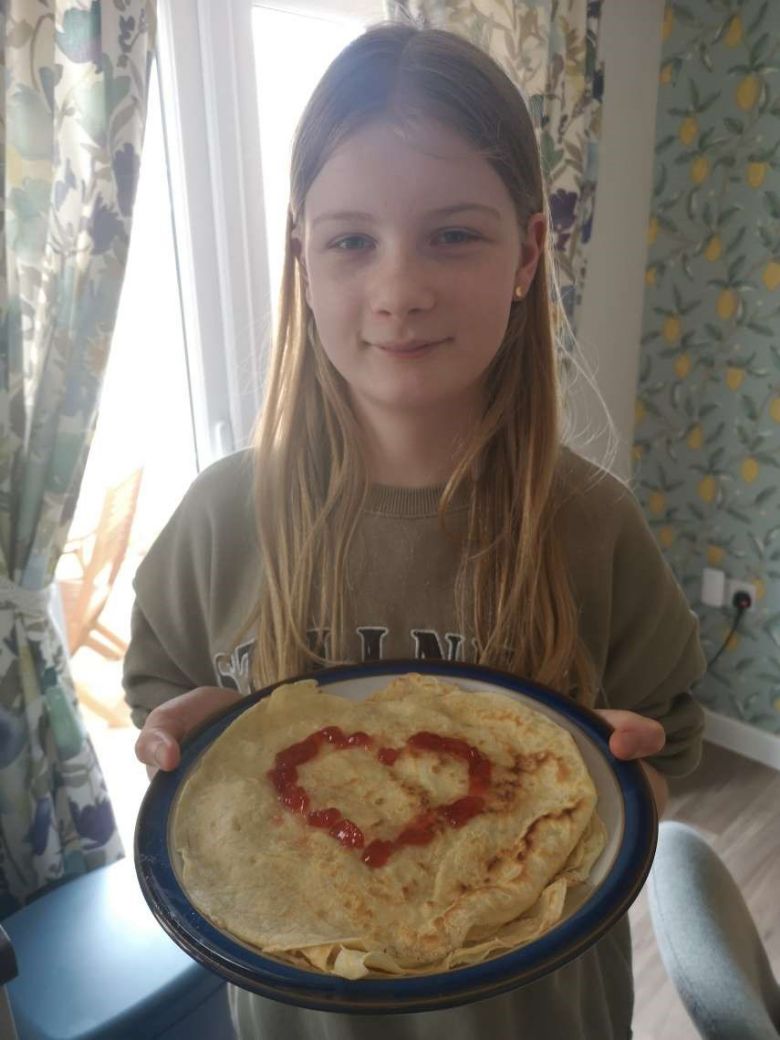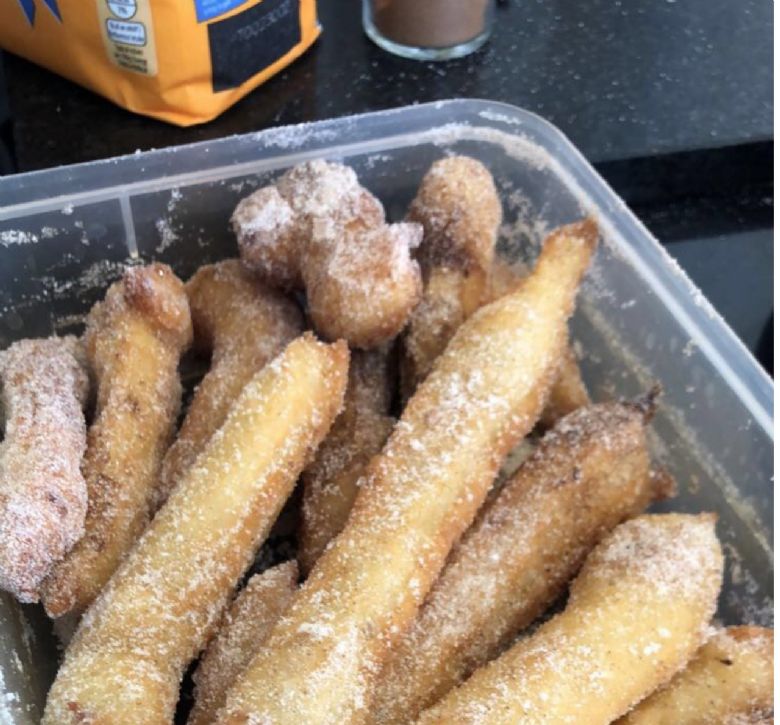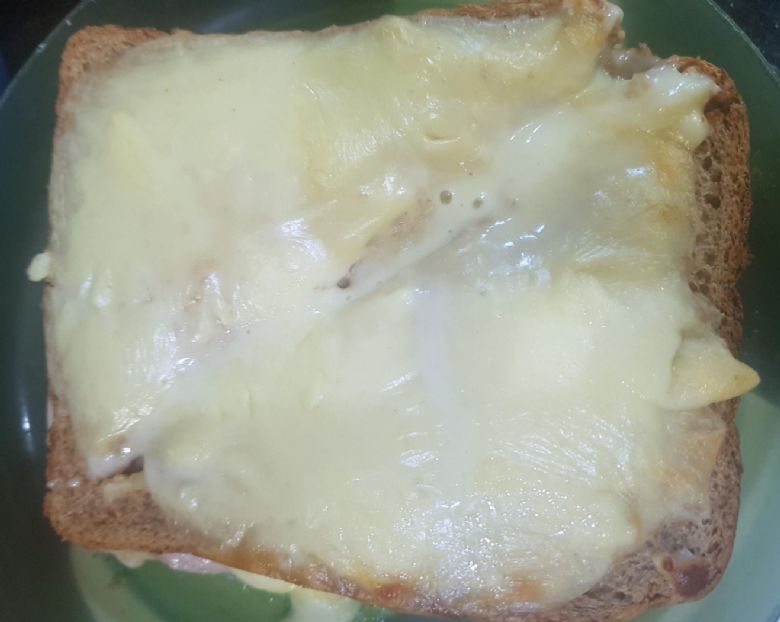 Next month we would like to challenge all members of the Ribston community to use one of the many Apps available to refresh, keep alive and develop their foreign language skills!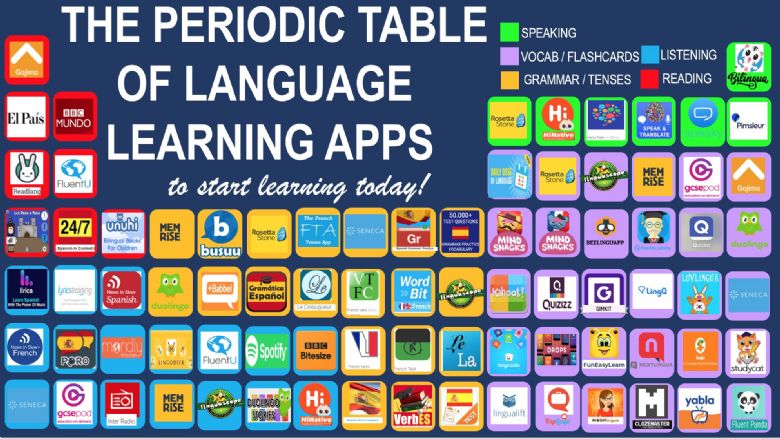 Design Area Competition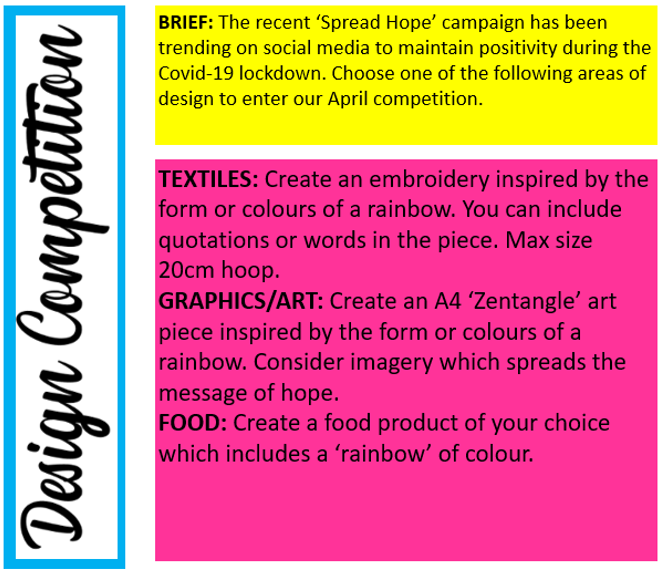 During April - Design launched a monthly Design Challenge Competition. Its aim is to inspire students to continue using their creativity skills whilst at home! We were so impressed with the entries and want to say a huge thank you to those that participated.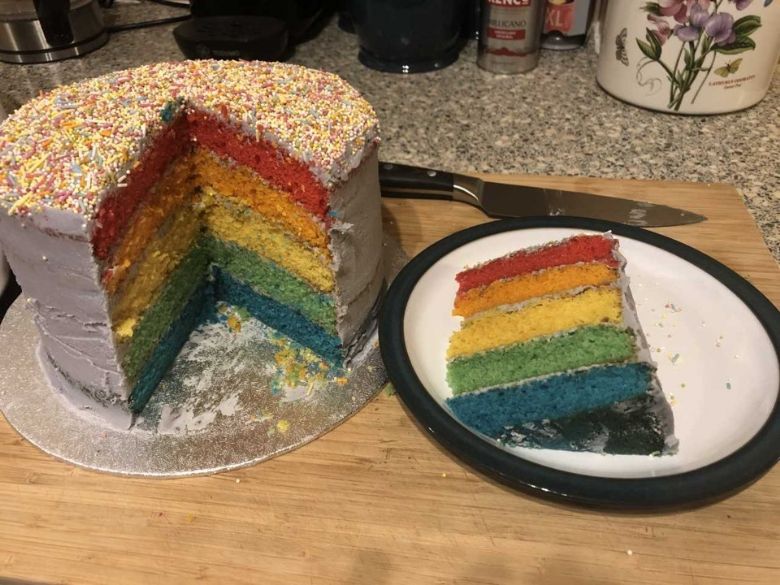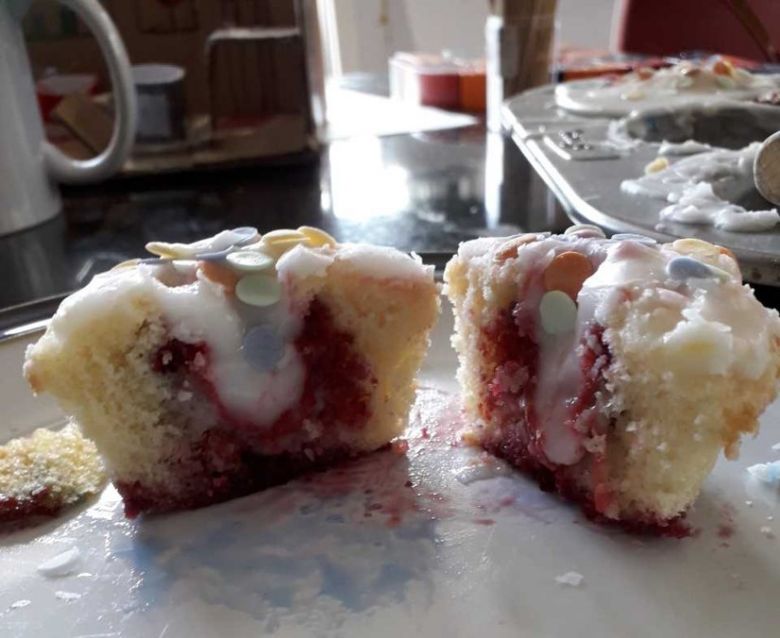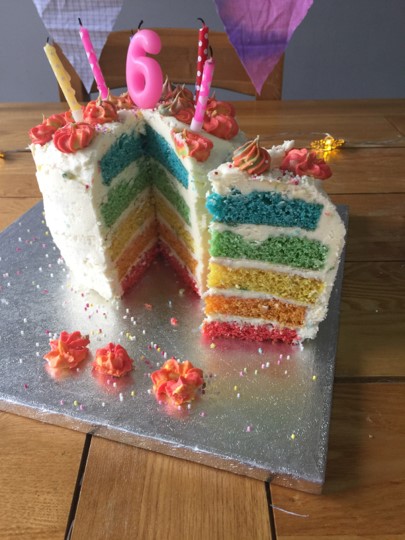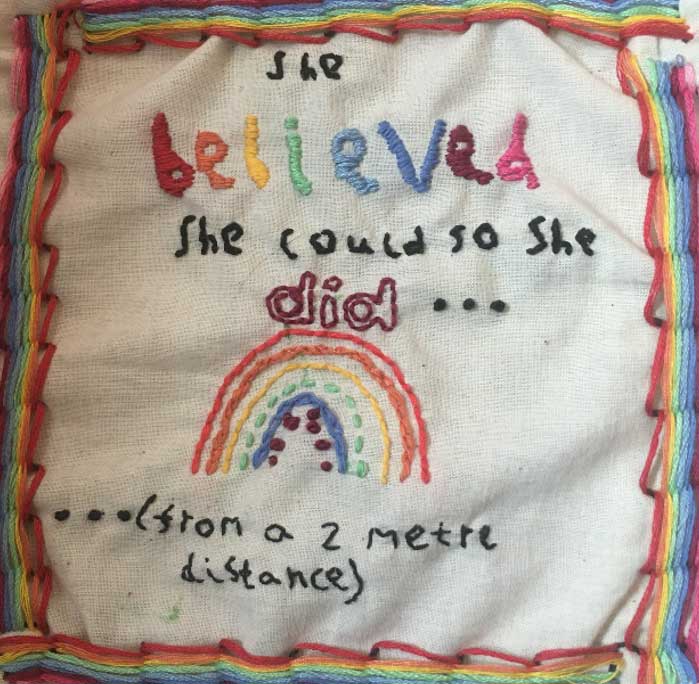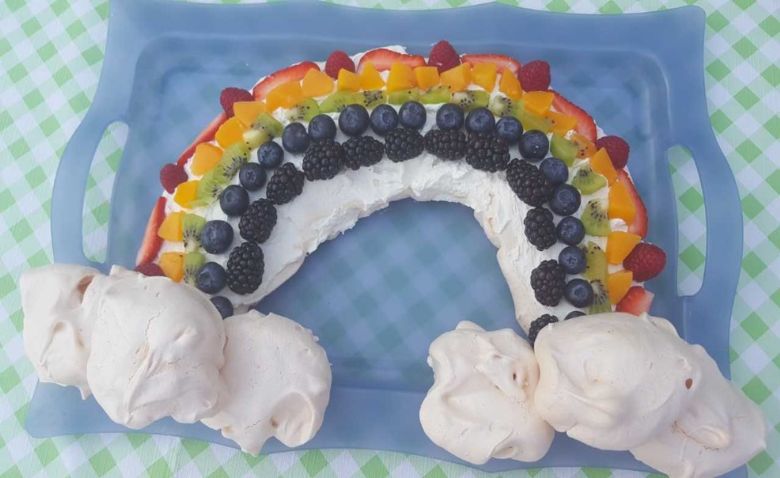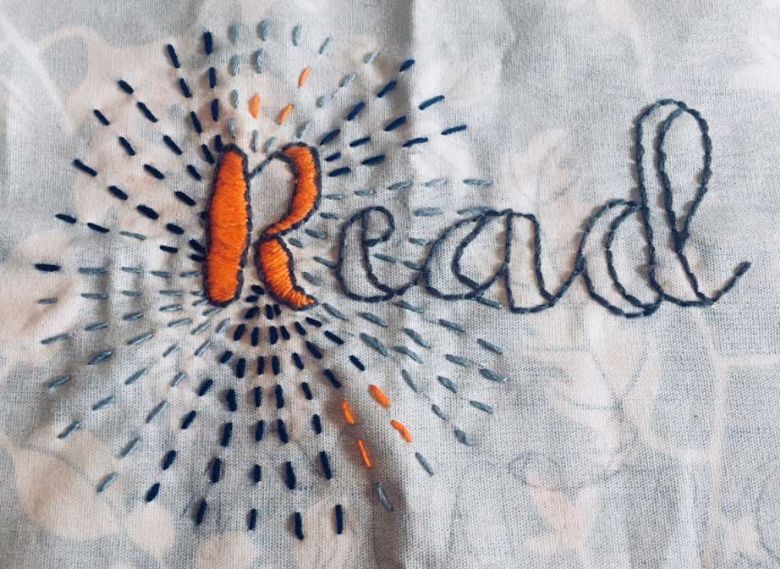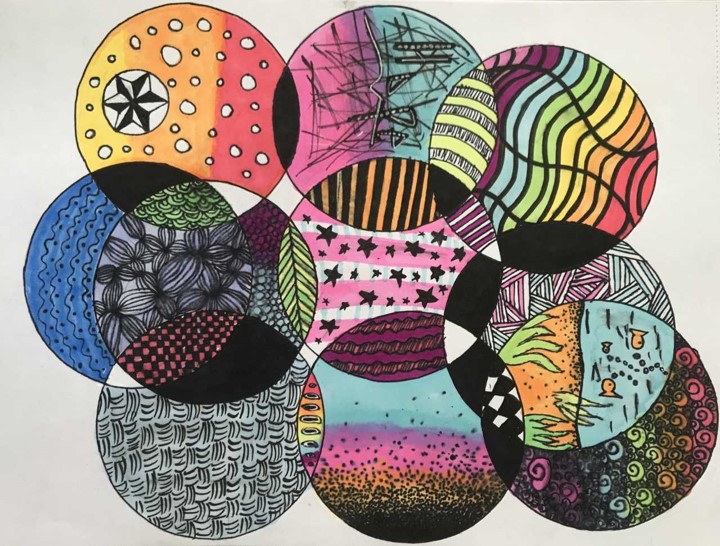 The Ribston community (staff and students) voted and the winners of the April Challenge were: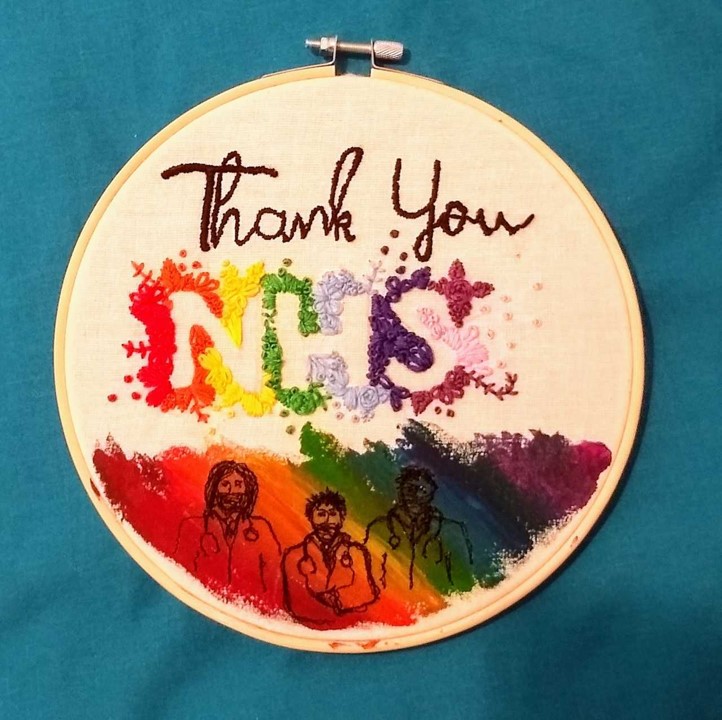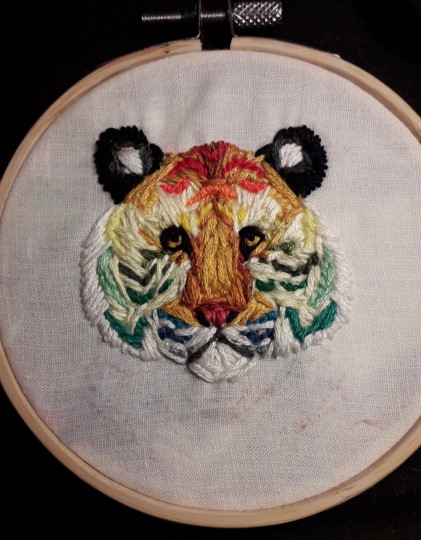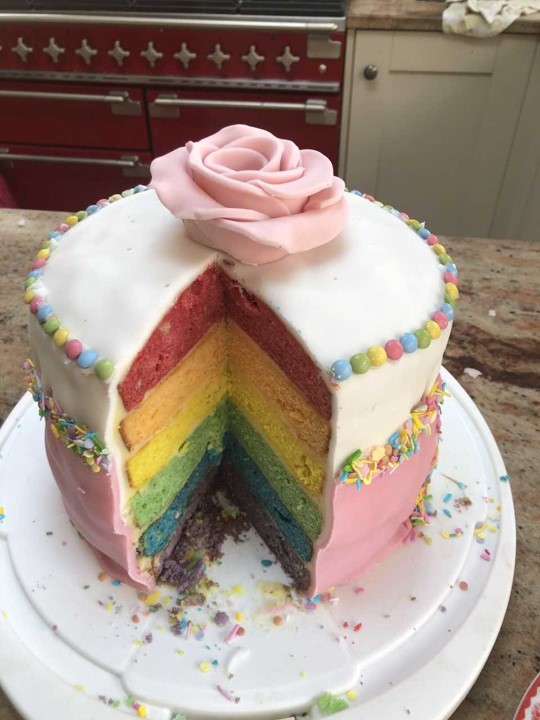 Each student won a Hobby Craft e-voucher. We look forward to seeing the entries for the May Design Challenge!
Mrs Finch, Curriculum Lead for Design
Maths Challenge
Mrs Jeffrey set her Year 10 and Year 11 students a mathematical Easter egg hunt on the last day of term involving a virtual tour of Norfolk.
The winners were Lucy Lord in Year 11 and Faith Warrington-Alder in Year 10. Well done to both. Prizes to follow!
Centenary Celebrations, Student Lead Introduction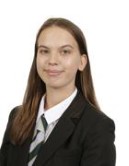 My name is Hannah Paveley and I am in Year 12 studying A level Maths, Chemistry and Physics. I am leading the Student Body for the Centenary Celebrations and helping to oversee events for next year.
Next year, our Centenary, will be hugely special for the school as it is an opportunity to celebrate the school's history whilst also looking to Ribston's future. It is an opportunity for us to celebrate everything which makes Ribston so unique. I would like to invite all students to help design a new special logo for the school which we can use within our 100th year. All designs should represent what Ribston means to you – is it the lion? a pippin apple? Please submit your designs no later than: 11th May 2020.
We are VERY excited to see what you can produce. We intend for this to be added to event material and merchandise so get thinking and send something in!
If you have any queries or ideas for any future events please feel free to suggest them to: HannahP14@ribstonhall.gloucs.sch.uk .
Year 13 Final Assembly
With the announcement that the School was closing for home-study, we arranged a final assembly for Year 13 to provide an opportunity to celebrate and reflect on their time together. With messages from Miss Leggett and Mrs Cresswell, students both laughed and cried looking back at all the photographs from past years. Stories were recalled and mysteries solved as students shared their tales. From performances to charity fancy dress days, the memories soon came flooding back! A final sing along provided a fitting end to a great day.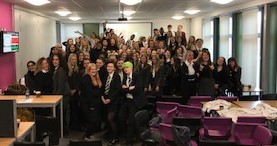 We have been so proud of the Year 13s, particularly in the current situation, and wish them every success for the future. We look forward to results day in August and celebrating with them as they move on to their next steps.
Netball Success - County Netball Champions for both Yr 10 and Yr 11 Teams
Yr 11 Netball: The Yr 11 team played in the county Netball tournament on the 10th March. We have history of losing to Denmark Road in the final and with this in mind we entered the tournament with a view to win (the last chance as Yr 11). The team were led by Millie Mason, who has been the team captain since Yr 7, a brilliant achievement in itself. They fought hard as a squad and the pure grit and determination paid off, they won the tournament. Congratulations to the entire Yr 11 squad: County Champions!!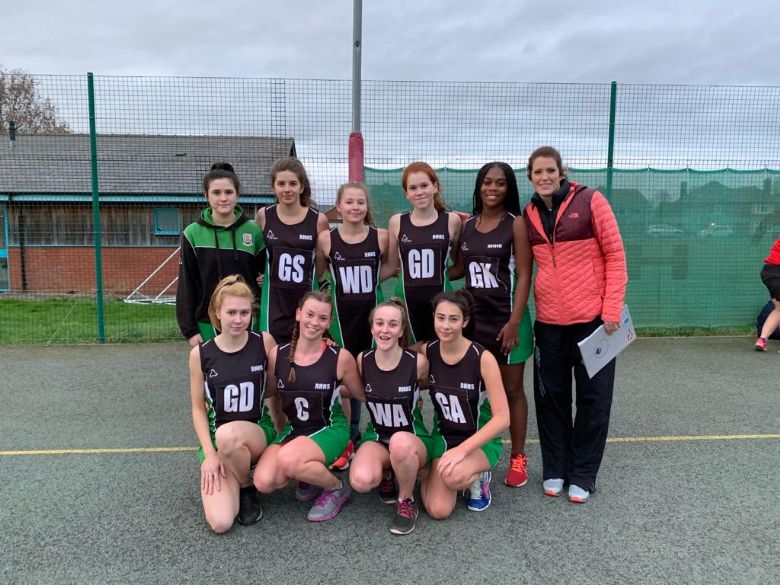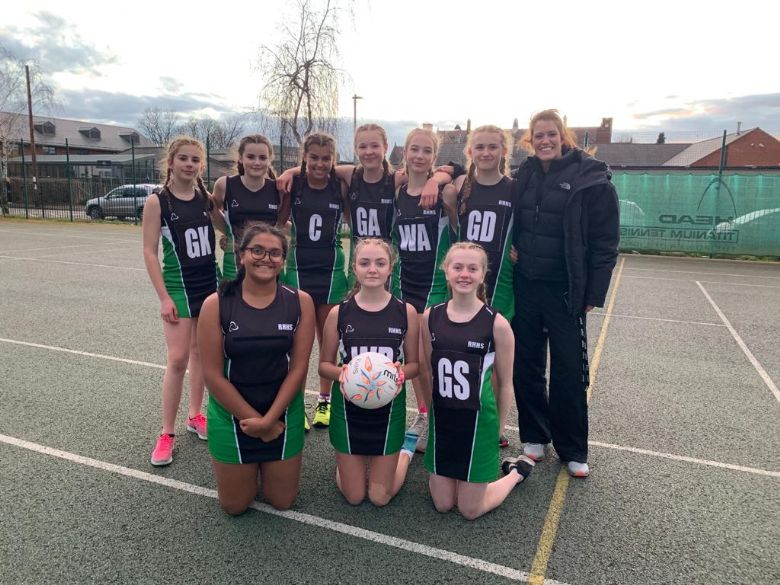 Yr 10 Netball: The Yr 10 team were defending champions going into this tournament and had a lot to prove. During the round robin competition on the 11th March, the Yr 10 Netball team won all of their matches apart from the last match which they drew with Denmark Road. The winner of the tournament was therefore decided on goal difference. Fortunately the team went out hard form the beginning and the excellent shooting meant that they won the tournament! A fantastic squad performance and an absolute joy to watch such high quality netball.
Food Technology
Some great examples of baking that have been made during Lockdown.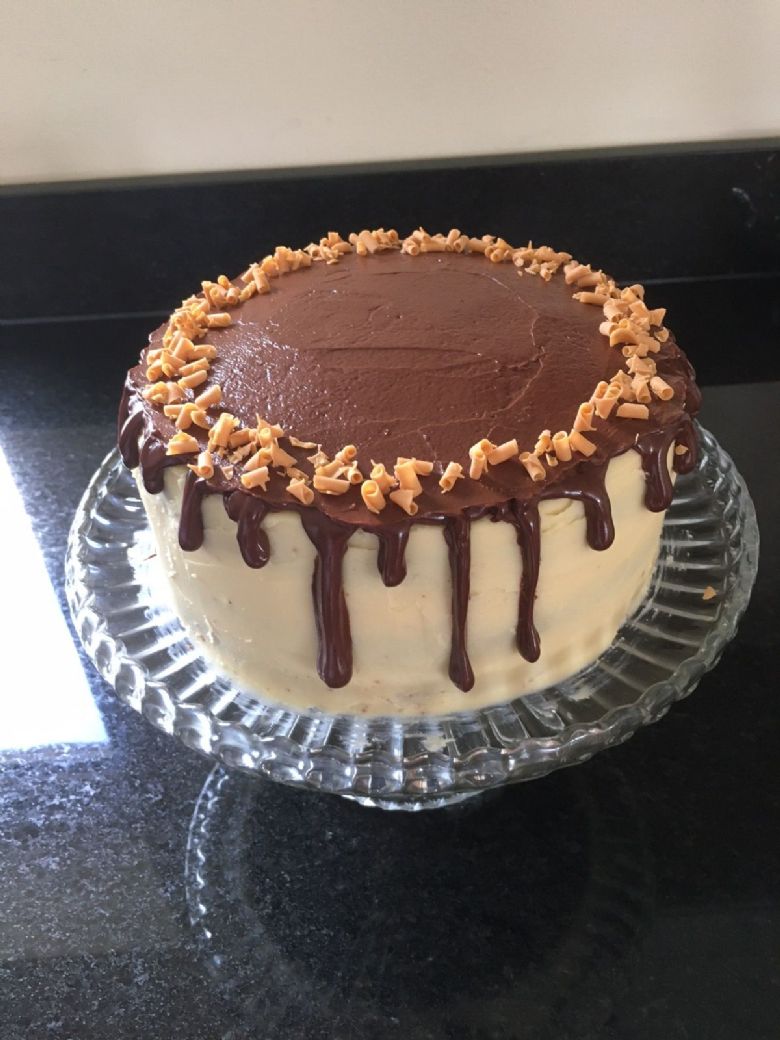 Italian Bread