Student Wellbeing - May saw plenty of sunshine, a half term break and also Mental Health Awareness Week. This year, the theme was Kindness.
You may recognise the expression "it is better to give than receive", but did you know this is backed-up by research?
People who are kind and compassionate see clear benefits to their wellbeing and happiness. Kindness can also help reduce stress and improve our emotional wellbeing. We all have so much going on in our lives - including competing strains and stresses and this can see kindness pushed to one side, in favour of what is more urgent. It can be easy to signal kindness by posting online and following a trend, but harder to commit to kindness in our daily words and actions. If we take the time to be kind to other people, we can reap the emotional dividends. It can really make a difference and especially for people who are vulnerable or struggling. Now is the time to re-imagine a kinder society that better protects our mental health. Whilst we haven't been able to interact with the students in school, we have set up our Wellbeing padlet, which is updated regularly and can be found on our website if you want to have a look around it.
Students were asked to share what they have been doing that is kind during lockdown and/or Mental Health Awareness Week. Here is a small selection of some acts of Kindness:
Lauren Smith SF4 – Sixth Form Wellbeing Lead: "I've been making use of the app 'Freeprints Cards' to send my friends and family personalised postcards throughout lockdown. My grandparents really enjoy receiving ones with pictures of me and my siblings on and hearing about the simple things we've been doing to keep occupied at home. It can feel difficult to maintain relationships without being able to see people properly in person, so it's more important than ever to remind those you love that you're thinking of them."
Rosanna Phelps 9R "I help my mum out by making tea every Saturday - One of my acts of kindness every week!"
Zoe Davy, 7.4 "Kindness matters to me because the world depends on it. I have been helping more around the house since lockdown."
Students were asked to design a poster for the Wellbeing Mental Health Awareness week. For her winning entry, Simran Nijjar, 7.5 received a Lockdown Legend Certificate and also 10 House Points for her amazing design! We will be looking to use this design in the school to promote mental health awareness in the future so keep your eyes peeled!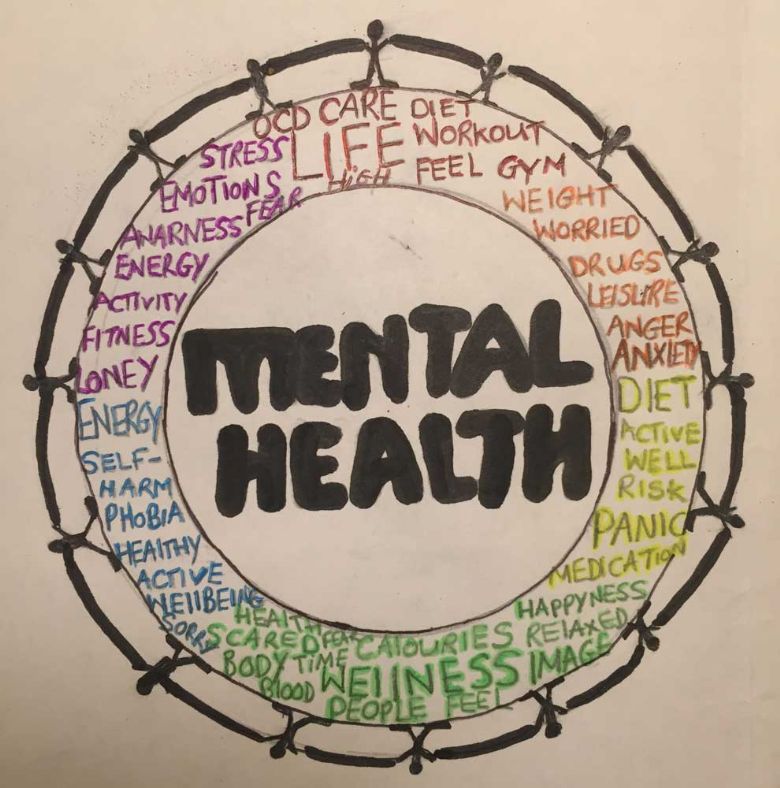 Mrs Ford and Miss Dobson from Wellbeing recently met with Claire Libby, who is the founder of the 'iamme' app. The app is widely used by secondary school students and prior to the lockdown, we had planned for Claire to come in to chat with our students about the app. Claire announced a t-shirt design competition, which saw over 100 entries from all over the world and only 15 were shortlisted. Six of our talented students had their designs shortlisted – congratulations to Sophie Webster 9B, Olivia Ryder-kiely 9R, Daisy Philmore 7.4, Olivia Jaison 7.1, Becca Allen 9B and Jess Risborough 7.3. Two of our students were placed in the top three… Jess Risborough, came in joint second place with another student from another school and Becca Allen WON the competition and will be having her design printed onto the official 'iamme' t-shirts. Absolutely fantastic work girls, well done!