December 2020
This month's Ribston Roar sees a wealth of entries so I will keep my introduction short and sweet.
As everyone knows, we love Christmas at Ribston Hall so it has been sad not be able to carry out our normal festivities in the way we would have liked, but there has still been much going on. Caring for our community and having compassion for those who are less fortunate than ourselves is important, now more than ever and this term we made sure we put together Christmas hampers for disadvantaged families and those that are elderly and alone through Gloucester Social Services. We also collected for Gloucester City Mission collection. Thank you to everyone who donated.
In December, we had "12 days of Christmas food" in the canteen put together by our amazing catering team, an amazing Christmas Concert filmed by MusicWorks in Gloucester, a Christmas assembly and quiz as well as a virtual Ribston's Got Talent. A lot of time and effort has gone into putting our celebrations virtual and I think the students enjoyed it all!
Wishing you all a safe and Happy Christmas and New Year
Sarah Colombini
Headteacher
Christmas Card Competition
Richard Graham, MP for Gloucester announced a competition for students to design the Christmas card that he would be sending this year, including sending one to the Prime Minister.
Ribston did really well with Matilda Honeywill 9B, getting second place (out of 120 entries) and her work on the inside of the card that got printed.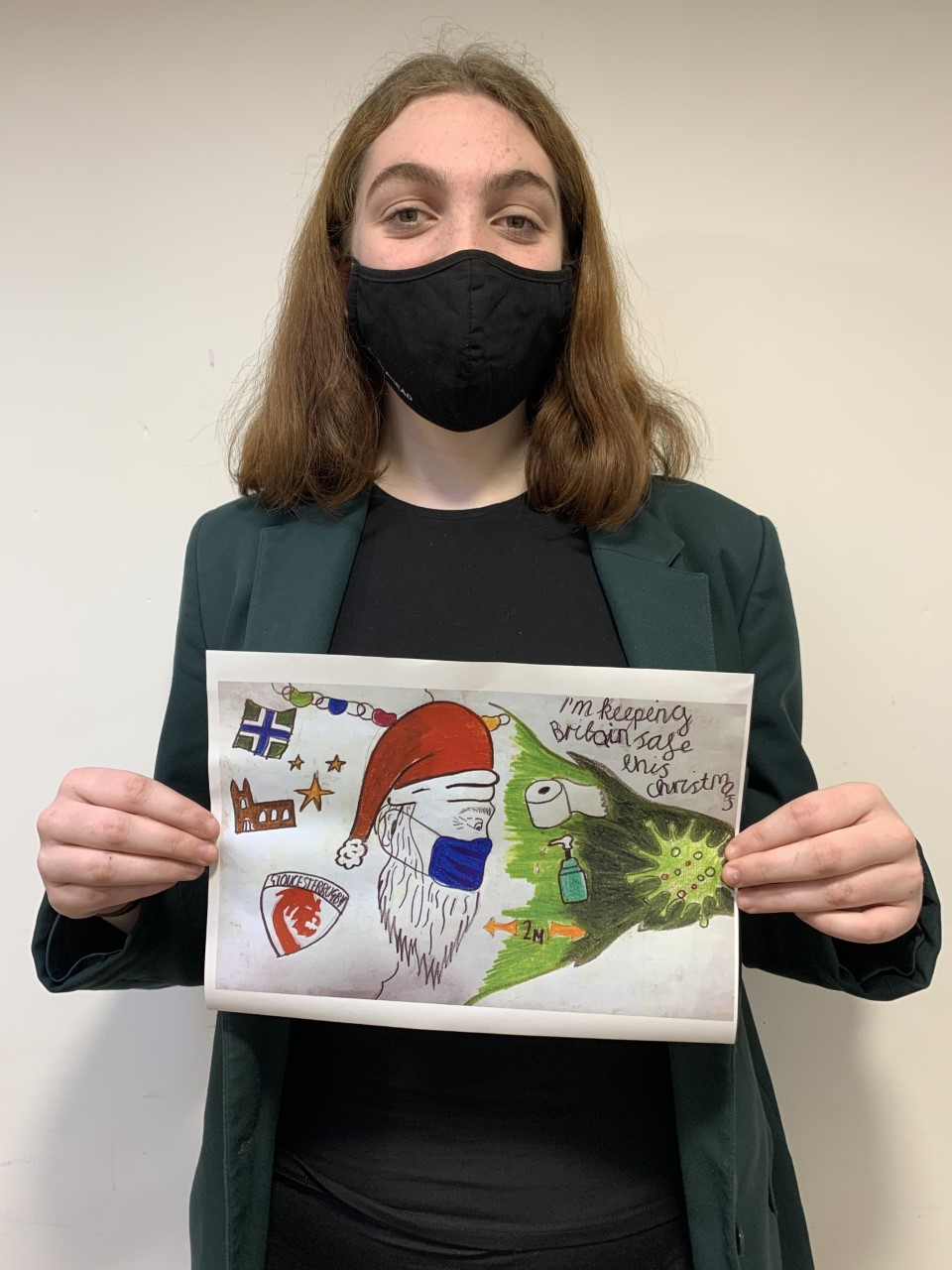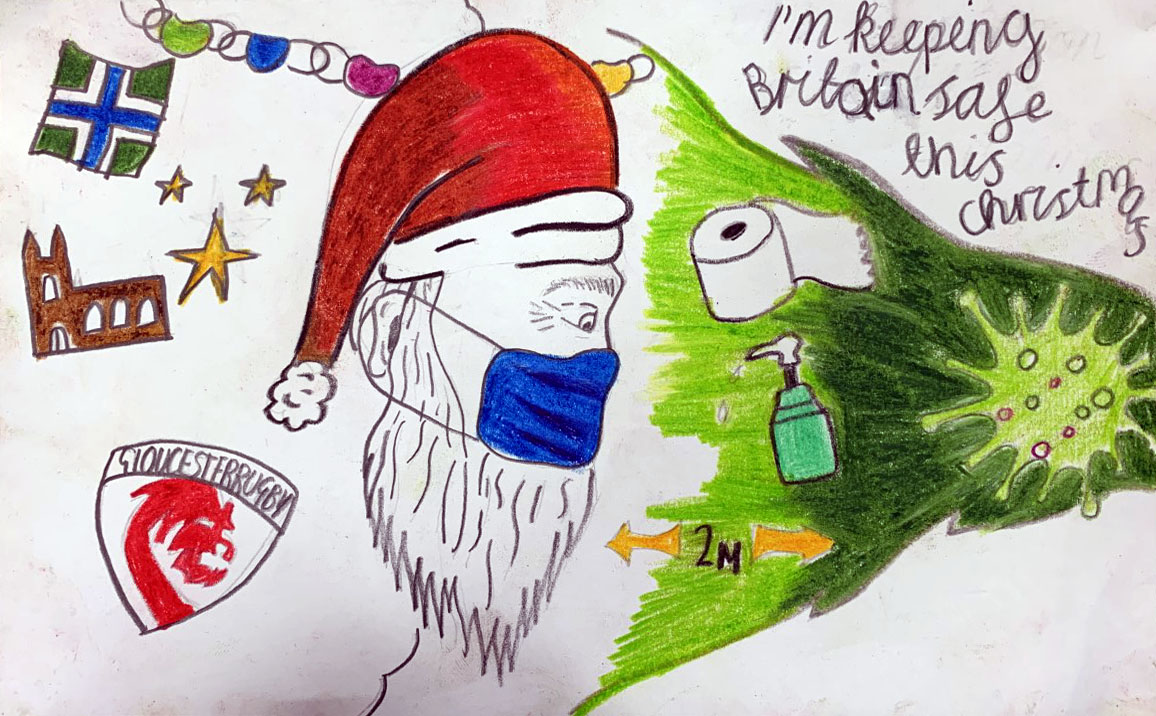 Well done also to Alice Holder 9B , and Holly Poole 7.4 , who made it into Richard's final top ten card designs!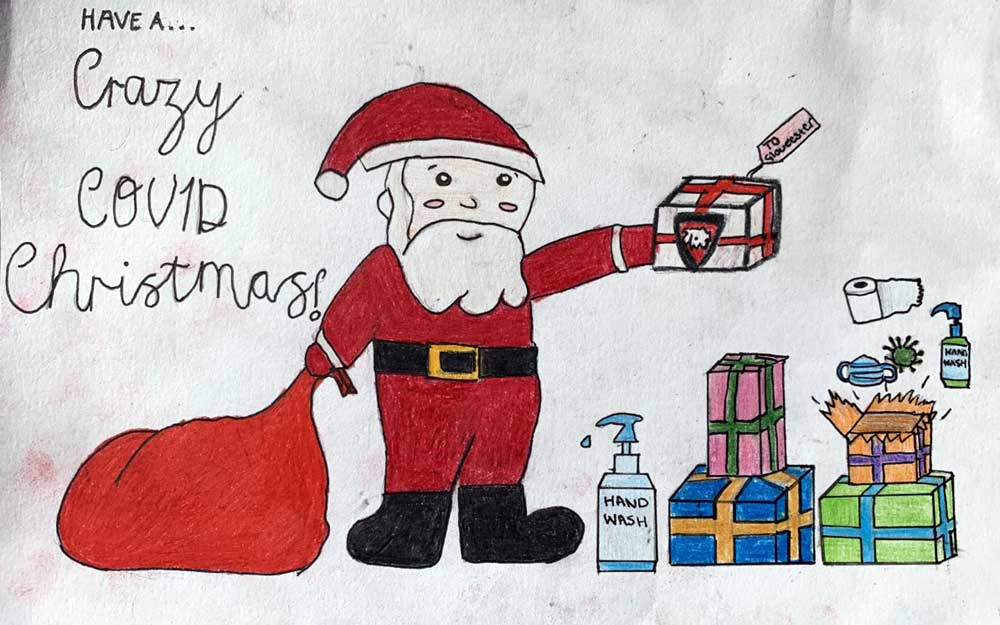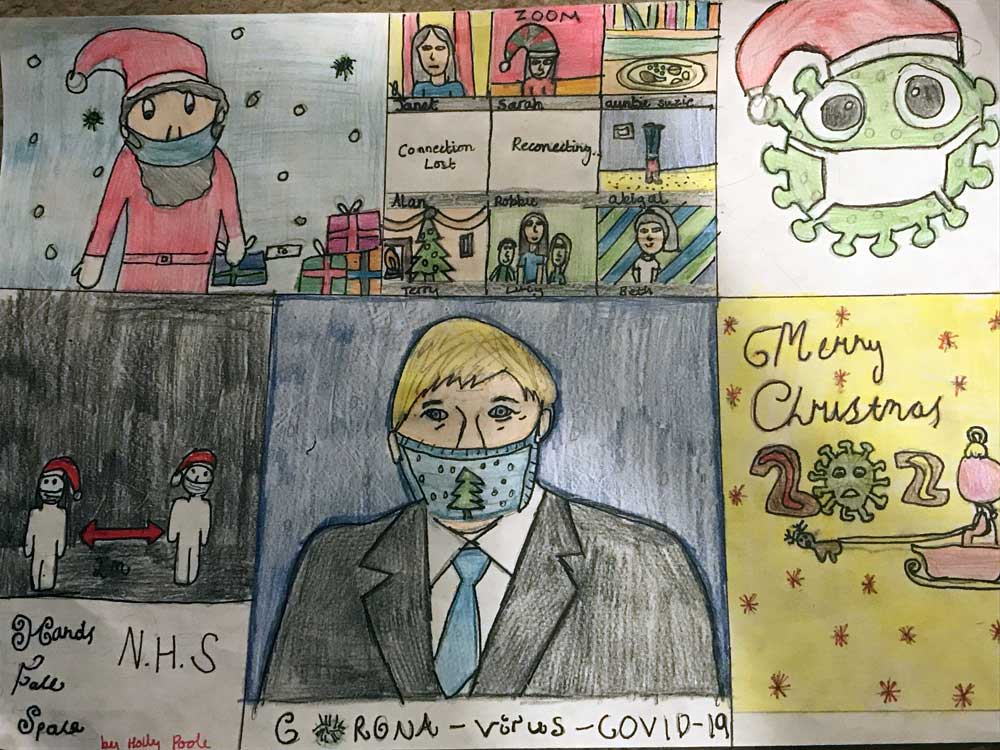 Matilda will receive a £15 book voucher and ten cards with her design on professionally printed. This was all announced to the students via a live Teams call from Richard in his Parliament office to those who took part - a lovely moment.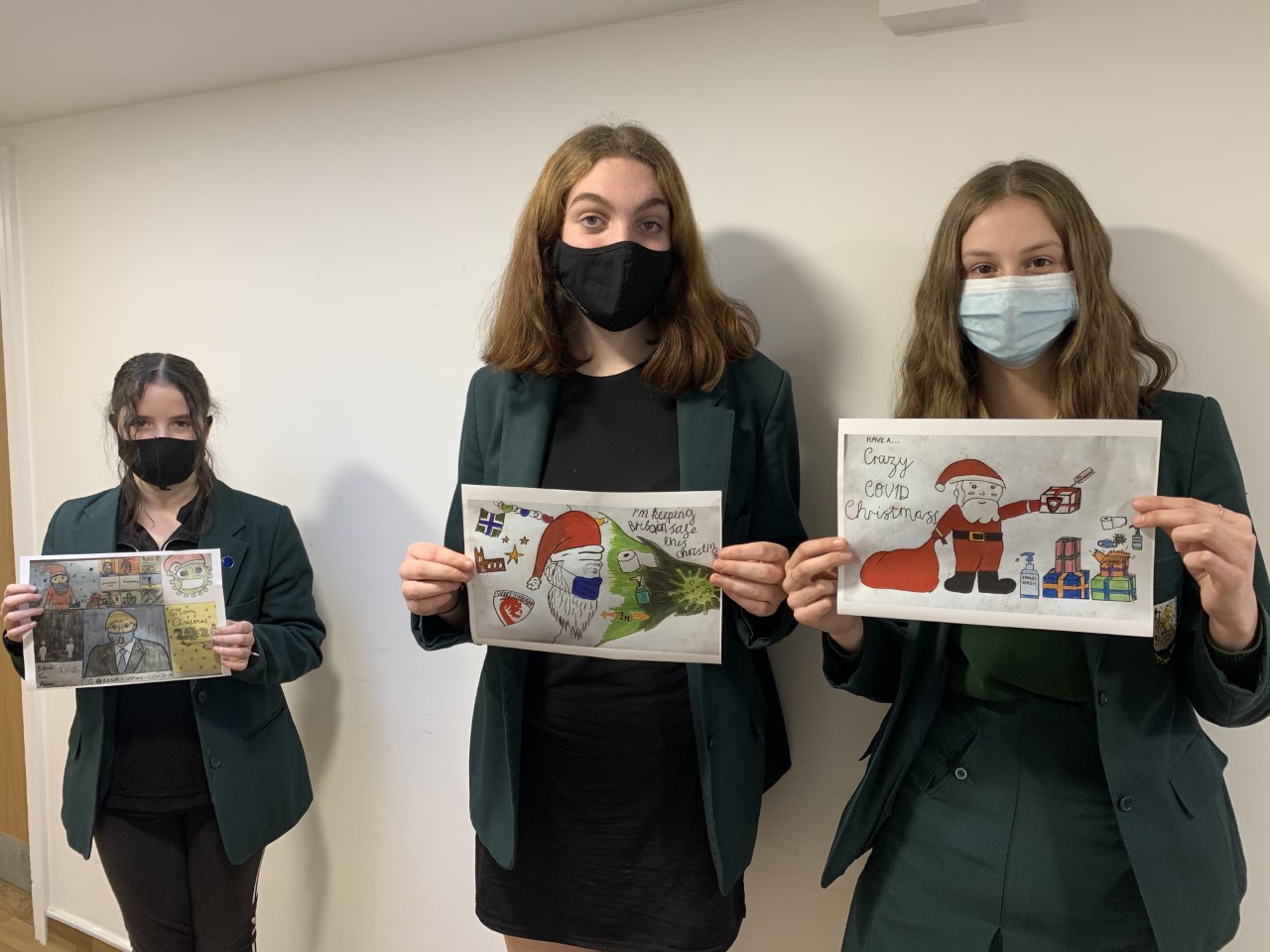 Ribston Hall Christmas Concert 2020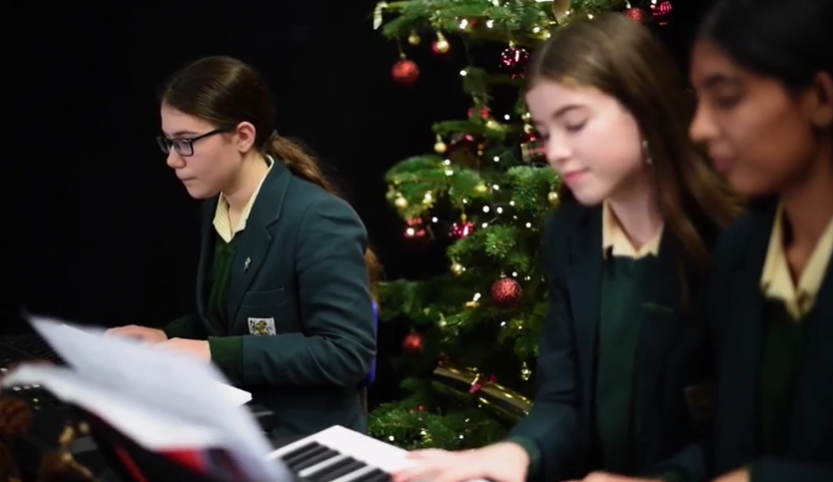 Despite the restrictions imposed by the Coronavirus Pandemic, the Performance Team were delighted to have been able to hold our Christmas concert this year.
We were able to capture a wide variety of performances from the music, drama and dance departments. These included our choirs, instrumental ensembles, instrumental soloists, a drama piece and a number of group and solo dance pieces. The performance may still be watched by following this link: https://clickv.ie/w/qzcp.
Special thanks to those who took part in the performance and production of the concert and to our Performance Department staff, whose hard work allowed the concert this year to go ahead despite the challenges we faced.
A big thank you to our sponsors this year who without, we wouldn't have been able to have filmed professionally. These include: The Ribston Hall Association (RHA), Lily and Me Clothing, Elliot Training, More or Less Music Ltd, Mrs Best, Cherry and White, Jolly Good Design, Mrs Funtilon, ICON, Chichi Musical Theatre Fitness, Mrs. Pondsford, Loving Home, True Fundamentals of Islam and Raymond James Investments.
The Performance Team would like to thank all those who took part in the performance and production of the concert and would like to take this opportunity to wish everyone a Merry Christmas and a Happy New Year.
Written by Meg Riley, Deputy Head Girl - Head of School Council and Performance Captain
Collections for Gloucester Social Services and Gloucester City Mission
The charitable Ribston spirit has really shone through this year! We have managed to raise over £1000 for the Christmas Hampers because of the amazing efforts on Christmas Jumper day! The money raised made it possible for the school to fill enough hampers for 30 single people and 20 families to be chosen through Gloucester Adult Services.
The contents of each hamper contained everything from Christmas puddings and shortbread biscuits to essentials like shampoo and soap. All were packed into reusable Christmas shopping bags and put together with help from Miss Oliver, before they were collected by social services in time to be delivered before Christmas. I'm sure your charitable efforts put a smile on many people's faces this Christmas, so I would like to say a big thank you. Well done Ribston!
Written by Olivia Denholme-Parker, Deputy Head Girl - Head of Charity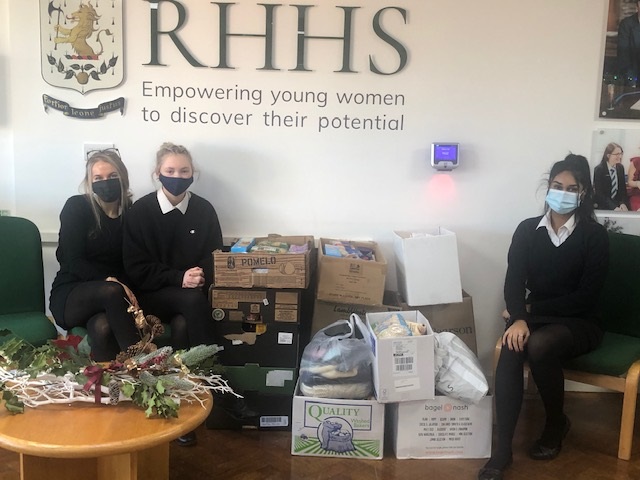 Food, Food ,Food!
WARNING! This post may cause food envy and hunger! Our brilliant Year 10 group had lots of festive fun making their chocolate logs and learning about egg denaturation and coagulation, with Mrs Keyte. We think we might have a few Mary Berrys in our midst! Well done - they look amazing and we love their Christmas attire!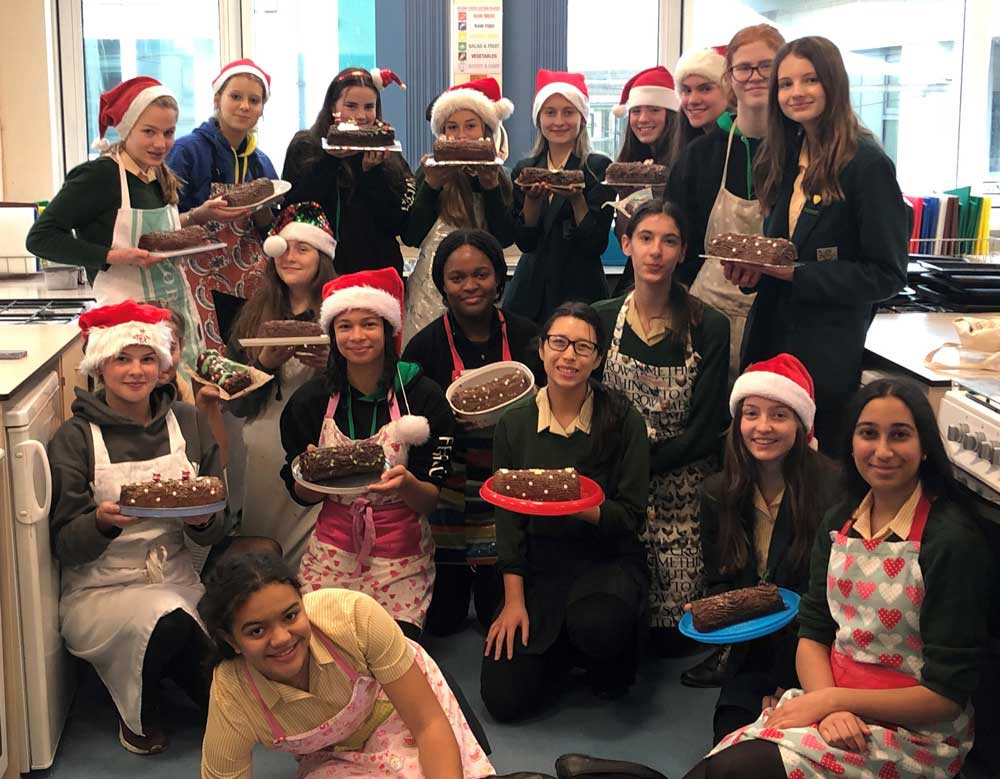 Yr 7 PSHE Drop Down Day
During the our PSHE Day on Wednesday 9th December, the Year 7's explored the principles of the Girls on Board Programme. This approach explores the language, methods and ideas that empower girls to solve their own friendship problems. In conjunction with this all students then completed the 'Buzz Quiz' personality test, developed by David Hodgson to help teenagers boost self-awareness and help them better understand each other.
It was fantastic to see the enthusiasm surrounding which animal their results showed and how this information could be used when working as part of a group.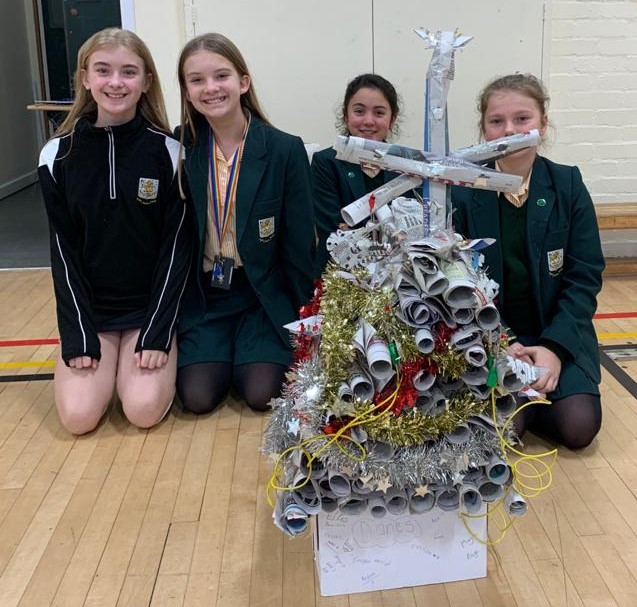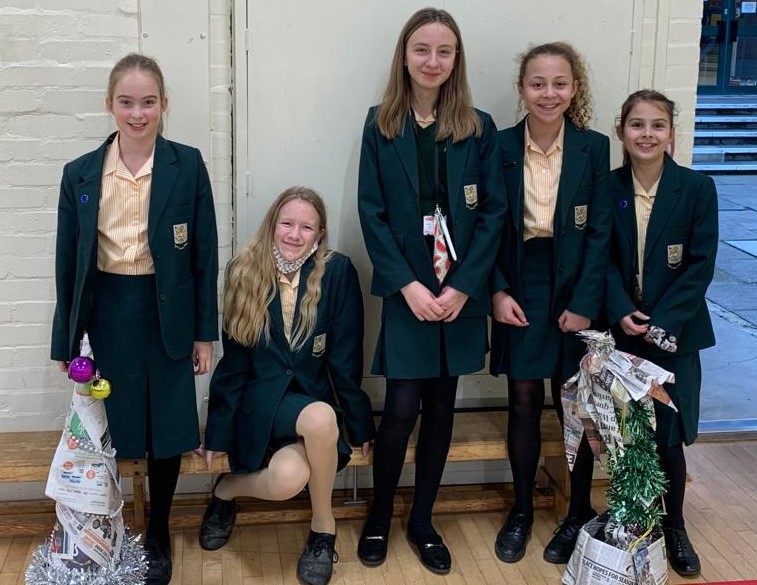 Splitting the year groups into their houses was a great way to test everything that had been explored in the morning and encouraged working with new people. The challenge to create the tallest freestanding Christmas tree, with a flashing light was won by Britons. A fantastic day - well done Year 7!
Mrs Hay - Head of Year 7
Yr 8 PSHE Drop Down Day
Year 8 explored risk taking behaviour. Students had the opportunity to consider how the human brain works, and how this impacts our ability to make decisions. They also looked more specifically at the impact of alcohol and drugs. Later students watched Chelsea's Choice; powerful production highlighting the very serious and emotional issue of child sexual exploitation, before having an opportunity to complete a live question and answer session with the actors via zoom. Year 8 dealt with this difficult content very maturely – well done Year 8!
Miss Erro - Head of Year 8
Yr 9 PSHE Drop Down Day
Year 9 students used their PSHE day to continue their exploration of future careers. Students used the 'Step Into the NHS' competition to research some of the 350 career pathways available in the NHS.
They looked at the qualifications, skills and experiences necessary to careers ranging from accountancy to physiotherapy.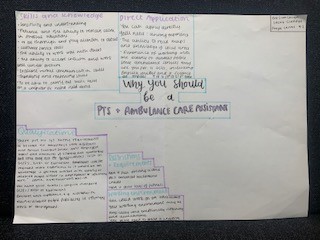 Each group created job descriptions and advertisements for different roles, which will be judged later this week for the competition.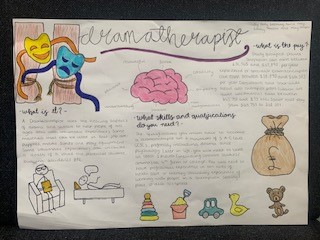 Ms Haines also talked to each tutor group about careers guidance in school and introduced them to the many resources that they can use to find out more. In the afternoon, students considered what they needed to think about when choosing their GCSE subjects, which they will be hearing more about over the coming months.
Mrs A Cresswell - Head of Year 9
Yr 10 PSHE Drop Down Day
Year 10's Drop Down Day focused on study skills. There were a variety of activities and discussions designed to help students get the most out of their GCSE courses. Students were introduced to the programme 'Unifrog' and were able to research specific careers and university courses and if they didn't have a specific career in mind were able to search using the skills they have, or areas of interest. They were then given advice on reading techniques such as close reading, scanning and skim reading, and note-taking skills so that they can start practising these within their GCSE courses. Enthusiastic discussions were held amongst all groups in terms of how to stay motivated, even when there is a task or lesson that doesn't particularly interest them and students were also encouraged to think about their revision skills (which we hope has already stated in earnest) in terms of how and when do undertake this and different strategies that they can use to make the most of revision. Our final session, was the one that students found most fun – we decided to let them play games, colour, read a book or talk to their friends – emphasising that taking a break from work is as important as improving their study skills. The Year 10's enjoyed the day, learned a lot and were able to let their hair down – it was lovely to see them having a well-earned treat after all of their hard work. Well done Year 10!
Miss Mowatt - Head of Year 10
Yr 11 PSHE Drop Down Day
Year 11 took the opportunity during their Drop Down Day to prepare for their post-Christmas mock examinations. Workshops looked at a range of different revision strategies, dealing with the stress of examinations and organising a revision timetable. Year 11 were also briefed on application to Sixth Form from the Head of Sixth Form Mr Goodwin and brought up-to-date on current changes to their GCSEs next summer by Mr Sargent. There was also time to squeeze in a competitive inter-form quiz, with questions of a high intellectual calibre such as 'Spot the odd one out: Chicken & Mushroom; Beef & Tomato; Bombay Bad Boy; Sushi'. Saxons took the title by half a point because Romans failed to identify the Reichstag in Berlin in the landmarks round. Year 11 were able to see the fine line that exists between success and failure.
Mr James - Head of Year 11
Sixth Form Drop-Down Day
Sixth Form students had a focus on preparing for the wider world and independent living. Sessions included:
Finance Skills for Independent Living: Students looked at the best value student bank accounts and factors to consider when choosing which bank to sign up with; the importance of personal budgeting; food and transport budgeting tips; plus some information on taxes, minimum wage and debt.
Year 13 found this session particularly useful as they are preparing to go off to University and live independently for the first time. One student even commented that it was the best real-world related lesson they had ever had!
Cooking Skills for Independent Living: Year 13 students enjoyed watching a cookery demonstration followed by a tasting session....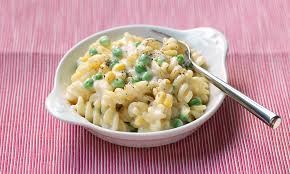 Chilli c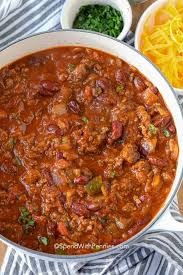 on carne and a cheesy vegetable pasta dish. The students picked up really useful tips about one-pot cooking and cooking on a budget, to put them in good stead for when they leave home or venture to University. Judging by the clean plates, they all enjoyed the session.

Eton X University Interview Skills: Students signed up and completed the first hour of this valuable course, which is designed to equip them with the skills and knowledge needed to prepare for interviews. The course explores the types of questions they might be asked and how best to tackle them, as well as developing tools to manage nerves, to enable them to have a more enjoyable and informative experience.
Understanding Prevent and Extremism: Students took part in a PSHE lesson designed to help them understand the important issues of extremism and radicalisation, as well as exploring possible causes of these and possible solutions to tackle them. There were important discussions about whether extremism and terrorism are the same thing, and with careful guidance from their form tutors, students explored the factors or feelings that might lead people to get involved in terrorism or violent extremism.
Examination Study Skills: As Year 13 students prepare for their mock examinations in January, we felt it was timely to give some focus to effective revision planning and strategies. Year 12 students also took part in this session, which we felt was important as they had not had the opportunity to develop these skills as part of GCSE examination preparation last year.
Year 7 Geography Competition: Make a contour model of Robinswood Hill
Since September, Year 7 Geographers have been learning a range of map skills, including height and relief. They were challenged to produce a 3D contour model of Robinswood Hill and were provided with a map print out to trace the contour lines from, and asked to label each contour line to show its altitude.
The students really embraced this challenge and a lot of them got very creative; we saw entries made from wood, cake, icing, rice crispies, clay, card, foam and paper. The entries and the winners for each form are shown below.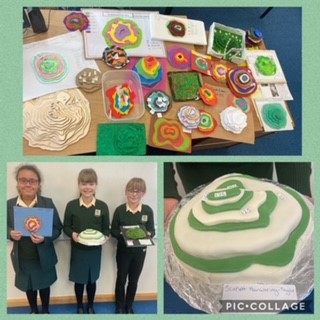 1st place: Scarlett Mainwaring-Taylor
2nd place: Kimora Ponsford
3rd place: Isabella O'Connor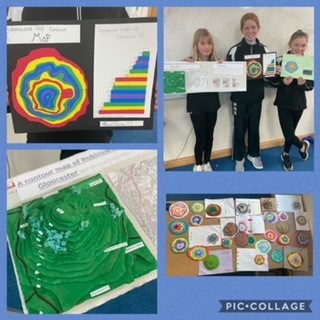 Joint 1st place: Abigail Claridge
Joint 1st place: Eloise Butcher
2nd place: Isobel Heavisdes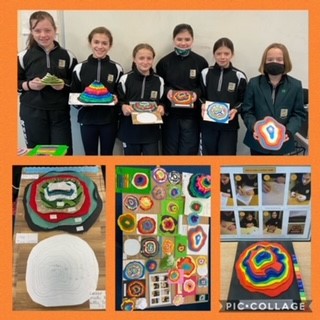 Joint 1st place: Annie Nielsen
Joint 1st place: Lottie Tomkins
Joint 2nd place: Olivia Parker
Joint 2nd place: Ava Fletcher
Joint 3rd place: Harriet Sweet
Joint 3rd place: Sophia Dodwell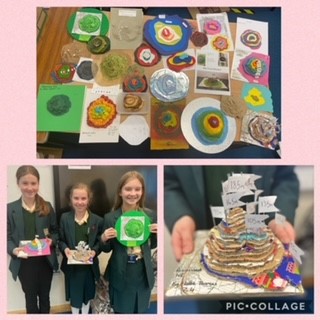 Joint 1st place: Liya Gough and Hattie Thomas
2nd place: Lucy Fairfax 3rd place: Isabella Byrne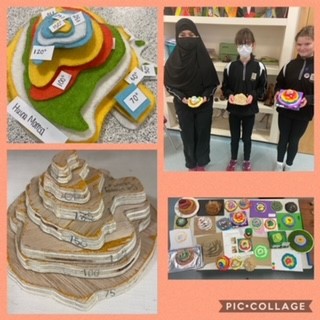 1st place: Bethany Searle
2nd place: Husna Mamsa
3rd place: Bethany Nelmes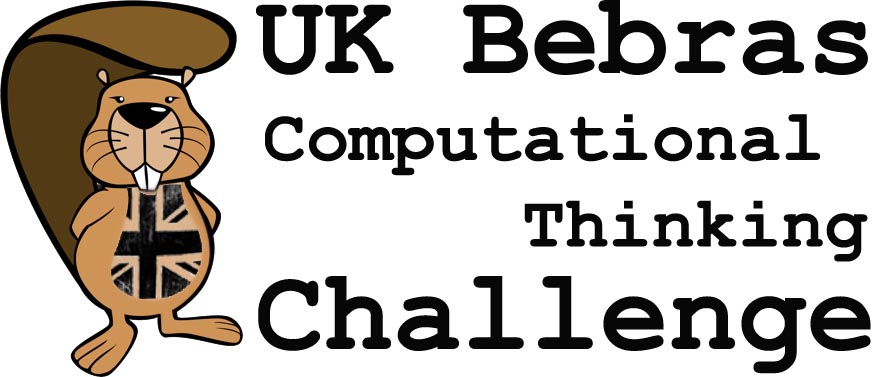 Just after half term all of Year 7 to 9 took part in the National Bebras Computational thinking challenge. Congratulations for Best in School goes to Charlotte Webster 7.5 (Juniors category) and Georgie Abbey 8.5 (Intermediate category, Years 8 and 9).
In addition, Gold Award certificates also went to students who are in the top 10% nationally, they are:
Hannah Brooks 7-CP3, Maya Dashnyam 7-CP1, Misha Hinton 7-CP2, Sarah Ibe 7-CP3, Natalia Kromska 7-CP5, Charis Long 7-CP5, Chaitra Madda 7-CP1, Merin Rajesh 7-CP1, Tilly Rennebach 7-CP2, Susannah Scott 7-CP4, Bethany Searle 7-CP5, Megan Thomas 7-CP1, Chloe Wise 7-CP1
Heather Aylward 8-CP3, Lauren Barnett 8-CP2, Toni-Ann Burford 8-CP2, Bethany Fowler 8-CP4, Meg Scott 8-CP1, Rachel Treadwell 8-CP3, Seren Williams 8-CP2, Sacha Claridge 9-CP2, Matilda Honeywill 9-CP3, Raven Hout 9-CP2, Isabel Kear 9-CP2, Millie Pensom 9-CP2, Della Sebastian 9-CP3
Mrs K Coverdale Teacher of Computing
Forensic Psychology Students get a taste of Life Behind Bars
Year 13 Psychology students were lucky to hear from our very own Mr Harrison from Site Services, about his years of experience in the Prison Service. Mr Harrison talked to the students about his experiences as both a Prison Officer and Governor in institutions such as Holloway, Pentonville and Gloucester. The students really enjoyed this talk, and also had some very good questions to ask – about working in Prison and custodial sentencing and whether or not prison works as a form of punishment and rehabilitation. Students are currently studying Dealing with Offender Behaviour, as part of their Forensic Psychology Unit. This was a useful talk for our students who are also interested in the Prison Service as a career option. Thank you to Mr Harrison and to the students who listened attentively and asked some great questions!
Textiles & Design
Mrs Keyte set Year 7 a task based on the work of Dutch-British designer Carola van Dyke and was particularly impressed with this piece by Liya Gough 7-REG4, completed whilst Liya was self-isolating at home.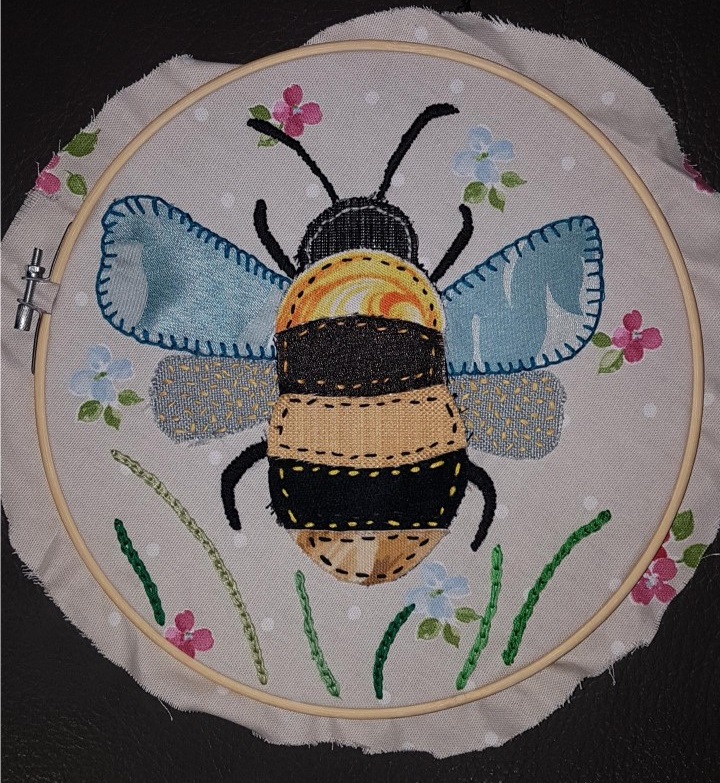 Musical Talent
The talented Daisy Kane in 10R has just released a song!
"I have just release my debut single with my friend Ivo from Shropshire! It's called 'Plastic Flowers' and it's available to stream on all music platforms. We wrote, recorded and released the song completely over FaceTime during lockdown and are so excited that it's out now : ) "
Here's a link to stream: https://l.instagram.com/?u=https%3A%2F%2Fdistrokid.com%2Fhyperfollow%2Fidlework%2Fplastic-flowers-3&e=ATPEgvAh3zSNMra2BMFZ557KUfOmiVeL7mHMsIqOnl-7Kv6iSNCcLG30bkLNFEsHLCvWTQDi-ZC56BCh7b90jw&s=1
School Games Poetry Competition
KS3 students were recently given an exciting opportunity to enter a competition in conjunction with the Schools Games partnership. Pupils were asked to write a poem based on something or someone that had inspired them over the past six months. We had plenty of fantastic responses, but there could only be one winner. Congratulations to Mya Nelmes in 7.3! Her poem on Captain Sir Tom Moore reminded us all how much we have to be proud of. Well done Mya!
Mrs Stennett, the School Games Organiser for Gloucester CIty said "What stood out above all other entries was the connection and influence that one person could have on an entire Nation. This is a most powerful poem that shines a light on what is good in this world – the absolute belief in a brighter future when this all passes. Well Done Mya"
Mrs Brook - Curriculum Lead English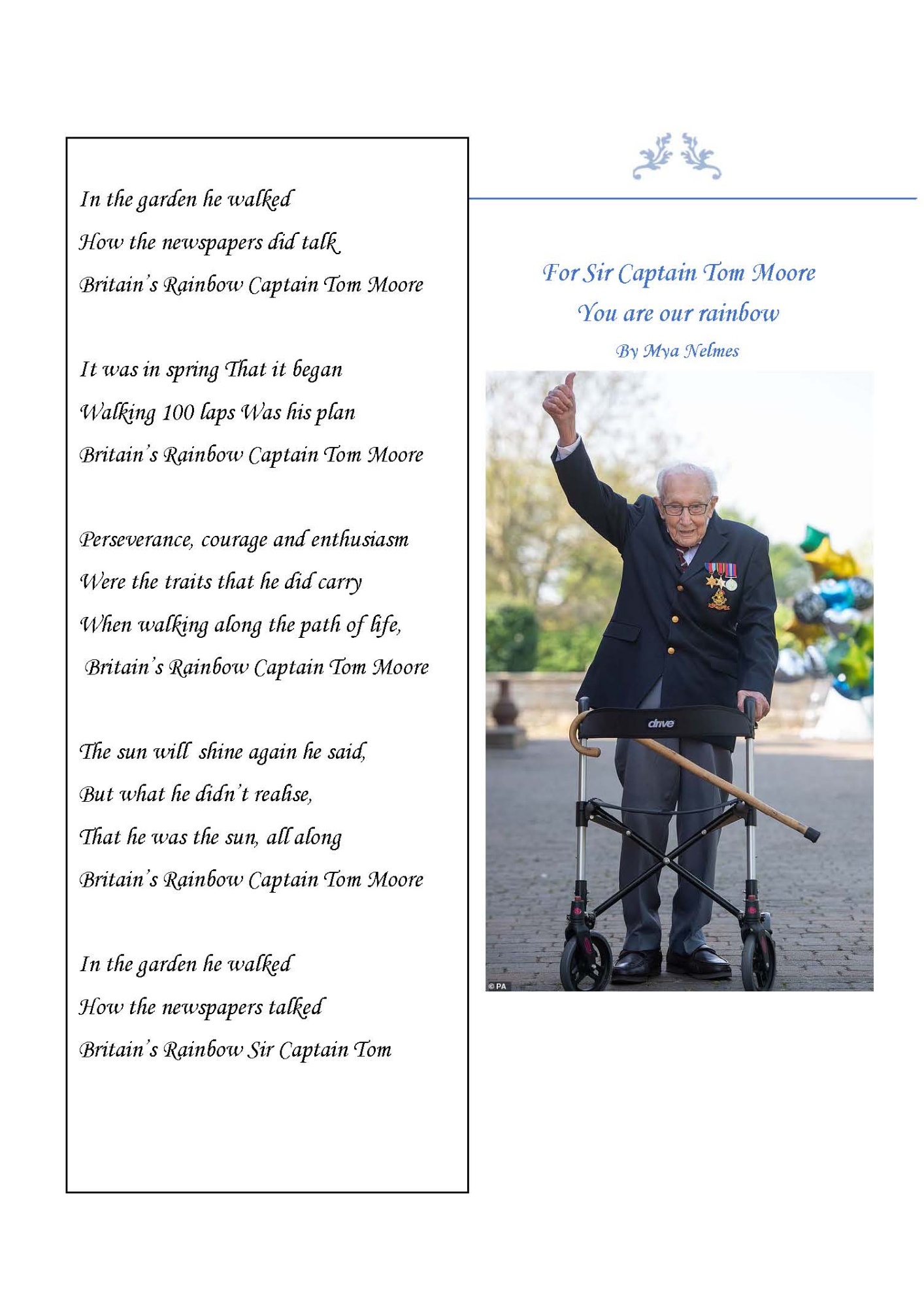 Artist's Corner
Jia Zhao Yr 12 has produced these stunning timed sketches of dancer Katie Colwill in Yr 13 for her current project.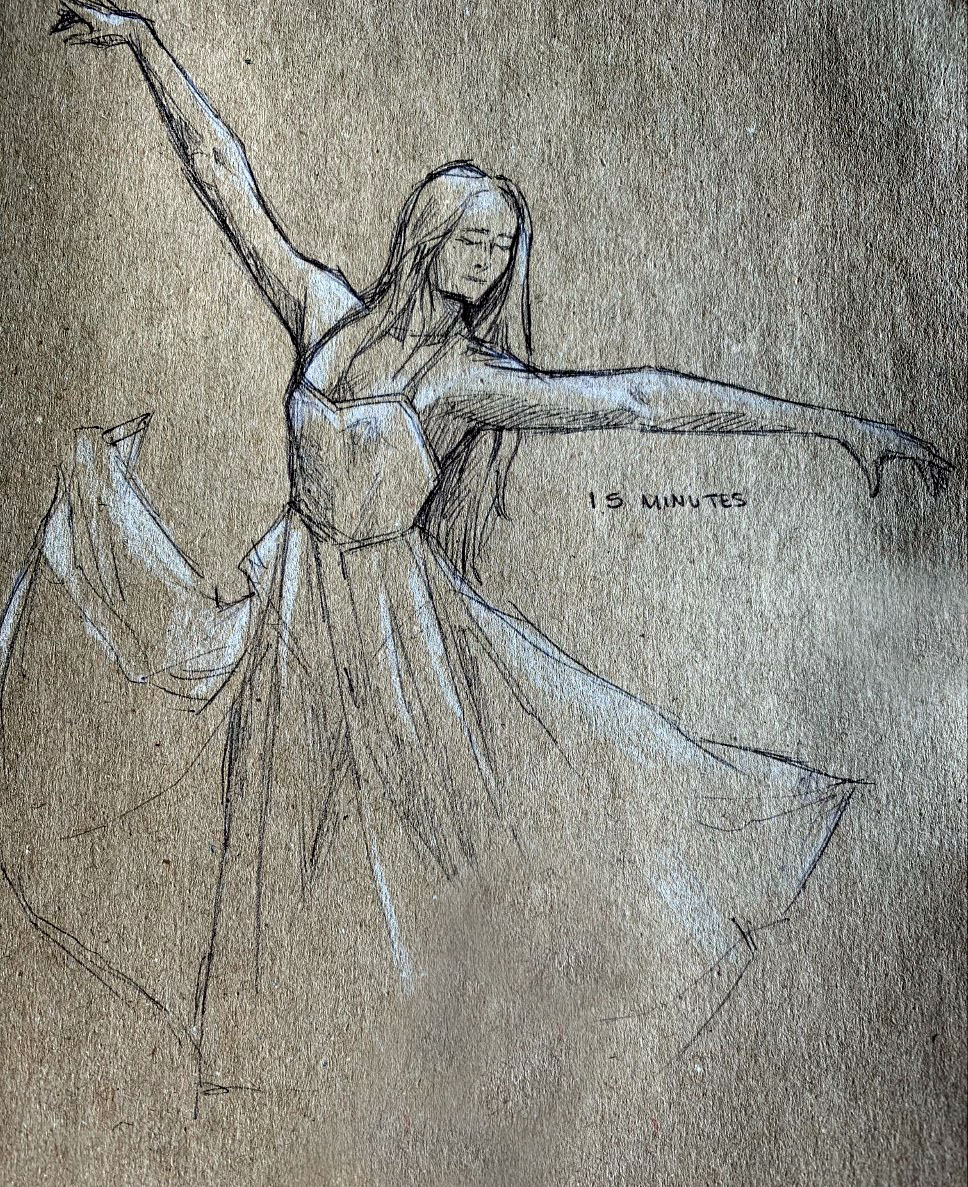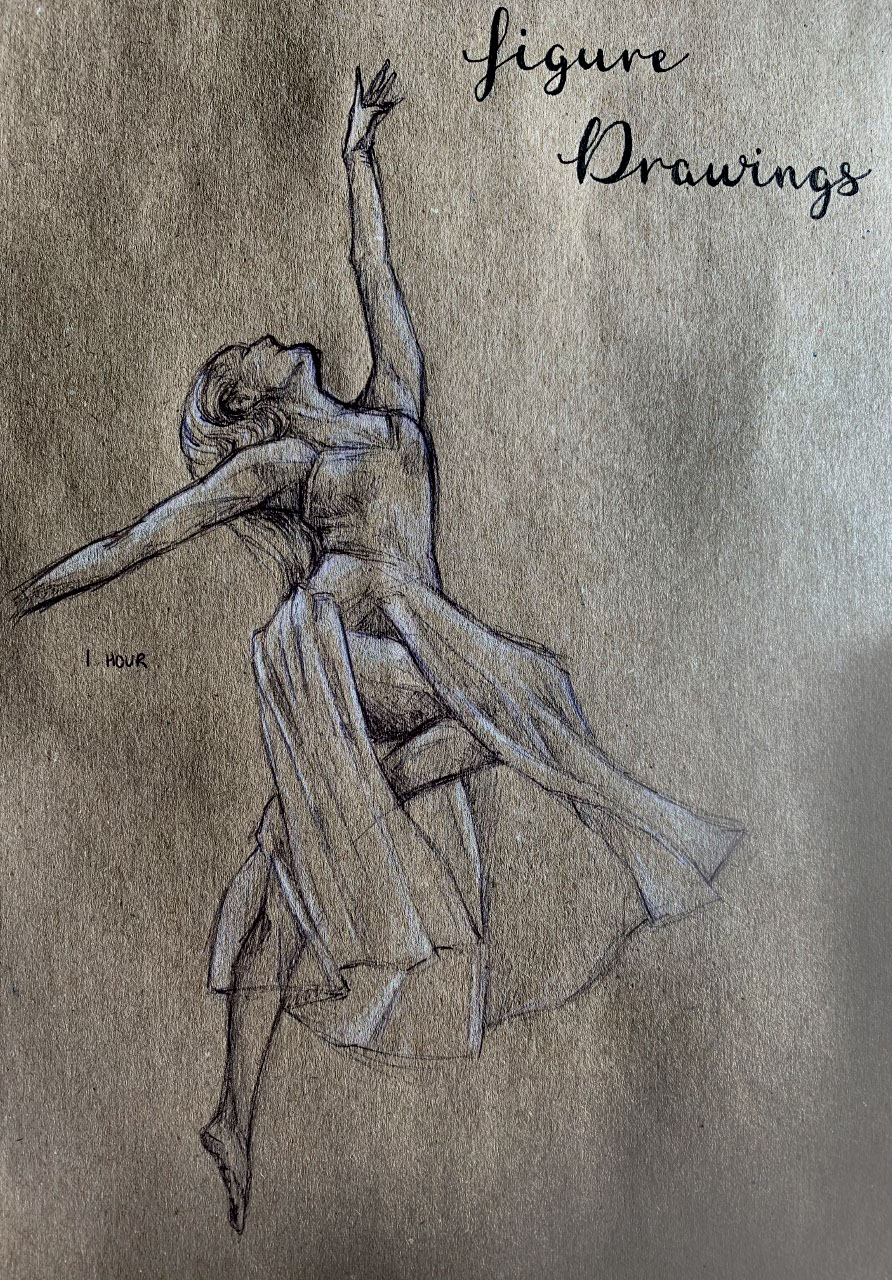 As you can see an unbelievable talent! Jia has also produced an incredible observational drawing of school shoes and ballet shoes to show the transition between student and dancer.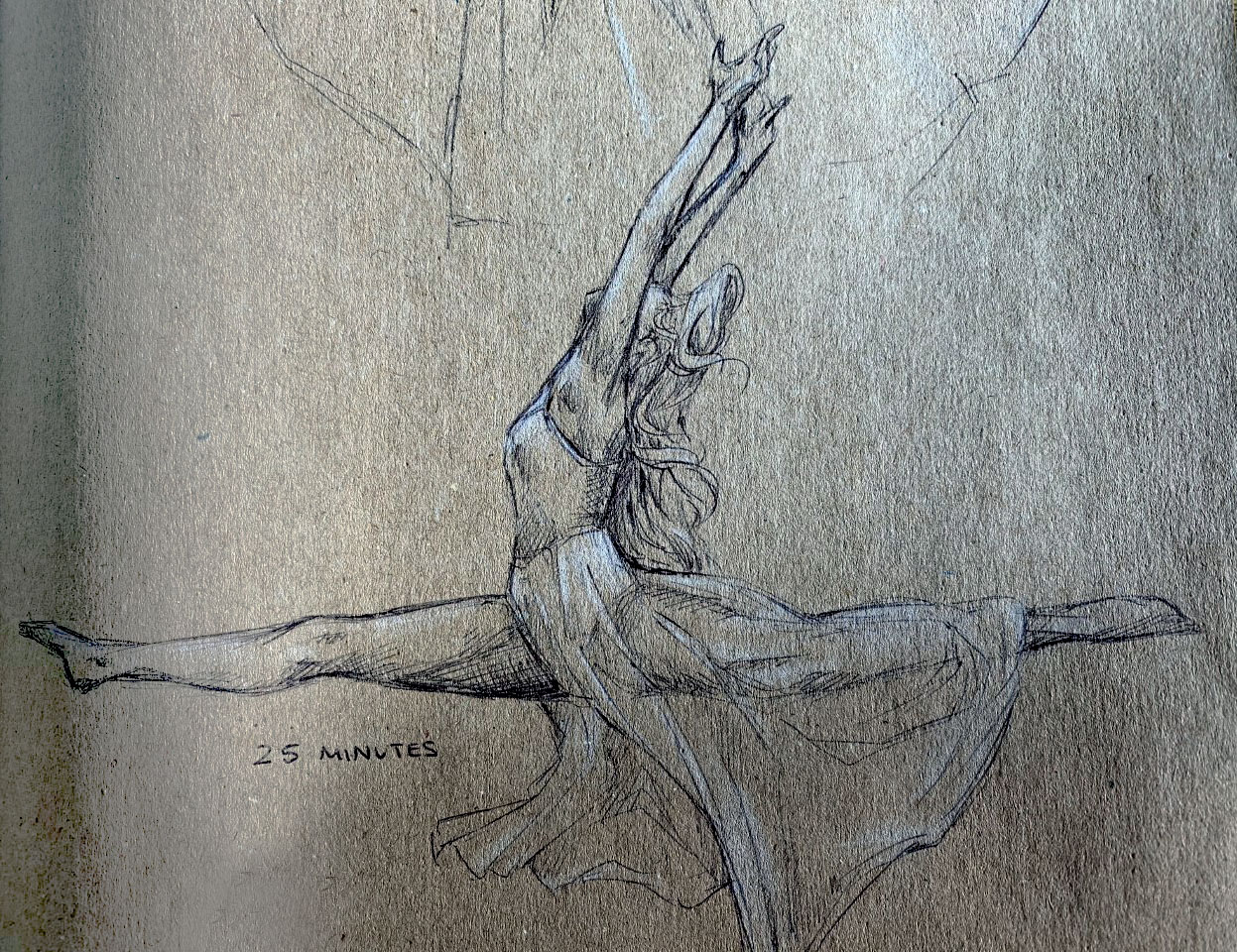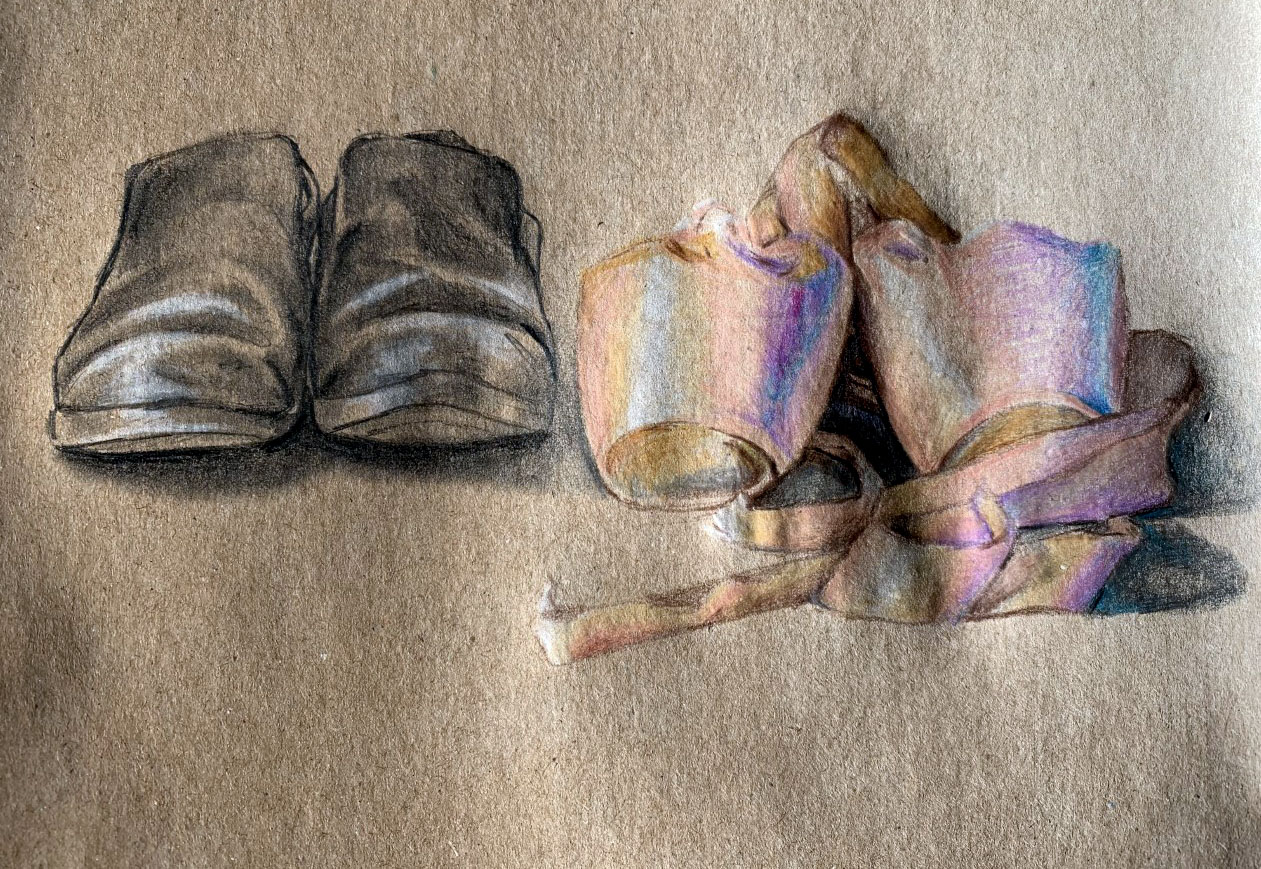 Really well-done Jia and thanks to Katie for your help with her project.
Mr Collins
Music Department request
The students and the Music Department are really keen to get a Ukulele extra-curricular club up and running next year. This made me wonder if anyone has an abandoned Ukulele lying around the house collecting dust, that you would like to donate to the school, we would also accept guitars. New Year is always a good time for a tidy up so please keep us in mind if you find one.
Many thanks in advance
Mrs Barnett - Curriculum Lead-Performance
School Uniform
With immediate effect Monkhouse Schoolwear is now the sole supplier of school uniform for Ribston Hall High School. As well as their presence on the high street, Monkhouse Schoolwear has been developing its' online profile over the past year to meet the changing demands placed on the business and in particular the rise in online sales during lockdown. To ensure sufficient levels of stock are available to all of our students the school has taken the decision to work with one supplier.
The unavoidable shortfalls and delays experienced during the lockdown further support the move to work with one supplier who can monitor stock levels and meet the student demand for quality, affordable clothing. For further information please visit:
Gloucestershire Young Carers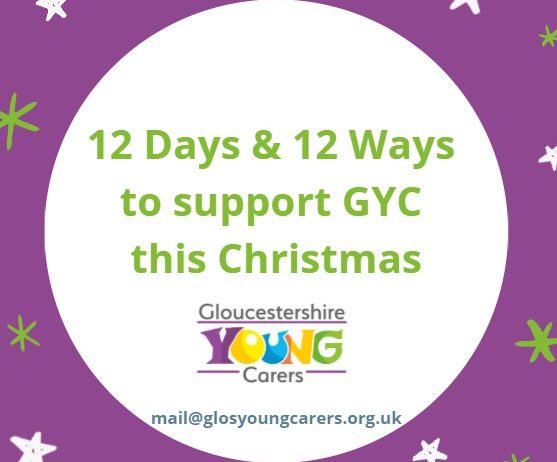 Gloucestershire Young Carers is a dynamic charity constantly growing and developing to meet the ever-changing needs of young carers in the County. Gloucestershire Young Carers support young carers by providing direct services in partnership with a raft of other organisations and working with them in supporting professionals to improve their response to young carers.
Ribston Hall has seen first hand how much this charity has helped young carers in Gloucester and we are proud that we are able to support them
Free School Meals Information
Who is eligible? If your child is in year 3 or above, they will typically be able to get free school meals if you fulfil the criteria in the following two steps:
Step 1. You are claiming one of these benefits:
Income support
Income-based jobseeker's allowance
Income-related employment and support allowance
Support under Part VI of the Immigration and Asylum Act 1999
The guaranteed element of pension credit
Child tax credit
Working tax credit/working tax credit run-on
Universal credit
Step 2. You are earning below a certain amount (these are different depending where you live):
England If you receive universal credit, you can earn up to £7,400/year (in total earnings). If you receive child tax credit (but not working tax credit), you can earn up to £16,190/year.
Wales If you receive universal credit, you can earn up to £7,400/year. If you receive child tax credit (but not working tax credit), you can earn up to £16,190/year.
How to apply: Free school meals are run by the Department for Education and administered to schools via local councils. You need to register via your local council, then both you and your child's school will be notified of your application.
For people in England there is a free checker, which should link through to your council's free school meals registration portal. MSE tested this, and many only linked to the council's main homepage - if this is the case, search: "free school meals" in you local council's search bar.
You will need:
Your name, date of birth and home address
Details about your qualifying benefit claim - prompts will ask you exactly what evidence you need to submit.
Your child's/children's details and the name of the school/s they attend.