April 2022
Another fantastic month building skills, showcasing talent, developing leadership, and working with our local community, thriving in sport and thriving in so many areas.
This is the Ribston Community, working together, supporting each other and growing as individuals, staff and students alike.
Mrs Sarah Colombini
Headteacher
PHSE Drop Down Day
At the start of the month, we held one of our regular Drop Down Days, when students spent the entire day off timetable focusing on personal development as part of our PHSE curriculum.

Activities varied for each year group. For our year 13 students, who are leaving us shortly to head to university or out into the world of work, we hold an Independence Day, which includes cooking on a budget, emotional resilience and financial management. Across other year groups, Year 9 students recreated court rooms and learned more of the roles involved in a legal hearing, while Year 7 had practical first aid lessons and sessions on banishing body talk. A team from the army also visited to run critical thinking and team building sessions with our Year 12 students.

It was wonderful to see so many students getting stuck into unfamiliar activities with such enthusiasm – well done all. Many thanks to Ms Wendzina, Miss Phoenix and Mrs Nicklin for organising the activities.
Spring Concert
What a performance from our talented students and staff during our Spring Concert on 27th April. Vocalists, instrumentalists and dancers came together to create a spectacular performance for parents, students and staff.
Brilliant work all, it was a wonderful event.
Admissions Information Morning
At the end of April, we hosted a fully booked Admissions Information Morning, which is set apart from our usual Open Events by focusing on helping Year 5 parents to understand the entrance process, from supporting their daughter ahead of the entrance test, what is involved in the test through to the application process.
Visitors were able to listen to information and advice from our curriculum leads, Head of Year 7 and our Headteacher, Mrs Colombini. After the information session, they were able to take a tour of the school site guided by Year 7 and Year 8 students. We are delighted we had such a well-attended session and look forward to welcoming more prospective students for our Open Mornings in June.
Year 9 Leadership
The Gloucester School Sports Network hosted a Key Stage 2 Swimming Gala at GL1 on Thursday 28th April. 16 Year 9 students volunteered to lead at the event where they took on the roles of time keeping, scoring and marshalling. They were a credit to the school, demonstrating maturity, responsibility, and initiative. A huge well done and thank you for your hard work!
Stress Awareness
April was Stress Awareness Month, which has been held since 1992 to raise awareness of our modern stress epidemic. The theme for this year is 'Community' to highlight how a lack of support can cause loneliness and isolation which challenges people's wellbeing.
Stress is something we will all experience in our lives and there are any number of reasons why we may feel under pressure at different times. This pressure can sometimes be helpful, keeping us focused and helping us complete tasks. However, stress becomes a problem when we are unable to cope with these pressures and become overwhelmed.
Students, please also remember we have Peer Mentors available as well as our Wellbeing team if you'd like to talk to anyone in school about excessive pressure you're feeling. You can also access these external resources to help you manage and cope when stress becomes overwhelming.
May Dent Netball
The U15 Netball Team competed in the May Dent Tournament on Saturday 30th April at Cheltenham Ladies College.
The team were outstanding, playing 6 back to back matches and only narrowly missing out on a place in the semi-final.
Massive congratulations. Bring on next season!
Sharing a skill
Tutor group 7.3 have been fantastic at sharing skills; as a form we utilise some of our time for sharing a skill or knowledge. Jasmin shared a poignant book she had made from when she visited Auschwitz and spoke to the class about this. A few weeks later, she also taught 7.3 how to origami paper balloons. Most recently after returning from our Easter holidays, Grace Sargent brought in materials, her knowledge and enthusiasm to teach the class how to make bookmarks. It's been wonderful to see 7.3 grow in confidence and share their skills and experiences they have outside of school.
Mrs Johnstone
Historical Board Games
In History, Year 7s were tasked with designing and creating a historical board game, based on their learning in class; how to get to heaven or hell in medieval Britain. They worked incredibly hard and created some fantastic, knowledgeable, innovative and creative pieces of work. They enjoyed playing and sharing feedback; we had heaven confetti and improved historical versions of snakes and ladders, the game of life, monopoly and lots of other family fun games!
Year 8 learn more about World War 1
Over a term we have used ancestry, commonwealth war graves and 'A street near you', to find a soldier or relative and research their experiences in WW1. There were some emotive and powerful tributes dedicated to family members and the wider community, with some pupils even researching soldiers from Ghana, Austria-Hungary, America and Canada. It was fantastic to see such diverse, knowledgeable, creative, and poignant tributes to soldiers who fought in WW1.
Some of them will be displayed in the humanities cabinet in Whitaker stairwell; there are lots of copies of original documents, family trees, photographs, and some creative and realistic newspaper articles. They worked so hard and I am so proud of the dedication and work of every single pupil who submitted.
Mrs Johnstone
Maths photography
We celebrated international Mathematics Day recently with a mathematical photo competition. Thank you for all those who took time to enter. We had some great mathematical photos which were very creative from Fibonacci in a plant head to a tessellation wall above Tesco.
Congratulations to the winners:
First place: Year 9 J maths group 1 for their lovely y=mx+c
Second place: Sophia Vye who noticed that the Vans logo is actually square root ans on a calculator
Third place: Precious Komolafe, who got her family involved making 3.14 in shadows. This is very apt as International Mathematics day is also called Pi day.
Legally Blonde the Musical - rehearsals are underway!
Rehearsals have started for the highly anticipated Ribston Hall drama production, Legally Blonde the Musical. We're lucky to have such an exceptionally talented cast who have embraced their new roles with enthusiasm!
Eli Blaxill plays Elle Woods and is pictured here with the fabulous Delta Nus.
Being yourself never goes out of style!
Train with an International Rugby professional
We are incredibly lucky to have Welsh International Rugby Player Kelsey Jones in school this term, coaching Year 9, 10 and 11 Rugby on Wednesday lunchtimes.
Kelsey is a fantastic role model who is currently competing for Wales in the Women's Sixth Nations Championships.
She is the Lead Participation Officer at Gloucester Rugby and is striving to inspire the next generation of female international rugby players. She absolutely loves coming in to Ribston and I would encourage anyone in Year 9, 10 and 11 to attend her sessions.
Please see Mrs Pitman for more information.
The National Archives - Teacher Scholar Programme
In February 2022, Mrs Derbyshire, Curriculum Lead for Humanities at Ribston Hall, was accepted onto a nationwide programme being run by the National Archives. The programme is entitled 'The Voices of the Victorian Poor' and aims to transform the way in which the subject of the Poor Law (with a particular focus on the workhouse) is taught in schools. Ten teachers from across the country were selected to take part, using the 'MH12' collection of documents held at the archives in Kew to create resources that will give a voice to the paupers of the Victorian age. This collection consists of thousands upon thousands of letters that were written, often by the paupers themselves, to the Poor Law Commission. The programme will last for several months, with weekly tasks to complete including online lectures and directed reading.
The first part of the programme consisted of a weekend visit to London. There was an opportunity to take part in workshops with leading historians in this field, as well as a chance to handle some of the MH12 collection at Kew. As this is a subject that we study at A Level at Ribston Hall, Mrs Derbyshire was fascinated to be able to handle source material that she has only ever seen in books, including a protest poster that forms the basis of one of her lessons.
The next part of the programme consisted of a 3-day stay in Nottinghamshire, based at the National Trust property, Southwell Workhouse. This is one of the best-preserved workhouses in the country and the teachers were able to explore the buildings and look at some of their archival material. Mrs Derbyshire worked collaboratively to create a resource for A Level students who visit the workhouse which will be shared by the National Trust.
She is now working on an individual collection of resources that will ultimately be made available for anyone on the National Archives website.
BSC Teaching certificate
Mrs Coverdale has just earned her Education Certificate in Secondary Computing Teaching which is awarded by BSC, The Chartered Institute for IT via The National Centre for Computing.
Rugby champions (almost, they were so close!)
Three Year 9 students, Evie, Heather and Bethany, took part in the National Cup Final of U15 Rugby, playing for Cheltenham North RFC against Old Reigatians U15. Many thanks to Mrs Parker for the below match review.
The girls did amazingly and remain undefeated throughout the entire cup competition. Sadly, due to a packed schedule of age grade rugby there was no option for extra time in the final and as the score was 10-10, the cup was awarded to the opposition on a technicality as the rules state it goes to the team who scored first, which was Old Reigatians.
All the girls left absolutely everything on the pitch and are all feeling both physically and emotionally broken now, but will pick themselves up and be ready to go again next season! Evie and Heather only have a week off before they play in their first county team tournament this Sunday, having both been selected.
If you wish to watch an hour of truly nail-biting rugby (and decide for yourself whether the opposition's equalising try in the final minute of injury time should have been allowed!) the match is on YouTube here: https://youtu.be/dgXQ0yFURSs
Enigma challenge winner
Deborah Otieno, who is studying Computer Science at A level, took part in the Enigma Challenge, one of the monthly gameboards on Isaac Computer Science. After completing a special cryptography gameboard, Deborah decrypted a unique message that was sent to her. Her prize for decrypting this message was a Raspberry Pi 4 kit. Well done Deborah!
Top of the hockey league!
Erin Harper and Poppy Done of Yr 9 both play for the U14 Girls Gloucester City Hockey Team. The team came top of the league this season and have then gone onto win the 'West Girls U14 Tier 3 Knockout Cup', beating Wotton-Under-Edge 8-1 with Poppy scoring four of the goals. Well done ladies!
Annabel wins 'i am me' design competition!
We are getting very good at winning this competition at Ribston! This is our second time we have won as a school, with numerous schools taking part - this year it was Annabel from Year 8 who took the victory.
i am me is a not-for-profit initiative that helps young people cope with the pressures of growing up in today's fast world. The brief was to design a hoodie that reflected their initiative. Both Annabel Hoyland of Year 8 and Lily Briton of Year 7 were shortlisted, and Annabel won with her brain design (shown below) and Lily got joint third with her creative rocket design. This was what was added on the i am me website (and also available on their Instagram feed):
We are so glad that we handed the responsibility of picking a winner for our hoodie design competition over to our brilliant judges @jasminehemsley @alexmonroejewellery @mariagrachvogel @thetrendacademy @marieoakeswade as we loved all of them!! We are now excited to be able to announce the winner of our hoodie design competition… Annabel (aged 12) came up with this brilliant brain design, showing expectation vs reality on the feelings young people experience when growing up. Some of the feedback from our judges about Annabel's design included: "I love the design and would wear this in a heartbeat" "This would look striking on the front or back of a hoodie - very impactful and easy to read and visually understand" The scores were really very close with Reggie's beautiful design coming in second place and Sophie H, Sophie C and Lily B in joint third! Thanks to all the young people that took the time to create their beautiful designs.
For more information on the i am me website and the app which is available to download go to The Positive Mental Health App for Young People | i am me app
Mr Collins
Below left - Annabel's design
Below right - Lily's design
Gloucestershire Young Photographer 2022
Congratulations to the six students who took part in the prestigious annual Cheltenham Camera Club 'Gloucestershire Young Photographer 2022' Competition. In its first year back after the pandemic, our students submitted their favourite photos that demonstrated technical excellence across a range of disciplines including landscape, still life, documentary and portraiture.
The judging panel awarded Charlotte Webster, Year 8, second prize and Jia Zhao, Year 13, was commended! Over 400 entries had been sent from a wide range of primary and secondary schools across the county so they both did superbly.
On Thursday 5th May, Charlotte Webster was presented with a certificate and a huge congratulations from the judging panel at the ceremony in Cheltenham for getting second place in the overall competition.
She also picked up £40 for her efforts! Really well done Charlotte!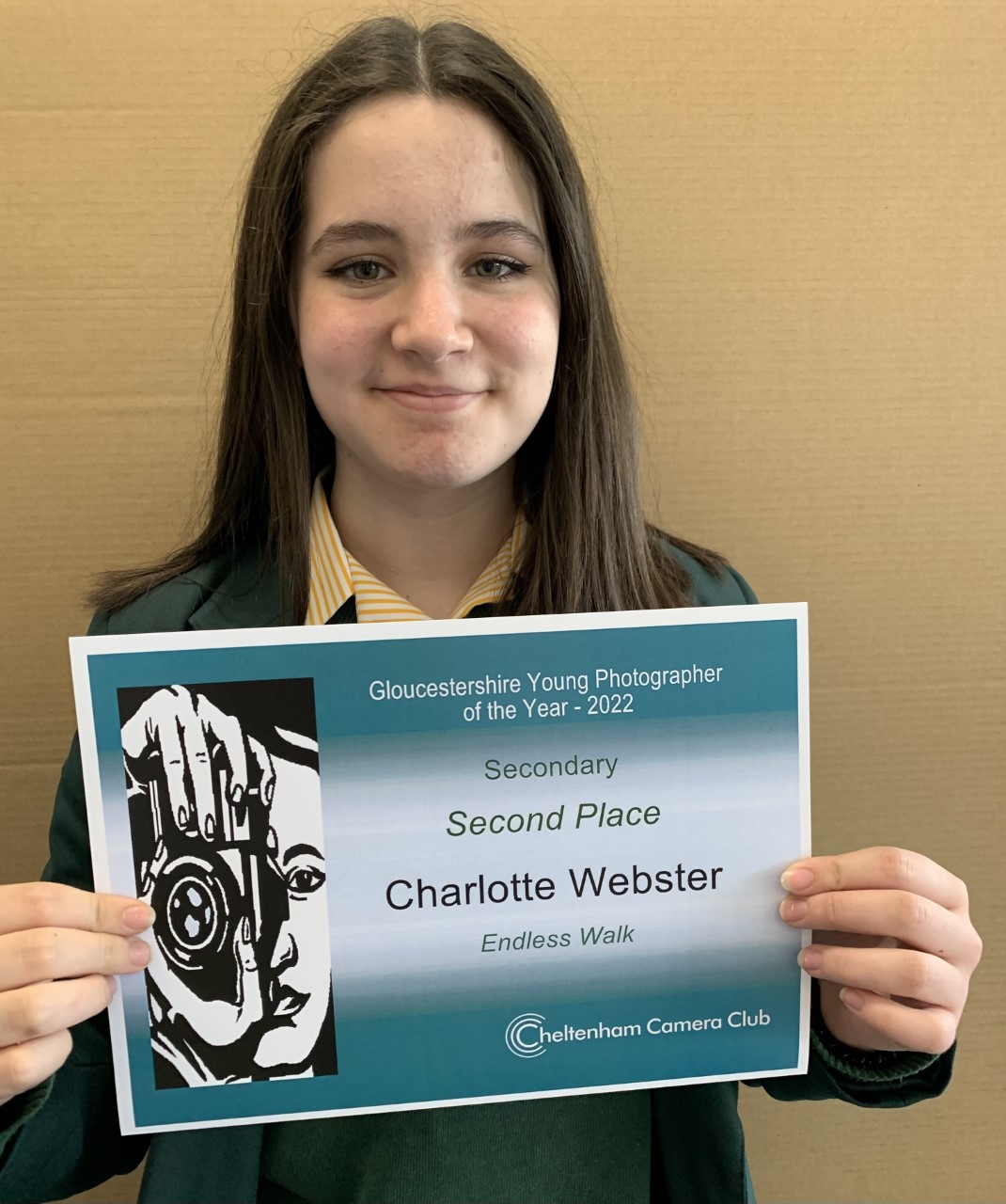 There was further good news for some of our other students too as Amber Christie of Year 12, Eloise Butcher of Year 8, Mia Mistry Patel of Year 8 and Nell Pickering of Year 10 were also recognised for technical skill and will go alongside Charlotte and Jia's on display in the exhibition.
If you would like to go along to visit, the Gallery will be open 4th to 14th May, Wednesday to Saturday 10am to 4pm (The Gallery is closed Sunday to Tuesday) as part of the Cheltenham Camera Club Annual Exhibition.
For further details, visit www.cheltenhamcameraclub.uk.
Thanks once again to Cheltenham Camera Club who put on the competition for our students and to all those who took part – keeeeep snapping!!
Mr Collins
Second Place
'Endless walk'
Charlotte Webster, Year 8
Commended
'Cerastium Tomentosum'
Jia Zhao, Year 13
Recognised for Technical Skill
'Rush hour'
Amber Christie, Year 12
Recognised for Technical Skill
'The world is quiet here'
Eloise Butcher, Year 8
Recognised for Technical Skill
'Distorted night'
Nell Pickering, Year 8
Recognised for Technical Skill
'Spinnaker tower'
Mia Mistry-Patel, Year 8
Bronze medal at the Euros!
Emily Mason is part of the England U17 Water Polo team, who went to the Czech Republic for the Euro Nations Tournament at the end of April. The team played exceptionally well and achieved a bronze medal!
Well done to Emily and her team mates, what an incredible achievement!
Important communications from our schoolwear supplier
As we approach the springtime, we begin to prepare for Back to School and our uniform supplier, Monkhouse is making preparations too.
As a response to your feedback, Monkhouse understand the importance of being able to communicate with you directly, so that they can keep you updated and in-the-loop as Back to School approaches.
In order to keep you informed, we ask that you sign up to their email communications via the Monkhouse homepage or create account form to allow updates from Monkhouse to reach your inbox.